Winter is well underway, and we know that means slower vehicle sales. But new seasonally-adjusted data shows that the picture is improving ever so slightly. New vehicle supply is ticking up, and it looks like new vehicle prices peaked back in December. Here's what the latest data reveals.
Marginal Improvement
According to a Cox Automotive analysis, new vehicle inventory increased gradually in the last weeks of January after starting the month near record lows. About 1.08 million new cars were on dealer lots at the end of January. While this is only slightly higher than the 1.08 million cars available at the end of December, a closer look at the data shows that inventory increased towards the end of the month.
In another barely noticeable improvement, the days' supply of unsold new vehicles was 37 on February 1st, up from 35 days a month earlier. New vehicle inventory has been gradually rising since bottoming out at just 25 days of supply at the end of September. The seasonally-adjusted annual rate (SAAR) of sales was 15.0 million last month, down from 16.8 million in January 2021 (-12%).
Affordable Vehicles Remain in Short Supply
Buyers in today's market will be relieved to learn that inventory of vehicles priced below $30,000 increased slightly in January after reaching record lows. Michelle Krebs from Cox Automotive put this intriguing datapoint into perspective for us:
"The available inventory of vehicles priced below $30,000 increased in January compared to the end of December. At the same time, there were significantly fewer vehicles priced above $60,000. This inventory mix – more bargains, less luxury – helped push the national average down from the December record. Still, new-vehicle prices in the U.S. remain elevated and consumers are routinely paying above sticker for a new vehicle."
Affordability remains an issue for Americans. Vehicles under $20,000 asking price had the lowest days' supply at just 28 days. All other segments had inventory between 32- and 37-days' supply.
Import Brands Remain Hit the Hardest
Toyota, Kia, Honda, Acura, Land Rover, Porsche and Subaru all finished January 2022 with inventory levels below the industry average. Buick, Volvo, Infiniti, Cadillac and GMC had the strongest available inventory.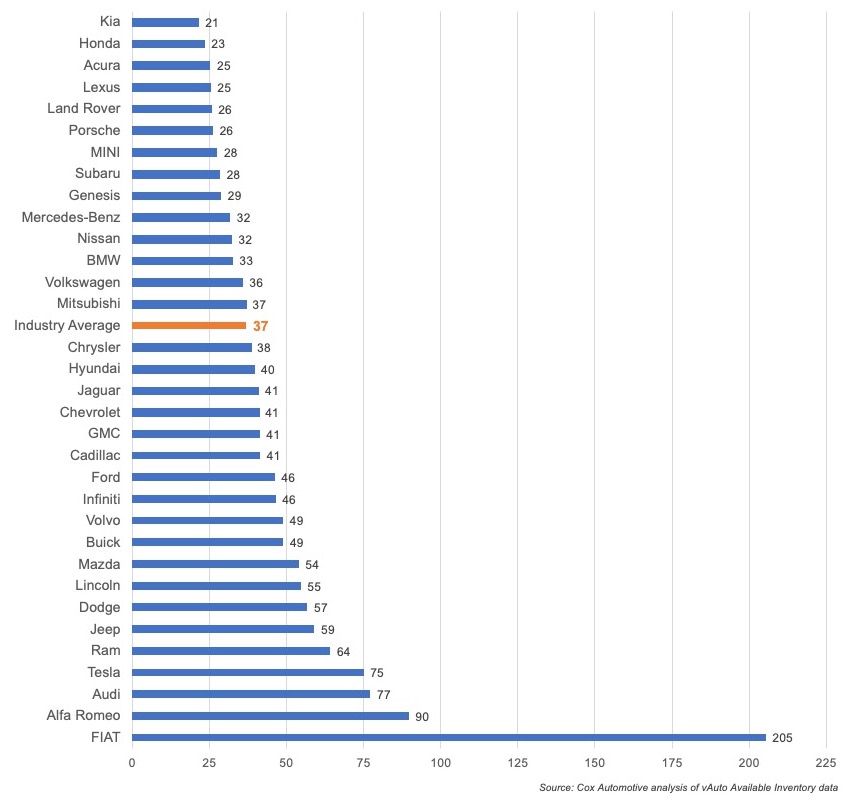 Minivans remain hardest hit, followed by all kinds of luxury vehicles.
Prices Dip Slightly
After setting records month after month, the average listing price dropped to $44,892 by the end of January. The average transaction price – the price consumers paid – also decreased in January to $46,404, according to data from Kelley Blue Book. That's down slightly from December's all-time high.
Your Friendly Reminder
Although this all might sound like marginally good news, we can't forget the big picture. Cox data shows that available supply was down 60% in January from the same period in 2021. In raw numbers, the supply of unsold new vehicles was more than 1.6 million vehicles less than the stock of a year ago, and 2.2 million less than in 2020. The days' supply at the end of January remained 46% below January 2021 levels.
Prices are still sky-high, even if conditions are improving ever so slightly. The average listing price for a new vehicle remains 12% above where it was one year ago. Manufacturer and dealer incentives continue to plummet, and this directly affects the final transaction price that buyers will pay.
The Chip Shortage Isn't Over
In the past week, AutoForecast Solutions has increased their projection of vehicles lost in production due to the chip shortage to 1,253,100, a 63% increase in forecasted losses since the beginning of 2022. This is a bad trend to see right before the spring buying season gets underway. Will these marginal increases in new vehicle inventory and the slight dip in prices continue much longer?
The next month will be crucial in determining how prices and inventory will turn as we head into spring. CarEdge publishes weekly updates on the chip shortage and its impacts on inventory and prices. Be sure to bookmark the CarEdge chip shortage page to stay on top of the latest in these very volatile times.
Get the most when you sell your car.
Compare and choose multiple offers in minutes: