January 2023 Update: Tesla slashed prices for new models by up to 20% overnight. The top-selling Long Range Model Y dropped from $65,990 to $52,990. This means that not only are all Teslas cheaper now, but most Model 3 and Model Y spec options are now eligible for the $7,500 EV tax credit in the U.S., at least until March when more detailed eligibility requirements are to be released by the government.
Lower new Tesla prices will immediately hit used Tesla prices hard. With these changes, in 2023, expect used Tesla prices to be at least 20% lower than they were in 2022.
Now, on to the original article.
Used car prices have fallen over 25% in 2022, and have a lot further to fall. Generally, used electric car prices have been reluctant to drop, at least compared to the steep declines seen in other vehicle classes such as luxury SUVs, crossovers and compact cars. The picture is different for used Tesla prices heading into 2023. Long the best-selling EVs by raw numbers and market share (more on that here), Tesla became the darling of auto market speculation in 2022. Thousands of Tesla buyers flipped their new cars for a profit on the used car market just weeks to months after taking delivery.
In 2023, used electric car prices are in for a rude awakening. Here's where things stand today, and where prices are headed in the near future.
Used Tesla Prices Plummet
According to Edmunds data shared with Reuters, used Tesla prices were down 17% in December for the July peak. In July, the average price of a used Tesla was $67,297, but six months later the average price had fallen to $55,754. It's all about perspective here: the overall used car market dropped 4% at the retail level during the same period, and wholesale prices dropped much more, as you can see here.
Used Teslas are sitting on dealer lots for much longer these days. In November, used Teslas sat on dealer lots for 50 days before selling on average, compared with 38 days for all used cars.
Who would've guessed it? Tesla cars couldn't remain appreciating assets forever. "You can't sell your current Tesla for more money than you paid for it, which was true for a lot of the past two years," said Karl Brauer, executive analyst at car sales website iSeeCars.com.
Tesla Inventory and Days to Sell Rising
As we approach the new year, there are 1,085 used 2022 model year Teslas for sale on YAA Car Search. A third of these nationwide listings have less than 5,000 miles on the odometer. In fact, roughly one third of ALL used Tesla listings are 2022 models. More noteworthy is how long used Teslas are remaining on the market.
As recently as July 2022, analysts at iSeeCars found that the Tesla Model Y was the fastest-selling used car in the United States. The Model 3 and Model X were #5 and #6 on the list, right behind the Toyota Prius hybrid and the all-electric Ford Mustang Mach-E. It was a time of record gas prices, and electric mobility was very appealing.
Fast forward to the last days of 2022, and 69 percent of the 5,800 used Teslas on the market nationwide have been listed for greater than 38 days, the overall industry average. Nearly 40 percent have been listed for sale for over 90 days.
We compiled data from YAA Car Search for six of the best-selling electric vehicles in America:
As you can see above, the Model 3 and Model Y have a higher proportion of listings that have been on the market for over 90 days than other popular EVs. Notably, 38 percent of used 2022 Tesla Model 3s and 40 percent of used 2022 Model Ys have been on the market for over 90 days.
What changed? Well, where do we start? Gas prices fell, interest rates doubled and fears of economic recession reverberated through consumer thinking in the latter half of 2022. Top that off with the omnipresence of Elon Musk in the news cycle, and you have a recipe for declining demand for Tesla cars, at least among enough car buyers to make a difference in sales trends.
Tesla Flippers Out of Luck
And then there were the flippers. Tesla flippers made good money for a while. Wait times were between two and six months for factory-ordered Tesla EVs. Flippers would order a brand-new Tesla from the factory (often paying cash), with the intention of selling for a premium to an impatient buyer weeks if not days after taking delivery. The LA Times featured once successful Tesla flippers in this fascinating story.
The Tesla flippers flooded the market with gently used Teslas, the buyers vanished, and we're left with plummeting prices for used Teslas.
Used Tesla Prices in 2023
These are the biggest factors that will influence used Tesla prices in 2023:
Interest rates
Gas prices
EV tax credits
The competition (quality AND quantity)
We recently took a deep dive into why our auto experts think used car prices will continue to decline in 2023. Historically, Tesla has bucked the mainstream trends, but that era may have come to a close. Here's a summary of what our team expects in 2023:
Why are used car prices so likely to drop further?
New car inventory is now the highest it has been since 2020. More buyers are considering new models, reducing demand for used cars.
Interest rates for auto loans have doubled since 2021. The average used car loan APR is now close to 10%, while used car loan APRs average under 5%.
Fears of an economic recession have led more would-be buyers to save a bit more, and spend less. More on how recessions affect car sales and prices here.
We expect used Tesla prices to soften in 2023, especially when considering yet another factor, revised EV tax credits. More on that below.
Tesla Tax Credits Return, With a Catch
The Inflation Reduction Act of 2022 replaced the original EV tax credit in place since 2009 with new rules and eligibility requirements. These are the biggest changes taking effect in 2023 for new EVs:
The 200,000 sale cap is replaced with an expiration date of December 31, 2032.
The tax credit is back for Tesla, GM, Toyota and all other EV automakers, but only if strict requirements are met.
New vans, SUVs, and trucks with MSRPs up to $80,000 qualify. Sedans priced up to $55,000 MSRP qualify.
The tax credit will remain at $7,500, however it is now divided into $3,750 for battery mineral sourcing and $3,750 for battery component sourcing.
Final assembly must be in the United States, Canada or Mexico as soon as the bill is signed into law.
The EV tax credit is income-limited to individual tax filers with adjusted gross incomes of $150,000 or less, and joint filers with incomes of $300,000 or less.
There's now a used EV tax credit, but before you get too excited, the used EV tax credit has the following eligibility requirements in 2023:
Used EVs would now be eligible for a $4,000 federal tax credit, with a price cap of $25,000. Used EVs must be at least two years old, and the used credit can only be claimed once in the life of the vehicle.
Tax filers can claim only one used EV tax credit every three years.
Used Tesla prices have fallen, but they'll have to fall a whole lot more to approach the $25,000 price cap. Barring an astonishingly severe downturn, used Teslas won't qualify for the used EV tax credit in 2023.
New Tesla Models Again Eligible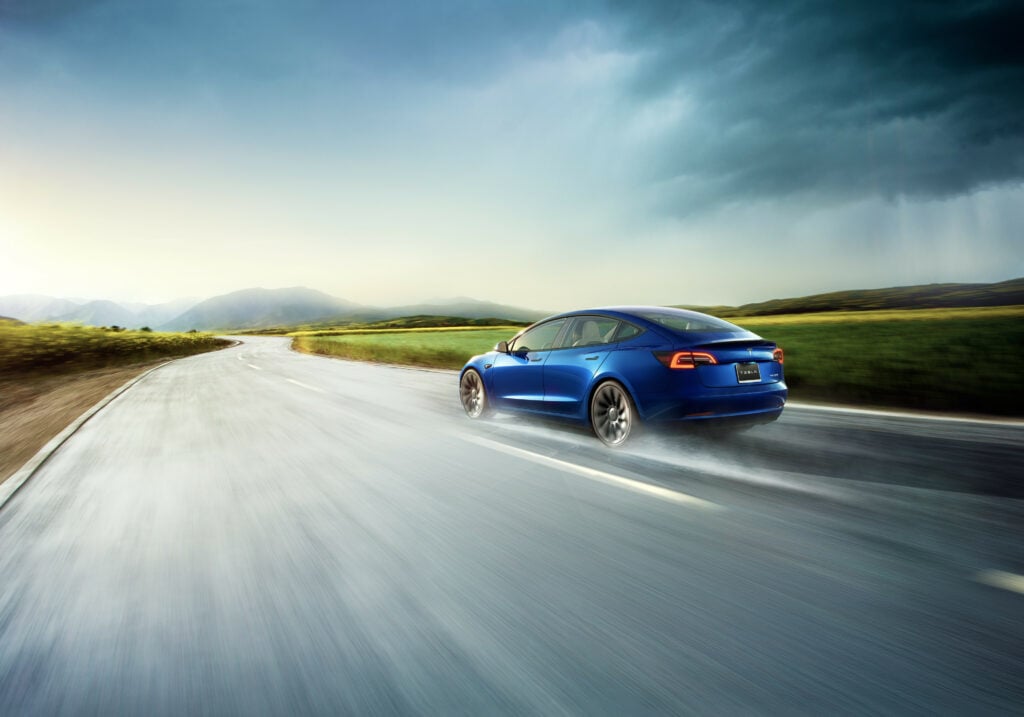 In addition to higher interest rates, rising competition, a flooded market and general economic worries, consumer demand for used Tesla cars will decline further simply because brand new Teslas will again qualify for EV tax credits, for the first time since 2019. Of course, they'll have to fall under the strict price caps of the new law. Few buyers will want to pay over $50,000 for a used Tesla Model 3 when a brand-new one could be had for less with the new tax credit. This continues in 2024, when the EV tax credit becomes a point-of-sale rebate.
Tesla Depreciation Data
Car Edge provides depreciation forecasts for Tesla models using real market data. The graph below shows expected depreciation for the Tesla Model Y over the next decade.
See Tesla cost of ownership and depreciation forecasts at caredge.com
Negotiate Used Tesla Prices in 2023
Now more than ever, you CAN negotiate used Tesla prices. Floorplanning costs are high, meaning that car dealers are paying more each day that a used Tesla sits on their lot. With YAA Car Search, you can see exactly how long a car has sat on the lot, and then use that information as leverage to negotiate lower prices.
Take one look at our YAA member success stories, and the value of negotiating is clear. When you learn how to effectively negotiate car prices, you open the door to THOUSANDS of dollars in savings. At a time when auto loan interest rates are climbing ever higher, saving a few thousand dollars on a deal translates to even greater savings in financing costs over the long-term.
We know that negotiating can be a challenge, but we believe it's a challenge worth overcoming. That's why we created Deal School 3.0, the ultimate online course in car buying. Deal School was created with one audience in mind: car buyers like you. Plus, it's updated for 2023! Looking for even more savings? Compare the full range of benefits available to our members.
We love free stuff as much as the next guy. Check out these 100% free, no-strings-attached car buying guides. If you love these, you'll love what you get with YAA+!
Car Buying Cheat Sheet – Take This With You!
Used Car Price Trends (Updated Weekly)
The Car Buyer's Glossary of Terms, Lingo, and Jargon
The Best and Worst Electric Cars in 2023
See all free guides, news and reviews here.