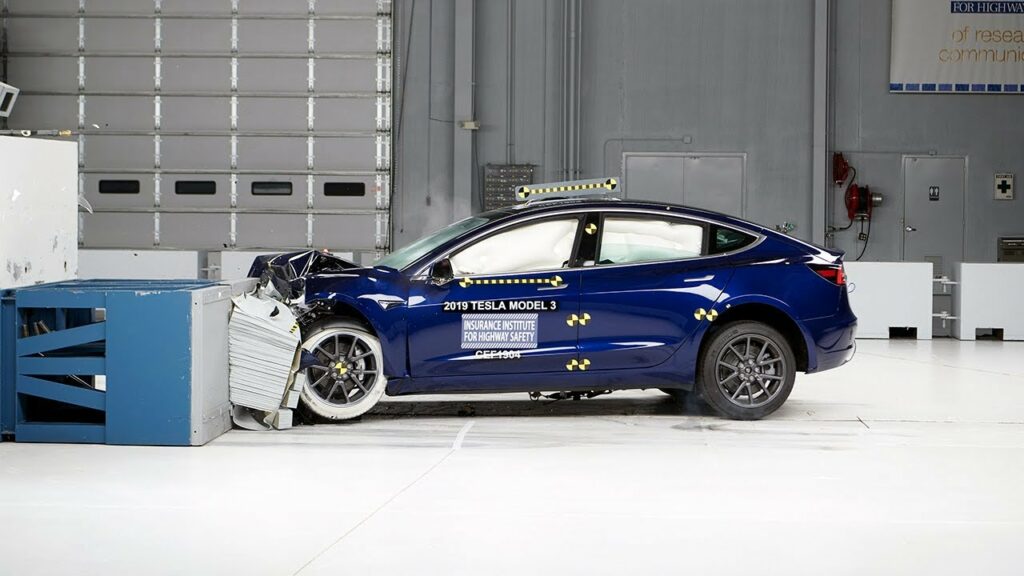 Your opinion of electric vehicles likely depends on which side of the news you've seen. If you know anything about the Chevy Bolt hazard, you might even scurry to the other side of the street when you encounter one. But does the data support EV skepticism, or is the big picture something different altogether? Do we even have enough data to draw firm conclusions? It's important to get down to the facts, and that's our goal today. Here's what crash test ratings, vehicle fire statistics and real-world data can tell us about electric car safety in 2022.
EV Crash Test Ratings
The National Highway Traffic Safety Administration (NHTSA) and the Insurance Institute for Highway Safety (IIHS) conduct standardized crash testing for vehicles that possess the potential to become popular and sell in big numbers. If it's popular, they're going to crash it and collect data. These two crash testing programs don't treat electric vehicles any differently than they would a traditional combustion-powered vehicle.
Get the most when you sell your car.
Compare and choose multiple offers in minutes:
As a refresher, here are the crash tests conducted by the NHTSA and IIHS:
Frontal Crash Test
Side Pole Crash Test
Side Barrier Crash Test
Rollover Resistance Test
The following additional tests are conducted by the IIHS:
Moderate-Overlap Front
Driver's-Side Small-Overlap Front
Passenger-Side Small-Overlap Front
Side Impact
Roof Strength
Head Restraints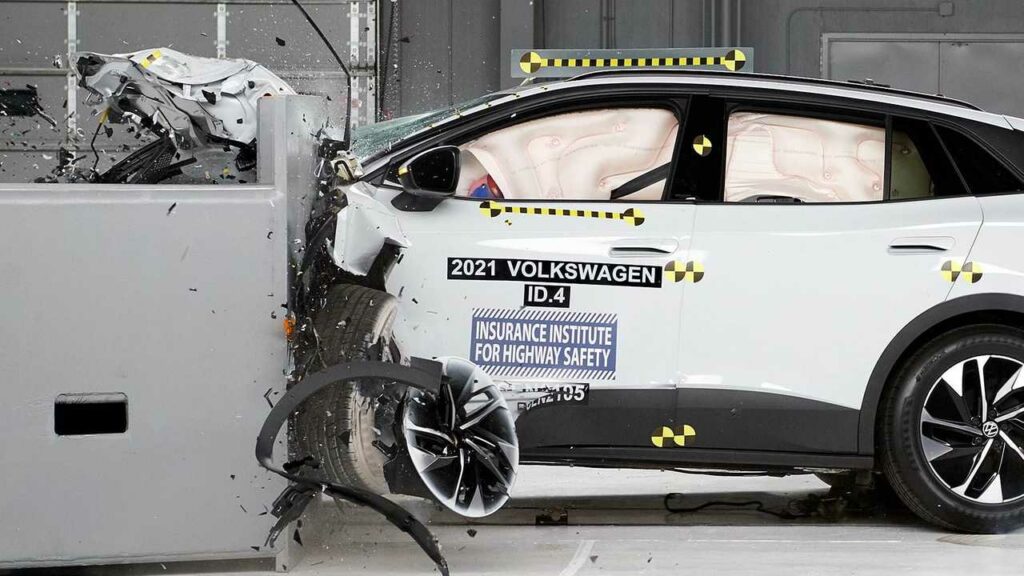 How do electric vehicles perform in these crash tests? Take a look at the limited data we have.
The Insurance Institute for Highway Safety (IIHS) does not provide overall ratings. They instead provide dozens of ratings for many different safety metrics. You can check out their ratings here.
Takeaways From Crash Test Results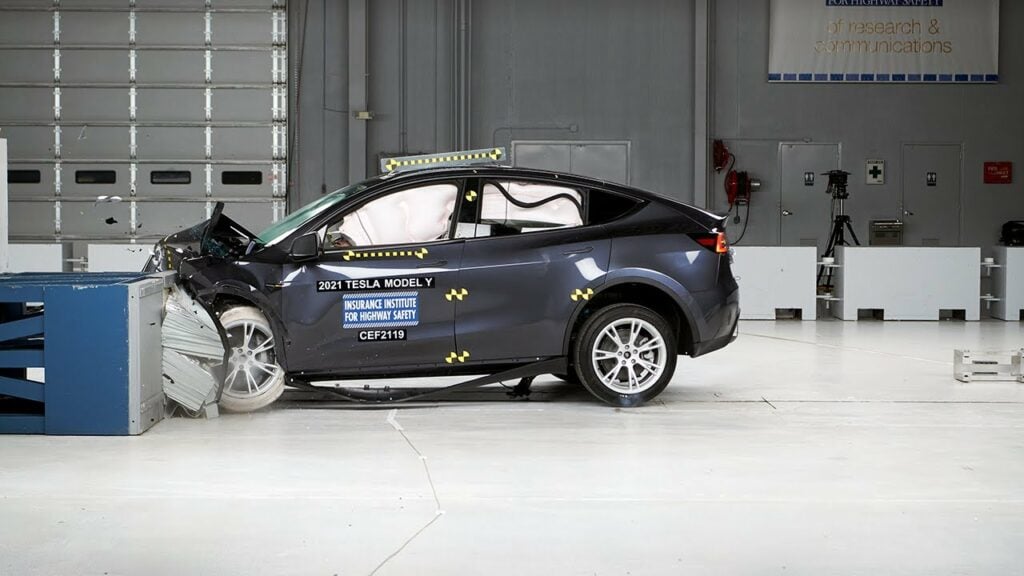 This data from the NHTSA and IIHS shows that while data is limited (but growing), all EVs tested so far have received excellent solid ratings. In fact, all eight electric models tested by the NHTSA in 2021-2022 earned five-star ratings. Considering that over 70% of EVs sold in the US are Tesla models, these ratings do represent the vast majority of EVs on American roads today. Still, far more testing is needed with so many electric models coming in 2022.
The IIHS sees the trends in their own data: EVs are actually making passenger vehicles safer than ever before. In a 2021 IIHS report on electric vehicle safety, they shared what they've learned so far.
"Evidence is growing that electric vehicles are at least as safe as conventional ones, with two more vehicles that run exclusively on battery power earning safety awards from the Insurance Institute for Highway Safety. In addition, an updated analysis of insurance data shows injury claims are substantially less frequent for such vehicles."
Those are powerful words from an insurance-minded crash-tester. We definitely need more electric car safety testing. EV sales made up 6.5% of American auto sales in 2021, and that figure is expected to reach or exceed 40% by 2030. One useful safety test would be comparing how long it takes to extinguish a fire for each EV model. I'd love to see that testing implemented for the safety and preparedness of our first responders.
Are EV Batteries Safe?
Whether you prefer a vehicle that requires gasoline, diesel or battery packs, all vehicles are built to haul around what are essentially concentrated energy sources. That's how the vehicle converts potential energy in the form of combustible carbon or electrons into kinetic energy to get you from A to B. The latest and greatest battery chemistries pack more power than ever before into battery cells, but they also claim to be safer. However, any concentrated energy source is volatile under certain conditions. That's why we don't light matches at the gas pump. What about EV batteries? Are they a fire hazard worthy of extraordinary caution?
The CarEdge team recently dug deep into the latest EV battery fires that have made the news, and our findings certainly shed light on the facts. Here's a summary of what the data and engineering investigations featured in our EV battery fire report reveal.
Firefighting and DOT Fire Stats
Data compiled by the National Fire Protection Association (NFPA) and the US Department of Transportation shows that among all vehicle types, there's an average of one vehicle fire per 19 million miles driven. Both the NFPA and the Center for Auto Safety say there is not yet a centralized database for electric vehicle fire statistics. In an effort to address the lack of information surrounding EV battery fires, Tesla decided to begin releasing statistics in their annual impact reports.
Data From Tesla
Tesla's 2020 Impact Report says that from 2012-2020, there's been one Tesla fire per 205 million miles traveled. The fact that Tesla models made up 79% of American EV sales in 2020 highlights the relevance of their data. Unfortunately, other automakers haven't released comparable data (we're looking at you GM!). We're hopeful that will change soon.
Source: Tesla
This comparison doesn't hide the fact that one other EV model has had major problems. The ongoing Chevrolet Bolt recall is costing GM and battery supplier LG a few billion dollars to resolve. There have also been sporadic incidents with other EVs. The Hyundai Kona briefly made headlines with multiple fires, but a fix was quickly implemented. It seems like every Tesla fire makes it into the news, even though there are not many.
Despite the statistics showing just how rare and isolated the events are, EV fires are real, and every one is worthy of proper investigation. The same goes for any vehicle fire.
Electric Vehicle Fire Hazards: First Responders
Although Tesla's data suggests that EVs are less prone to car fires than combustion vehicles, there are major safety concerns for the firefighters who extinguish the flames when an EV fire does occur. Firefighters need special training to learn how to safely approach EV-related incidents, but only two-thirds of departments have had the opportunity due to funding constraints. Automakers need to come forward and support our first responders with training and resources to prepare for the electrification of the auto industry.
EV fires require A LOT more water to extinguish. Tesla's First Responders Guide recommends 3,000 to 8,000 gallons of water on hand to put out a Tesla fire. Some fires have needed 30,000 gallons of water to extinguish. Basically, firefighters have to do whatever it takes to cool down the battery, and that's really hard to do with so much energy densely packed into the pack. Once the fire appears fully extinguished, there's a chance it could still flare up, even days later. Towing services and junkyards are advised to park damaged electric vehicles at least 50 feet from other vehicles in the yard. As EVs become more popular, that might not be feasible in just a few years.
EV Unintended Acceleration: What We Know
When cars launch full-speed ahead without warning, we have a major problem. Fortunately, that has not been proven to have occurred following dozens of investigations over the years. A number of serious accidents involving EVs have resulted in drivers claiming that the car accelerated on its own. Tesla vehicles have faced these accusations for years, but investigations have never found evidence of unintended acceleration. Plus, Tesla EVs are computers on wheels, and they maintain very detailed logs of all driver inputs. These logs are thoroughly inspected in every investigation.
The Department of Transportation's National Highway Traffic Safety Administration (NHTSA) determined that reports of sudden unintended acceleration involving four different Tesla models were due to user error. In other words, the driver mistakenly smashed the accelerator pedal. With so much torque and instant feedback, that's enough to launch a Tesla like a rocket. Depending on where that rocket is aimed, it could go launching right into harm's way. The lesson here? Powerful EVs demand more attention than some drivers are used to. Electric car safety features can only go so far if drivers are careless or over confident.
Hyundai recently recalled 2,700 2017-2019 Ioniq electric vehicles (the generation prior to the all-new Hyundai IONIQ 5) to correct a rare but scary defect that may cause the Ioniq to accelerate after the driver releases the accelerator pedal when in 'limp mode.' With no accidents reported, it appears as though Hyundai got ahead of this issue before anything tragic happened. As far as we (and the US government) know, no EVs have accelerated on their own without driver input.
Tesla Autopilot Safety
This is another headline grabber for Tesla. Anytime there's a crash involving a Tesla on autopilot, it's sure to make the news. Tesla Autopilot certainly has its faults, notably 'phantom braking' and difficulties with poor visibility. However, Tesla keeps track of their accident data from all Tesla vehicles worldwide, and this is what they've found as of December 2021:
"In the 4th quarter, we recorded one crash for every 4.31 million miles driven in which drivers were using Autopilot technology (Autosteer and active safety features). For drivers who were not using Autopilot technology (no Autosteer and active safety features), we recorded one crash for every 1.59 million miles driven. By comparison, NHTSA's most recent data shows that in the United States there is an automobile crash every 484,000 miles."
Although this is not independently verified, it's intriguing data to say the least. Could Tesla Autopilot really be safer than human drivers? Considering that 15% of motor vehicle accidents in the US are attributed to driver distraction, it may not be all that surprising. More automakers are offering level 2 autonomous driving features. As Autopilot-like technology increases, electric car safety will be under the microscope. Learn more about Tesla's annual safety report here.
CarEdge's Take
Our goal at CarEdge is to provide you with factual information that's useful for your decision-making process as you consider your next vehicle purchase. Why do we cover EVs so intently? Because industry insights show that major automakers are dead set on electrifying their entire lineups by 2035 at the latest. From Ford to GM and everyone in between, the story is the same. With hundreds of billions of dollars going towards EV development, it's important to hold automakers accountable with such a nascent technology.
Over 2 million EVs are already on American roads and global EV sales totaled 4.5 million in 2021 alone. This is just the beginning. Sales of electric vehicles are expected to rise 75% to more than 8 million in 2022. Electric car safety is more important than ever. Are EVs safe? So far, it looks like electric vehicles are at least as safe as combustion vehicles. But when things go awry, EV fires are far more difficult to extinguish than what we've seen in the past, and that's a concern worth addressing promptly at all costs. If you're thinking about going electric for your next vehicle purchase, rest assured that EVs from Tesla, Ford, Volkswagen, Hyundai-Kia and others are ranked up there with the very best in the entire industry.
CarEdge Just Launched a New Search Engine to Make Buying Your Next Car Easier!
We have thousands of EVs (and other vehicles) listed today. Each listing includes industry insights, empowering data and the true TotalPrice that will make buying a car the transparent process it should've always been. Check it out here!