Updated for 2023: https://caredge.com/guides/used-car-price-trends-in-2023
Used car prices trends for 2022 have been interesting. In 2021, unlike any other time in history, used car prices increased. What used to be a depreciating hunk of metal was an appreciating asset, but the car price bubble wasn't sustainable in the long term. With used car prices remaining volatile, it's never been more important to track the value of your car.
During the first quarter of 2022 used car prices dropped nearly 5% on the wholesale markets. Springtime brought another increase in used car prices. As we approach autumn, we've now seen 24 consecutive weeks of used car prices dropping at the wholesale level. Used car prices are going down, as you'll see in the latest data below.
While wholesale used car prices have declined significantly over the past ten weeks, retail used car prices have remained fairly steady. That may soon change. The demand for used cars has weakened in recent weeks, and we're now seeing increases in used vehicle listings as cars sit on the lot longer.
Used car prices in 2023 will continue to decrease. Higher interest rates combined with greater new car inventory will continue downward pressure on used car prices in 2023.
Get the most when you sell your car.
Compare and choose multiple offers in minutes:
👉 Bookmark this page. Just like we did last year, each week we'll update this URL with the latest used car price trends. Our hope is that by being informed of the trends in used car prices you can make smart financial decisions about when to trade-in, sell, or buy a car.
Without further ado, let's dive in.
Used Car Prices 2022 – December 2022 Update
As of December, used car prices declined (at wholesale auctions) for 24 weeks in a row. We expect this trend to increasingly translate to retail sales.
What types of used cars are dropping, which are increasing? Is now a good time to buy a used car? Should you sell your car now, or wait for prices to go back up? Let's answer those questions and more.
Car prices are going down. Is the car bubble bursting? Let's look at the data.
Through April , used car and SUV prices declined by ~5%. This was more depreciation than we'd expect in a "normal" year for the same time period. The rate of depreciation increased in February from January, however the trend reversed in March and April.
In May and June, we saw a reversal, with used car and SUV prices increasing week-over-week on the wholesale market. In December, the overall market is dropping, with no vehicle classes continuing to appreciate.
The overall wholesale used car market saw prices drop -0.88% last week. Cumulatively, used car prices have dropped -19% at the wholesale level over the past 6 months.
Used car prices (wholesale)
Mass-market car segments dropped the most last week. Compact and sub-compact cars dropped by over -1%, mid-size cars by -0.86%, and full-size cars by -0.43%. Overall luxury car prices fell by about 1% last week.
All used car segments saw declining prices last week, with an average of -0.86%. The week before, car prices were down -0.87%.
Used Truck Prices (Wholesale)
We are now seeing a sharp reversal in light-duty truck segments. The overall truck segment decreased -0.90% last week. Compact crossover prices declined the most, by -1.20%.
Mainstream crossover and SUV prices all fell by between -0.79% and -1.20% last week.
Since the onset of the pandemic, full-size vans have appreciated more than 60%. Now, we've seen wholesale full-size van prices drop about -5.0% in the past two months. This week, van prices dropped -0.41% in one week.
Year-Over-Year Prices Remain High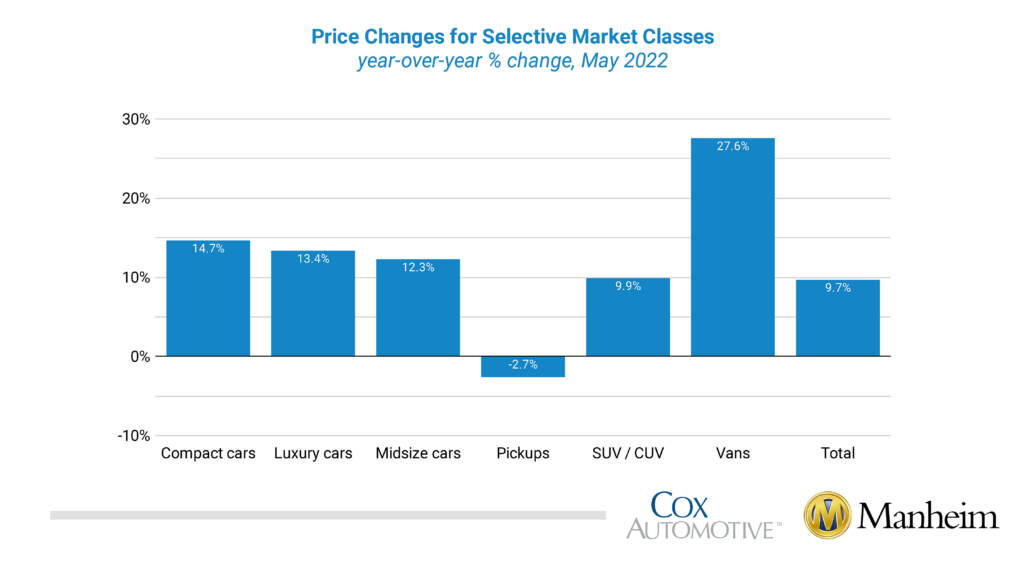 The graph below looks at trends in wholesale prices of 2-6-year-old vehicles, indexed to the first week of the year.
Retail used car prices are finally declining
When will retail used car prices go down? Black Book's weekly price index suggests that used car prices will steadily drop in 2023, after four months of slow but steady price declines in 2022. We expect prices to continue falling into 2023 due to the combined effects of higher interest rates restricting buying and the greater availability of new cars, which often have competitive promotional APRs.
We're starting to see retail prices come down. Cars are also sitting on the lot for longer. As more vehicles sit on the lot, dealers will be more willing to negotiate.
Use this negotiation cheat sheet to stay in control of your deal
Older used cars have appreciated most
A new phenomenon we have begun tracking is that older used cars are appreciating more rapidly than younger used cars.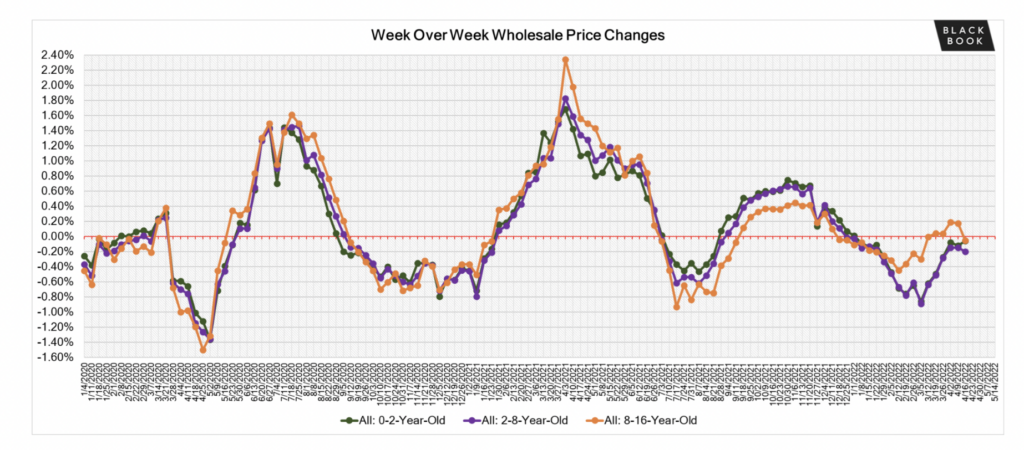 This is primarily a function of consumer demand. Retail customers that want to purchase a car at a sub $20,000 price-point are being forced to look at older used vehicles because the new ones have increased in value beyond their budget. This is scary, crazy, and a whole host of other words.
Is now a good time to buy a used car?
Wait until at least mid-September to buy a car. We expect to see retail prices decline beginning in early September, following eleven weeks of wholesale declines.
Used cars are sitting on the dealer lots for longer, and that creates better conditions for negotiating a better deal.
When should I sell my car to get the most money?
Sell as soon as you can. Used car prices are already dropping, and we expect retail prices to decline more in September.
To sell your car for the most money, be sure to read this guide.
How much did used car prices increase in 2021?
Depending on who you ask (Cox Automotive, Edmunds, CarGurus, or Black Book), retail used car prices increased anywhere from 32% to 36% in 2021.
Black Book shows a 35% increase in retail used car prices for 2021 (the purple line). For comparison, the orange line shows a 7% appreciation for used car prices in 2020, and the blue line shows a 3% depreciation of used car values for 2019.
Here's a month-over-month table showing used car price trends for 2021:
| | |
| --- | --- |
| Month | Average Used Car Price |
| January | $22,112 |
| February | $21,573 |
| March | $21,343 |
| April | $22,568 |
| May | $24,414 |
| June | $25,101 |
| July | $25,500 |
| August | $25,890 |
| September | $26,548 |
| October | $27,067 |
| November | $27,569 |
| December | $29,000 |
This data, supplied by Cox Automotive, shows the incredible ascent used car prices took in 2021.
Used van prices increased the most
Different types of vehicles have appreciated more than others. Vans have increased in value the most of all used cars. Take a look at this chart and data from CarGurus.
In 2021 used van prices increased over 56%, whereas CarGurus' data showed a more modest (yet still insane) 34% increase for used car prices in general.
Used van prices have increased the most across vehicle segments for a few reasons:
Vans are typically lower profit new vehicles for automakers, and as a result of not having enough chips to produce new vehicles, automakers are drastically limited production of new vans;
Many people have taken to converting vans into their living quarters;
Many businesses that previously would have bought their vans from fleet sales are going to the used market to find supply.
For these reasons, and many more, used van prices have increased the most of any segment of vehicle.
Wholesale used car price trends are even crazier
Every used car has two prices; the wholesale price, and the retail price. As consumers we typically concern ourselves with the retail price, and with good reason, unless you have a dealer's license you can't buy a car wholesale at an auction.
That being said, wholesale used car prices are the lifeblood of car dealers, and the used car price trends we saw on the wholesale side in 2021 were truly unfathomable. While retail used car prices increased ~36% in 2021, wholesale used car prices rose 52%.
There is an obvious interplay between wholesale and retail prices. As wholesale prices increase, we can expect retail to prices to do the same. Here at CarEdge we are concerned that retail prices will stay highly elevated for a long time (potentially all the way through the fall of 2022) because car dealers will not want to discount their inventory that they grossly overpaid for earlier in the year.
Interactive data
Thanks to our friends at foureyes, we can share with you this real-time updating data set on used and new car prices.