Prices on the used car market are gradually falling as we close out 2023. Furthermore, inventory is declining as dealers balk at the prospect of buying overpriced cars at auction. With used car prices remaining volatile, it's never been more important to track the value of your car.
We had seen 30 consecutive weeks of used car prices dropping at the wholesale level before a sharp reversal beginning in February. Used car prices are dropping again. As of November 2023, prices are dropping quickly at wholesale auctions AND retail dealer lots.
Get the most when you sell your car.
Compare and choose multiple offers in minutes:
👉 Bookmark this page. Each week we'll update this URL with the latest used car price trends. Our hope is that by being informed of the trends in used car prices you can make smart financial decisions about when to trade-in, sell, or buy a car.
We also track new car prices. See the latest monthly update here.
Without further ado, let's dive in.
Used Car Prices – November 2023 Update
What types of used cars are dropping, which are increasing? Is now a good time to buy a used car? Should you sell your car now, or wait for prices to go back up? Let's answer those questions and more.
According to the latest used car market data from Black Book, the used car market is dropping at wholesale markets. When will retail used car prices drop? We'll get into that below. First, let's take a closer look at wholesale prices last week.
Is the car bubble bursting? Let's look at the data.
The overall wholesale used car market saw prices decrease -1.49% last week. The week prior, prices fell -1.48%. This is a faster decline than we've seen over the past few months. Retail prices are falling too, although not as quickly. More on that below.
Used car prices (wholesale)
All car segments decreased this week. The overall car segment decreased by -1.82%, compared to -1.35% last week. Most car segments fell by over 1% in just seven days. Compact car prices decreased the most (-3.84%). Compact car prices have fallen -14% in the past few months.
Used Truck Prices (Wholesale)
Truck prices are falling in late 2023. The overall truck segment decreased -1.35% last week, compared to -1.53% the week before.
All SUV and truck segments saw price decreases last week. Compact vans saw the biggest price drops last week, by -4.25%. One-week price drops like this are quite rare.
Since the onset of the pandemic, full-size vans have appreciated more than 60%. Now, we've seen wholesale full-size van prices drop -27% in the past five months.
Full-size truck prices were the most stable in early 2023, but are now dropping quickly as new truck inventory drives competition with the used truck market. Truck prices dropped over 5% at auction last month alone. Considering how high truck prices average, this amounts to thousands of dollars of lost value.
Retail used car prices are falling slow and steady
As the data above shows, retail car prices are slowly but steadily dropping. In fact, in September, retail used car prices eliminated 2023's overall gains, returning to where prices were when the year began.
Hybrid and EV prices remain elevated above the overall market, but the gap is narrowing. The average transaction price for an electric vehicle is now 14% higher than the overall market. That's still a lot of money, but is much less than the 20% we saw early this year.
Here's our monthly update on EV prices. Prices are dropping!
Used Car Inventory – Retail Markets
The graph above shows that used car inventory is rising as cars sit on dealer lots for longer. Used car days-to-turn is now at a five-year high. Car buyers are holding off on purchases as used car interest rates soar well beyond 14% APR.
New Car Price Trends (Monthly Updates)
Free Car Buying Help Is Here!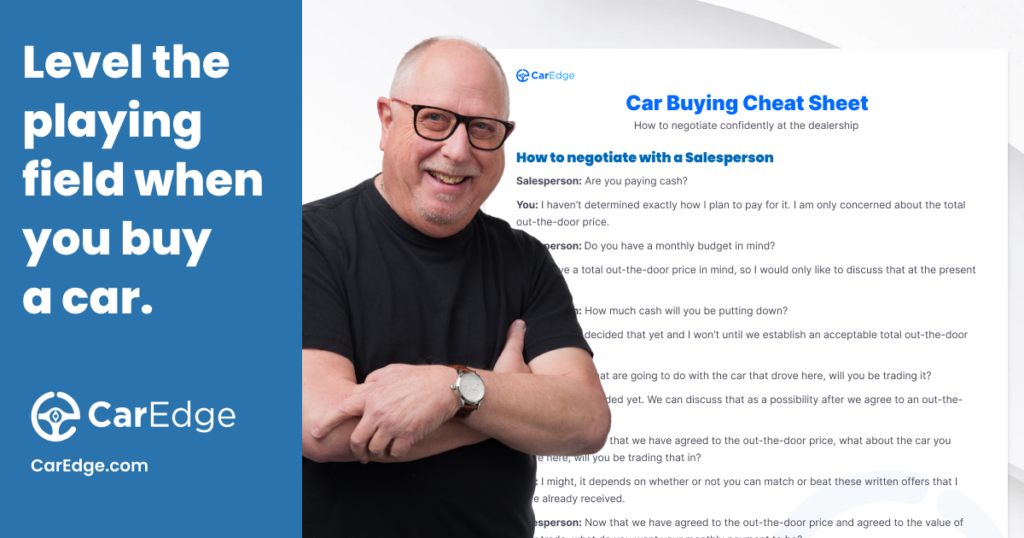 Ready to outsmart the dealerships? Download your 100% free car buying cheat sheets today. From negotiating a deal to leasing a car the smart way, it's all available for instant download. Get your cheat sheets today!
Older used cars have appreciated most
A new phenomenon we have begun tracking is that older used cars are appreciating more rapidly than younger used cars.
This is primarily a function of consumer demand. Retail customers that want to purchase a car at a sub $20,000 price-point are being forced to look at older used vehicles because the new ones have increased in value beyond their budget. This is scary, crazy, and a whole host of other words.
How much did used car prices increase in 2021?
Depending on who you ask (Cox Automotive, Edmunds, CarGurus, or Black Book), retail used car prices increased anywhere from 32% to 36% in 2021.
Black Book shows a 35% increase in retail used car prices for 2021 (the purple line). For comparison, the orange line shows a 7% appreciation for used car prices in 2020, and the blue line shows a 3% depreciation of used car values for 2019.
Here's a month-over-month table showing used car price trends for 2021:
| | |
| --- | --- |
| Month | Average Used Car Price |
| January | $22,112 |
| February | $21,573 |
| March | $21,343 |
| April | $22,568 |
| May | $24,414 |
| June | $25,101 |
| July | $25,500 |
| August | $25,890 |
| September | $26,548 |
| October | $27,067 |
| November | $27,569 |
| December | $29,000 |
This data, supplied by Cox Automotive, shows the incredible ascent used car prices took in 2021.
Wholesale used car price trends are even crazier
Every used car has two prices; the wholesale price, and the retail price. As consumers we typically concern ourselves with the retail price, and with good reason, unless you have a dealer's license you can't buy a car wholesale at an auction.
That being said, wholesale used car prices are the lifeblood of car dealers, and the used car price trends we saw on the wholesale side in 2021 were truly unfathomable. While retail used car prices increased ~36% in 2021, wholesale used car prices rose 52%.
There is an obvious interplay between wholesale and retail prices. As wholesale prices increase, we can expect retail to prices to do the same.
Interactive data
Thanks to our friends at foureyes, we can share with you this real-time updating data set on used and new car prices.