Car sales increased for the first time in more than a year in August. While overall market conditions seem to be improving, many automakers are still in a tough spot (we're looking at you Toyota, Honda, and Subaru). Will increasing new car inventory and sales lead to more manufacturer incentives and lower prices? Here's what the August data reveals, and what new trends suggest for car buyers in September 2022.
August 2022 U.S. Auto Sales Numbers
Industry analysts at LMC Automotive and TrueCar are reporting that for the first time since last summer, new car sales increased last month. Excluding fleet sales, TrueCar expects U.S. retail deliveries of new vehicles to be 1,015,575 units, up 6 percent from a year ago and up about 3% from July 2022.
As CarEdge's Ray Shefska points out, an extra day in August really helped pump up sales numbers for some automakers. August's seasonally adjusted annualized rate (SAAR) for new vehicle sales (light duty models) is approximately 13 million, which is down 14 percent from August 2021. U.S. new car sales are still in a slump, but August sales numbers are showing some signs of improvement.
LMC Automotive reported total light-vehicle sales rose 4 percent to 1.13 million (including fleet sales). Taken together, August would mark the first monthly year-over-year gain since summer 2021. Does that mean the auto industry has come out of rock bottom?
Get the most when you sell your car.
Compare and choose multiple offers in minutes:
The Big Picture: We Have a Data Problem
Is the American auto industry climbing back to normal? The best answer we have with August sales data is … maybe? Only seven automakers report monthly U.S. sales figures, and that leaves a massive data gap that severely limits the interpretation of monthly sales. Ford, Honda, Hyundai, Kia, Subaru, Toyota and Volvo release sales data monthly, but big names like General Motors, Stellantis and Tesla don't. The seven who do tallied 617,363 sales in August, down 1.8 percent year-over-year, according to the Automotive News Research & Data Center.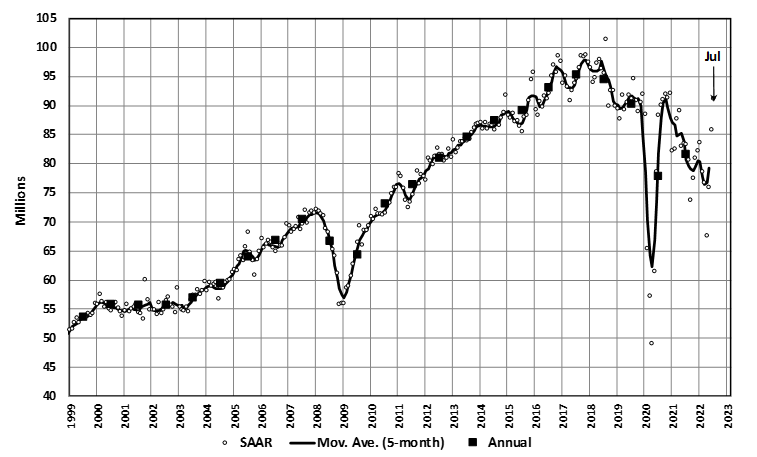 From the automaker perspective, just how you feel about last month's data depends on who you work for. Experts at Cox Automotive take the latest numbers with a grain of salt. Cox Automotive Senior Economist Charlie Chesbrough shared his cautious optimism. "There are small signs that new-vehicle inventory levels are stabilizing, but they are also not getting significantly better. Some automakers have far more inventory than others, and some are managing their operations more efficiently."
Meanwhile, TrueCar's analysts see the data as validation for what they've predicted for months. "August is shaping up to confirm our early predictions that the industry may be turning the corner," said Zack Krelle, Industry Analyst at TrueCar. "We're seeing consecutive month over month increases for incentives, while average transaction prices are softening. Inventory is also slowly growing, and sales are improving slightly."
Ford, Hyundai and Kia New Car Sales Increase
When it comes to winners, Ford Motor Company was the shining example of what many see as better times ahead. In August, total Ford Motor Company sales increased 27.3 percent to 158,088 units. Plus, there's even better news if you're in the market to buy. Ford ended August with 254,400 vehicles in dealer stock or in transit (although one has to wonder how many are actually on dealer's lots right now), up from 250,200 at the end of July and 210,800 a year earlier.
The F-150 added a new accolade last month: best-selling electric truck. Ford says that electric vehicle sales were up 307 percent year-over-year. The automaker cited the Ram pickup, Tesla Model 3 and Model X as the Lightning's top three conquests.
Demand remained strong, with more than 76,000 retail orders placed for 2023 model vehicles last month, a 41 percent increase compared with 2022 model orders in August last year.
Hyundai and Kia Had a Great Month
Hyundai and Kia snapped a five-months of sales declines in August. Hyundai's U.S. sales were up 14 percent, and Kia sales increased 22 percent. Inventory is also looking marginally better for the two brands. Hyundai Motor America said it ended August with 19,209 vehicles trucks in U.S. inventory, up from 14,784 at the end of July but still only about half of the 39,357 it had a year earlier.
"This month we're seeing Hyundai and Kia doing well, which I believe is in part due to the freshness of their lineups, with greater design changes than other OEMs," said Justin Colon, Vice President of OEM Solutions at TrueCar.
Honda, Toyota Still in a Slump
New car sales slipped at Toyota and Honda in August as Japanese automakers were continuing to feel the direct impacts of Asian supply chain disruptions. Toyota's sales fell 9.8 percent, and Honda was down 38 percent. Honda's Acura brand was even worse, with sales down 47 percent. Honda's U.S. monthly sales have dropped for 13 months straight.
Check here for the latest new car inventory numbers (updated as they become available)
A Bit of Perspective From CarEdge's Ray Shefska
Other bits of good news were to be found in August sales reports. Still, it's important to zoom out and remind ourselves that small monthly gains are dwarfed by over a year of sinking inventory, higher prices, and fewer manufacturer incentives. For example, incentive spending was down 52% from last year but up 9% from July 2022. TrueCar estimates that the average transaction price in August was down slightly from July, but is still up 10% from a year ago. Buying a car remains very expensive, however rising interest rates, slightly better inventory and a softening used car market are all giving car buyers more to think about as we head into autumn.
Our very own Ray Shefska had this to say about August sales numbers. "The Seasonally-Adjusted Annualized Rate (SAAR) is still significantly below where they thought it would be earlier this year. That doesn't leave me feeling optimistic. I think we all need to wait until early October before drawing conclusions. By that time, we'll have every automaker's Q3 2022 sales numbers to pore over. It's hard to draw any conclusions when only a few automakers report monthly sales numbers. After a year of bad news on the inventory front, automakers and car buyers alike are ready for optimism. Patience is key to informed car buying in a time like this."