Independent start-ups, big tech conglomerates and hordes of automakers are all working on self-driving technology. The infinite unknowns of the driving world aren't going to keep them from confronting the greatest challenge in automotive history. Some are going it alone, while most are partnering up. We've gathered all of the milestones and strategic partnerships shaping the development of autonomous transportation. As automakers with bottomless pockets have learned, no amount of autonomous vehicle investments can overcome the enormity of this engineering challenge.
Autonomous Vehicle Investments: Broken Promises and Delays
In 2010, just about everyone was hopping aboard the autonomous driving train. General Motors, Ford Motor Company, Mercedes-Benz, Volkswagen, Audi, Nissan, Toyota, BMW, Volvo, Nissan and a very young Tesla were all getting to work on the issue in the early 2010s. How much has been accomplished? Well, a lot, but the pace of innovation has been slower than most anticipated. Plus, there have been plenty of missed deadlines and dead ends along the way. Here are just a few of the many examples:
In 2016, Tesla CEO Elon Musk proclaimed that driverless Teslas would be available by 2020. He also believed that 1 million Tesla robotaxis would be on the road by 2020.
Also in 2016, Ford predicted they'd have driverless cars without steering wheels by 2021, a statement they eventually scaled back.
BMW and Volvo also planned to have driverless cars by 2021.
General Motors has been working on its fleet of driverless Chevrolet Bolts and Volts since it acquired Cruise in 2016. It remains in development six years on.
A possible game-changer surfaced in early 2021 when the NHTSA finally amended the Federal Motor Vehicle Safety Standards (FMVSS) to include clarified language regarding autonomous vehicles and advanced driver assistance systems as a whole. In a lackluster revision, the new NHTSA rules essentially say that automakers are obligated to protect vehicle occupants to the fullest extent possible, no matter the level of automation. In other words, automakers can't treat the American public like test mules for their latest technology.
Now that US regulations are modernized, automakers are likely to accelerate their timelines for development and testing of Level 3 automation on American roads. In fact, a few automakers intend to roll out their very best in 2022.
Get the most when you sell your car.
Compare and choose multiple offers in minutes:
Automaker Investments in Driverless Cars
Some automakers keep their cards close, and that's no surprise in a competitive market. However, there are dozens of partnerships, acquisitions and investments that shine light on the accelerated path towards autonomous mobility. It's been a long time coming. If you need to polish up your understanding of the six levels of autonomy, we've got you covered here. This is what we know in 2022:
BMW
In 2019, BMW teamed up with Daimler to strive towards Level 4 automation by 2024. In a quest to leapfrog Tesla, BMW will add Level 3 autonomy to the 7 series sedan in 2022. Stellantis is even in on the deal (more on that below). BMW has a whole campus dedicated to testing autonomous driving technology. Engineers are seeing tremendous progress at the BMW Autonomous Driving Campus in Germany. BMW is committed to investing $35 billion in autonomous vehicle and EV development by 2025.
Fisker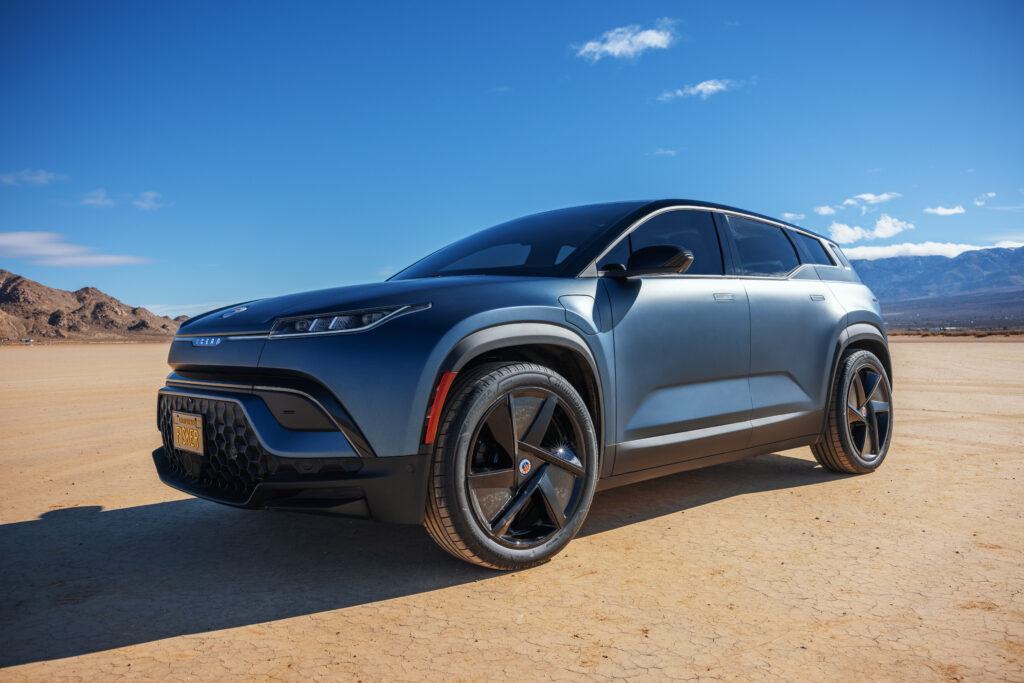 The 2024 Fisker Ocean electric crossover will be built by European auto manufacturer Magna. As part of Fiskers agreement with Magna, the nascent automaker will take advantage of Magna's new proprietary suite of sensors and over the air update capabilities to launch the Fisker Ocean with Fisker Intelligent Pilot. Known as FI-Pilot, not much else is known about Fisker's advanced driver assist system. Fisker claims that FI-Pilot will be industry-leading, but the brand's first production vehicles won't be out until 2023.
Ford
Ford is investing $5 billion in autonomous vehicle development between now and 2025. The American giant already invested in a partnership with Argo AI in collaboration with Volkswagen Group. Ford is now testing self-driving vehicles in Pittsburgh, Palo Alto, Miami, Washington, D.C., and Detroit. Lyft will be the first beneficiary of the new Ford autonomous driving investments. Their test vehicle of choice to represent the future? The discontinued Ford Fusion Hybrid.
General Motors
GM has upped its combined investments in electric and driverless vehicles to $35 billion, including $1 billion for autonomous vehicle investments. At CES 2022, General Motors CEO Mary Barra announced that GM plans to sell fully autonomous vehicles to the public "by mid-decade." In 2016, GM bought self-driving startup Cruise, and has since worked on further development while integrating what it now calls Super Cruise into the automaker's vehicles.
In 2022, Super Cruise advanced driver assistance is available in the Cadillac Escalade, Cadillac CT4, Cadillac CT5, Chevrolet Silverado, GMC Hummer EV and GMC Sierra. Chevrolet even calls Super Cruise the "world's first true hands-free driving system for the freeway." Note that eyes still need to be on the road. GM is far from bringing driverless cars to market.
Honda
Ever heard of the Honda Legend? Me neither. It's a popular sedan in Honda's Japanese homeland. Even more intriguing is the fact that Honda came out of nowhere with the very first production car with Level 3 autonomy. In early 2021, Honda Sensing Elite became available for the Honda Legend.
The story gets weirder! In 2018, Honda invested $2.75 billion in a partnership with General Motors. The partnership let's Honda use Cruise, the autonomous transportation subsidiary that GM acquired in 2016. Microsoft joined the Cruise party with a $2 billion autonomous vehicle investment in 2021, effectively teaming up with GM and Honda. It's not yet clear if Honda Sensing Elite is a product of the Cruise partnership, or if perhaps the result of other behind-the-scenes developments.
Hyundai Motor Group
Back in 2019, Hyundai announced a $35 billion investment in autonomous driving technologies that will fund research, partnerships and innovation by 2025. The South Korean government is a partner in the investment. The government expects that Hyundai will launch Level 4 vehicles for fleets by 2024, and for the public in 2027.
Hyundai-Kia's 2018 investment in Aurora Innovation is expected to drive innovation. The two had been working on a hydrogen fuel cell vehicle called NEXO, but it's unclear whether that piece of the partnership will continue with hydrogen losing favor to electricity-powered vehicles.
After rejecting rumors that they were working with Apple on automotive tech, Hyundai and Kia quietly began delivering vehicles with Level 2 advanced driver assistance. The popular Hyundai IONIQ 5 electric vehicle includes Highway Driver Assist 2, which combines lane assist with adaptive cruise control to steer the car on the highway.
One feature that stands out in Hyundai's Highway Driver Assist 2 is automatic lane changing, which even Tesla Autopilot does not yet offer. Next up for Hyundai and Kia? We'll see if they can follow through on their target of having Level 4 autonomous vehicles by 2024.
Jaguar – Land Rover
The British luxury brands are working on both strategic partnerships and solo projects in the autonomous vehicle space. Driverless ride-hailing company Waymo wants up to 20,000 electric Jaguar I-Pace vehicles for their driverless markets. Project Vector is Land Rover's autonomy-ready vehicle platform under development.
Jaguar Land Rover is already testing an advanced suite of Level 2 driver assistance features. "The initial tests will involve vehicle-to-vehicle and vehicle-to-infrastructure communication technologies that will allow cars to talk to each other and roadside signs, overhead gantries and traffic lights. Ultimately, data sharing between vehicles would allow future connected cars to co-operate and work together to assist the driver and make lane changing and crossing junctions easier and safer."
Mercedes-Benz
In 2021, Mercedes-Benz became the first automaker to get regulatory approval for Level 3 autonomous driving in Europe. For now, Mercedes Drive Pilot is available on 8,197 miles of German highways at speeds up to 37 miles per hour. Mercedes' Level 3 system is accessible to far more vehicles than Honda's Sensing Elite. The 2022 all-electric EQS and S-Class models get Mercedes Drive Pilot, but full functionality is not yet available in North America.
Mercedes-Benz is already looking ahead to the next iteration of autonomous tech. They announced a partnership with self-driving sensor maker Luminar Technologies to enable fully automated driving on highways for its next-generation vehicles. The next generation of Mercedes autonomous vehicles should arrive mid-decade.
In 2019, Mercedes parent company Daimler partnered up with rival BMW to spend around $1 billion on accelerating the development of autonomous vehicles. Daimler also invested $573 million on autonomous commercial trucks, with the possibility of spillover into passenger vehicle R&D.
Polestar
Many had never heard of this Volvo subsidiary until the fierce Super Bowl commercial came out of nowhere and called out rivals like Tesla and Volkswagen. Riding on the waves of success with the Polestar 2 electric sedan, the Nordic automaker will offer a Level 3 autonomous driving system in the upcoming Polestar 3 SUV. Polestar's autonomous driving partnerships with Luminar, Nvidia, and Zenseact will power the tech.
Stellantis
Stellantis is clearly on the verge of a major shift in strategy. They recently shared the beautiful Chrysler Airflow concept, and declared full electrification of the Chrysler brand by the end of this decade. Now, Stellantis is shooting for Level 3 autonomy by 2024. Surprisingly, the automaker said that the Level 3 capability is being developed in partnership with BMW.
Stellantis aims to generate $23 billion in added revenue from software-driven features by 2030. Stellantis has plans for three new software platforms called STLA Brain, STLA SmartCockpit, and STLA AutoDrive.
Automotive News reports that Waymo is involved in the next generation of Stellantis software. "The automaker said that STLA Brain, due for rollout in 2024, would be updateable over-the-air to allow its Level 2 semi-autonomy to be upgraded to allow hands free Level 3 driving. For more advanced Level 4 autonomy and Level 5 full autonomy, Stellantis will partner with Alphabet's Waymo self-driving unit, it said. Waymo already deploys Pacifica Hybrid minivans from Stellantis' Chrysler brand equipped with the Waymo Driver hands-free technology to provide fully autonomous rides in Phoenix, Arizona."
By 2024, Stellantis plans to employ 4,500 engineers and software developers worldwide as they spend $33 billion on electrification and autonomous vehicle investments. With Level 3 as the next goal, driverless cars are not in the picture for Stellantis at this time.
Subaru
Subaru is a bit behind when it comes to autonomous vehicle development. As numerous competitors are releasing Level 2 advanced driver assistance systems in 2022, Subaru announced that their goal is to achieve Level 2 autonomy in "the second half of the 2020s."
Subaru plans to develop the system utilizing its EyeSight Driver Assist Technology and artificial intelligence to interpret the environment even in poor visibility. Depending on how the successes of the rest of the industry go, Subaru may find itself quite behind in five years' time.
Tesla
Tesla has been aiming for Level 5 autonomous driving since the beginning. With optimistic leadership, Tesla announced target dates for everything from a million robotaxis to no longer needing a steering wheel at all. Of course, these headline-grabbing goals underestimated the engineering feats that must be overcome before safe autonomous vehicles can seek regulatory approval in the US.
That isn't to say that Tesla is any kind of failure. Quite the opposite. Tesla's controversially-named "Full Self-Driving" package is available for $12,000 today. The thing is, it does not enable full self-driving. At least not yet.
The past few years have seen Tesla implement microchip upgrades in preparation for true Level 3-5 autonomy, yet many saw a misstep when Tesla decided to remove radars from new models. Tesla says that their autonomous driving system will learn to navigate the world like a human driver does, using only image processing. In other words, cameras not radars. For that reason alone, many engineers are wondering just how successful Tesla's autonomous driving approach will turn out to be.
All Tesla vehicles come equipped with Tesla Autopilot, a Level 2 advanced driver assistance system. It's essentially lane-keep assist paired with adaptive cruise control. However, it's arguably the best in the industry right now. Tesla is in the process of transitioning all vehicles to Tesla Vision, Tesla's camera-based Autopilot system.
Tesla could follow through on their bold promises and send an OTA update to millions of cars overnight that launches the auto industry into Level 4 autonomy. Will it happen? That's more of a wait-and-see game.
Toyota
Toyota just announced that it is launching its own operating system to prepare for the age of autonomous vehicles. The system, named Arene, will be able to control vehicle operation and advanced safety features. Arene will open the door to autonomy that goes beyond Level 2. Toyota Arene should arrive in 2025, which happens to be right around the same time that Mercedes-Benz, GM, Ford, Stellantis and others aim to unveil similar vehicle operating systems.
But that's not all. Toyota has invested hundreds of millions of dollars in other autonomous vehicle companies. In 2021, Toyota bought Lyft's autonomous vehicle development division for $550 million. Previously, the Japanese automaker bought two tech startups, Carmera and Renovo, for an undisclosed sum. Toyota also invested in the following startups who are all focused on an automated future: Pony.ai, Momenta and Ridecell.
The investment in Pony.ai alone was worth $400 million, bringing the grand total of Toyota's investments in automated vehicles to somewhere over $1 billion. Toyota has been admittedly slow catching up to electric vehicle competitors. We can only imagine how much money went into the development of the Toyota Mirai. The hydrogen-powered sedan has dismal sales numbers and almost no where to refuel.
For years, Toyota bet against EVs. They ran marketing campaigns bragging about what they misleadingly called 'self-charging hybrids' (there's no such thing). One glance at automotive industry trends in 2022 makes it clear that that was not a good bet to make. However, over $1 billion of autonomous vehicle investments shows that Toyota is serious about remaining a major player in the future of transportation.
Volkswagen Group
In 2019, Volkswagen group announced a $2.6 billion investment in Argo AI as part of its global partnership with Ford. VW's autonomous vehicle investment came after Ford lifted Argo AI into the spotlight by investing $1 billion dollars in 2017.
Three years later, Volkswagen's half of the deal is moving along nicely. Beginning in 2021, the all-new ID Buzz van began testing on German roads. The ID Buzz is equipped with Argo AI's bulky autonomous hardware on the outside, and leading edge software on the inside. Both VW and Argo AI intend to prepare the autonomous technologies for a commercial ride-sharing service to launch in 2025.
Volkswagen is getting creative with how they plan to monetize their future autonomous vehicles. Volkswagen board member Thomas Ulbrich told Die Welt that Volkswagen leadership is seriously considering a number of subscription services to generate revenue from not only autonomy features, but also games, extended range, and performance features. In a thinly veiled shot at Tesla, the board member suggested this helps consumers by lowering the price of entry into an autonomous vehicle.
Just how much would a Volkswagen autonomous-driving subscription cost? Ulbrich says around $8.50 per hour is a ballpark estimate for what VW customers could expect to pay. Furthermore, Volkswagen plans to begin offering pay-per-use features in its MEB platform cars starting later in 2022. They think subscription Services could eventually net hundreds of millions of dollars every year for the company.
Volvo
At CES 2022, Volvo made three big announcements. Ride Pilot, a new Level 3 autonomy system, is coming to Volvo's all-new electric SUV to be unveiled later this year. Volvo Ride Pilot will enable hands-free driving, however only on the highway. Volvo drivers wanting to try out Ride Pilot will need to subscribe to the feature. Pricing has not been announced.
Ride Pilot is currently undergoing testing in Europe. Volvo expects testing in California to begin this summer. Initially, Ride Pilot will only be available in California. Why California? Volvo says "the climate, traffic conditions and regulatory framework provide a favorable environment for the introduction of autonomous driving." They suggest that there will be a gradual release nationwide, but the timeline is unclear.
Volvo has committed to partnerships with autonomy giant Waymo, as well as smaller startups like Apex.AI. Volvo's commercial arm is working with NVIDIA and Aurora on the development of autonomous commercial vehicles. Volvo has not announced how much they've put into autonomous vehicle investments, but hundreds of millions of dollars appears likely.
How Much Have Automakers Invested in Autonomous Vehicle Technology?
Legacy automakers have publicly shared investments in autonomous vehicle development totaling $48 billion through 2025. Add in related electric vehicle investments of over half a trillion dollars, and it's clear that automakers are betting their money on an autonomous, electric future.
The crazy thing is, there's no guarantee that any automaker or startup will succeed at Level 5 autonomy in this decade, despite the endless investments in the cause. As Tesla CEO Elon Musk recently quipped, "I thought the self-driving problem would be hard, but it's harder than I thought." Hopefully the brightest minds and fattest wallets get it done.
Check back for updates as Tesla, legacy automakers and dozens of startups race to the finish line, without anyone in the driver's seat.