If you're looking for a used car deal this year, understanding the ins and outs of today's changing used car market is key to saving more. In 2023, car buyers who are empowered with knowledge and negotiation know-how will save the most money. Those who are caught off guard are destined to overpay. At CarEdge, we track used car prices and inventory weekly as we help thousands of car buyers negotiate deals. We're real people helping you save real money. Our CarEdge Auto Experts are sharing which used cars are likely to have the best deals in 2023, and what to be mindful of along the way.
Used Car Prices Continue to Drop – Some More Than Others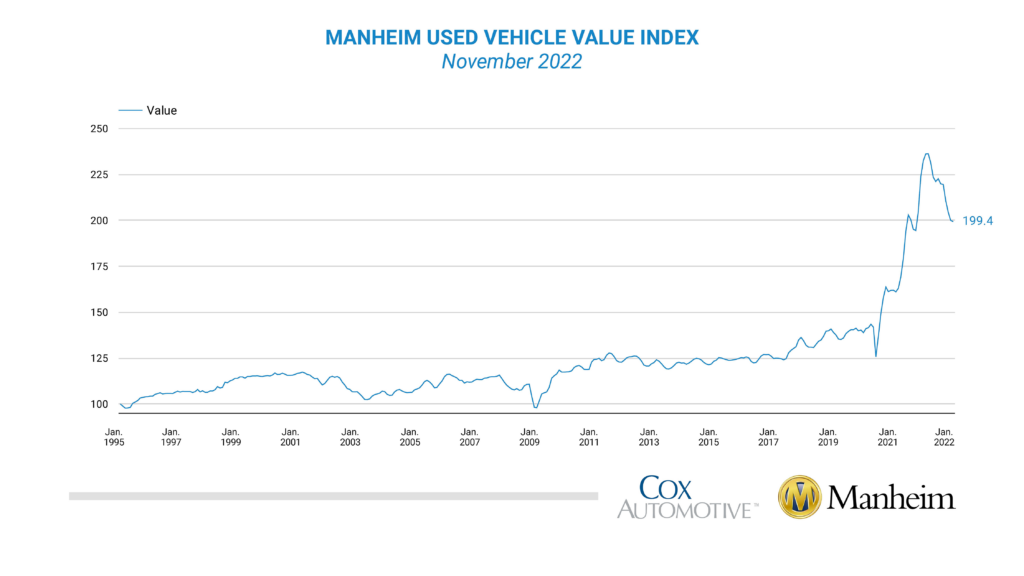 At the wholesale markets, used car prices have steadily dropped since mid-2022. Industry analysts are noting price declines on every front. As of November's data, the Manheim Used Vehicle Value Index shows that used car prices are down 14.2% from one year prior. Digging into the details, we can see that some used car segments are dropping faster than others.
SUVs (including crossovers) have seen prices drop the most over the past year, dropping -16.4% since November 2021. Next up are luxury cars, which have had prices drop -15.6% on average over the past year. Here's the year-over-year price drop breakdown for the vehicle classes with the greatest price declines, as of December 2022:
SUV/crossovers: -16.4%
Luxury cars: -15.6%
Midsize cars: -14.4%
Trucks: -11.9%
Vans: -11.6%
Compact cars: -10.6%
Full-size cars, subcompact cars, sports cars and luxury SUVs/crossovers all saw prices drop year-over-year, but saw declines below the overall industry average.
See the latest used car price data from Manheim here.
Black Book's used car price data shows the same picture overall, with greater resolution. All 22 vehicle classes in Black Book's wholesale used car auction weekly analyses have seen prices drop over the past six months. Wholesale transaction prices are easiest to track, hence the industry-wide focus on them.
Typically, wholesale price trends are reflected in retail prices with a 3-6 week delay.
At the wholesale level, used car prices began to fall in the overall market in mid-June of 2022. By early August, retail prices were also dropping. By late 2022, retail used car prices had been dropping for nearly five months. Generally, used vehicle classes that saw the most price appreciation in 2021 have seen the greatest price drops, as they've had the farthest to fall.
According to Black Book transaction data, these are the used car segments with the greatest drops so far:
Luxury cars
Luxury SUVs/crossovers
Mainstream SUVs/crossovers
And these are the used car segments with the smallest price drops:
Vans
Subcompact cars
Sports cars
Understanding market price trends is the first step towards becoming a well-prepared used car buyer in 2023. Will these trends continue? Let's take a closer look.
Be Wary of Depreciation in 2023
Used car prices are very likely to continue dropping in 2023.
Why are used car prices so likely to drop further?
New car inventory is now the highest it has been since 2020. More buyers are considering new models, reducing demand for used cars.
Interest rates for auto loans have doubled since 2021. The average used car loan APR is now close to 10%, while used car loan APRs average under 5%.
Fears of an economic recession have led more would-be buyers to save a bit more, and spend less. More on how recessions affect car sales and prices here.
What does this mean for you if you're likely to buy a car in 2023? Don't overpay, because the deals will be out there.
The Best Used Car Deals in 2023
Our team of CarEdge Auto Experts help car buyers negotiate amazing deals every day. They're as knowledgeable about the used car market as it gets, and they put their auto industry know-how to use saving our members money. These are the used vehicles they expect to have the best deals in 2023.
Phil, CarEdge Auto Expert: "I think the compact and midsize crossover segments will continue to see good deals. For example, Toyota RAV4s and comparable crossovers continue to see declines in retail pricing. This falls in line with compact to midsize vehicles. These have seen the highest appreciation in the last 12 months, and now they are seeing a large decline to offset that. Also, anyone looking for a used luxury vehicle should see some continued deals with values coming down."
Jerry, CarEdge Auto Expert: "I expect to see deals/prices improve in near-new vehicle segment, primarily full-size trucks. As new vehicle shortage is improving, deals and incentives are improving, which will slowly bring back the price relationship between new and used prices. We are already seeing this, as there are discounts to be found of up to $8-10k on new, full-size trucks. This will push down the prices of near-new. Deals/availability in the up-to $20k segment will continue to be challenged."
Mario, CarEdge Auto Expert: "With increasing incoming units and in-stock inventory on dealer lots (Toyota, Audi, BMW, Hyundai, Honda, and Subaru, for example), we are slowly moving away from reserving allocations or factory ordering, except for low volume models like EVs and Hybrids. For domestics it will always be an option, but even F150s and Wranglers have good stock on the ground in big markets."
Justise, CarEdge Auto Expert: "Used sedans, and trucks are the best segment. Honda is still hard to negotiate but everything is getting much easier. The best deals are on Toyota, with new prices finally so negotiable used Toyotas can be gotten for a steal. All Jeeps are still very negotiable right now."
Our CarEdge Auto Advocates were quick to point out that so much has changed in the auto market over the past six months, and that a lot more will change in 2023. While we don't have a car buying crystal ball, our team helps members negotiate the best deals on hundreds of used and new vehicles each week, resulting in expert insights that can inform car buyers in 2023.
How to Save Money Buying a Used Car
CarEdge is the largest consumer advocacy in the auto industry today. We help real people save real money on car deals. That's why we share hundreds of free guides and resources in addition to the full benefits savings available for our members (more on that here).
Shop Needs Versus Wants
If you need a family hauler, say no more. But how many seats do you really need? It's worth thinking about. Does it make the most sense to buy a vehicle for an outlier use-case scenario, such as taking one or two big road trips per year? Usually, it doesn't.
For example, consider the differences in MSRP and fuel economy between a popular three-row SUV and a crossover. The 2023 Hyundai Palisade Limited starts at $46,800, but the slightly smaller 2023 Hyundai Santa Fe Limited starts at $40,050. Take it down a step further, and you can get a Hyundai Tucson Hybrid for under $39,000. That would be 37 miles per gallon in the Tucson Hybrid, compared to just 22 MPG in the Palisade, totaling $800 in annual fuel savings for the average American driver. Plus, with a more expensive model, you're likely to finance more for a longer term.
Take the cost of financing and fuel into account, and you'll quickly realize that A LOT of money can be saved by shopping for everyday needs, rather than wants or 'what ifs'.
Get the Lowest Rate Possible
Did you know that the average interest rate APR for a used car purchase is nearly double that of a new car? Sad, but true. According to Experian, The average auto loan interest rate was 5.16% for new cars and 9.34% for used cars in late 2022. While percentages may seem insignificant on the surface, they have a huge impact on your monthly payment, and how much total interest you'll owe over your loan term.
For example, when financing $35,000 for 72 months, an APR of 5% will result in $5,584 in total interest paid, but an APR of 10% will result in $11,684 total interest paid. That's no small change!
We want you to get a competitive, low rate when you buy your next car. That's why we partnered with trusted credit unions around the country to bring low rates and great customer service to you. Learn more and pre-qualify in minutes!
Don't Buy Without a Pre-Purchase Inspection
A pre-purchase inspection is a vehicle inspection that an independent mechanic conducts in advance of a vehicle sale. There is no universal checklist of what constitutes an inspection, but experienced mechanics tend to have their own methodology. Pre-purchase inspections (commonly referred to as PPIs) are simply a mechanical review of a vehicle in advance of a sale.
You should have a PPI conducted the same day, or within a few days of taking delivery of a vehicle. The last thing you want to do is have a pre-purchase inspection conducted only to have an issue crop up a few days later unexpectedly. Learn more with our in-depth guide to pre-purchase inspections.
Negotiate Like a Pro
Take one look at CarEdge success stories, and the value of negotiating is clear. When you learn how to effectively negotiate car prices, you open the door to THOUSANDS of dollars in savings. At a time when auto loan interest rates are climbing ever higher, saving a few thousand dollars on a deal translates to even greater savings in financing costs over the long-term. Plus, we can even locate your next car, and negotiate the best deal on your behalf with CarEdge Concierge.
See how we can help today, or simply enjoy the 100% free car buying guides below.
Car Buying Cheat Sheet – Take This With You!
Used Car Price Trends (Updated Weekly)
The Car Buyer's Glossary of Terms, Lingo, and Jargon
The Best and Worst Electric Cars in 2023
See all free guides, news and reviews here.