As the 2023 holiday season approaches, the automotive market is showing signs of change, particularly in the used car sector. After a period of record-high prices in 2022, there's a light at the end of the tunnel for those seeking more affordable options. While used car prices have remained flat at retail lots, a steady decline has continued for months at wholesale auctions. Lower prices may soon reach retail consumers, with year-end sales in the new car market being the catalyst. Let's take a look at how used car deals could play out in December.
Current Trends in Used Car Pricing
The cost of borrowing money is at a 20-year high, and used car sales are feeling the impacts. Demand for used cars has been on a slight downward trend in 2023. As of the most recent data from October, used car sales are down by 4% year-over-year. Unfortunately, used car prices have resisted downward pressure for most of the year.
Finally, that could be starting to change. Retail used car prices have seen a modest reduction of 0.7% over the past month after numerous ups and downs. However, since the start of 2023, prices have not moved much, hovering around an average listing price of $26,500. This is despite wild swings in wholesale prices.
The pace of this price decline has been slow, largely due to the supply of used cars in the retail market. With a current 49-day supply, down only slightly from previous months, a significant increase in inventory would be necessary for a more substantial drop in prices. However, patient buyers may finally get the relief they've been hoping for.
Stay updated with the latest trends and data on used car prices by following our weekly price updates at CarEdge.
When Will Used Car Prices Drop? All Eyes On December
For those waiting for a drop in used car prices, December 2023 appears promising. The potential for substantial price reductions is on the horizon, accelerated by Black Friday deals drawing more buyers to new car lots as early as November.
Interestingly, the key to understanding the potential for a used car price drop lies within the new car market, specifically in year-end sales dynamics. The end of the year is traditionally a prime time for new car purchases, as dealers and automakers strive to clear out current year models. This year, an abundance of new car inventory is anticipated, with the overall new car market experiencing an 83-day supply as of November. Some brands, such as Jeep and Ram, have over 100 days of inventory. This surplus exceeds the healthy market-day supply range of 40 to 60 days, indicating a pressing need for sales. How does this play into the used car market?
This surplus in the new car market should benefit used car buyers. Massive new car sales in December are likely to divert consumer attention from used to new vehicles. The appearance of attractive financing offers, like 0% APR could further encourage this shift.
In fact, used car buyers may want to reconsider once they realize the cost of today's interest rates. A new car at MSRP with 0% APR financing may be a better deal than a used car at 14% APR. Believe it or not, today's average used car loan rate is 14% APR.
How much will that interest cost you over an entire loan term? A $25,000 used car loan will actually cost you $35,000 over a 60 month term once the average 14% APR is factored in. You could get a decent new car with low APR for about the same price.
Be sure to check the best new car deals this month.
How Much Will Car Prices Drop?
How much might used car prices drop by the end of 2023? Car dealers have been notoriously stubborn with their sticker prices, as evidenced by unchanged average listing prices this year. What will improve most in December is the negotiability of used cars. For car buyers prepared with negotiation know-how, December will present a rare opportunity to save thousands of dollars.
For all but the most in-demand models, buyers should be able to negotiate 10% off of the listing price for used cars. For the average priced used car, that would amount to approximately $2,500 in savings.
Remember, you can always check local market dynamics with CarEdge Data. Perhaps your dream car is more negotiable than you'd think!
Free Car Buying Help Is Here!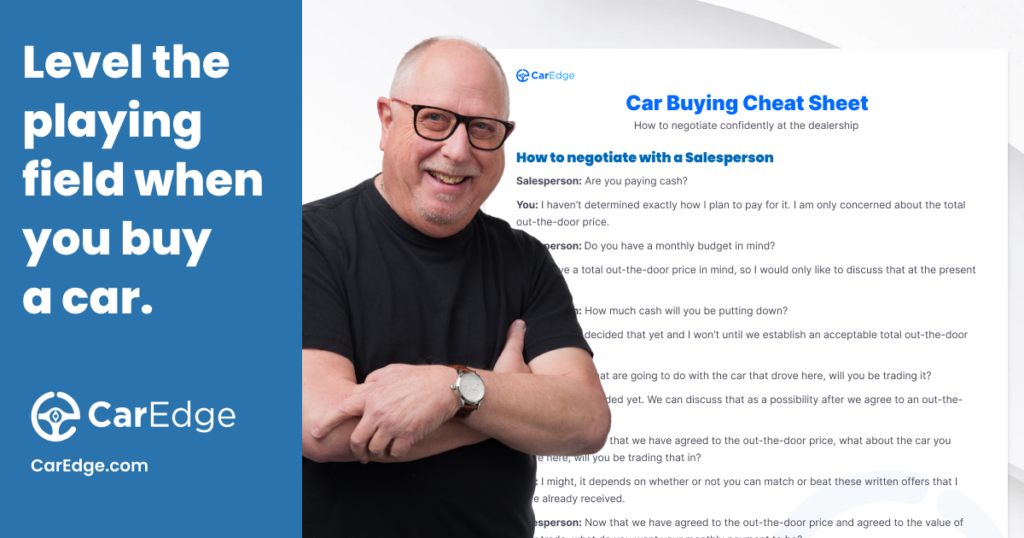 Ready to outsmart the dealerships? Download your 100% free car buying cheat sheets today. From negotiating a deal to leasing a car the smart way, it's all available for instant download. Get your cheat sheets today!