Buying an EV today is no walk in the park, but a good deal can be had with patience, research and flexibility. And having just gone through this process myself, I can confirm it was totally worth the work. These are my secrets to success, and how you can adapt these buying strategies to your unique situation in 2023.
Plus, be sure to check out the free template below to help you find the best deal on an EV in today's competitive market.
Step 1: Know what you want, and what you'll settle for
In 2023, it will save you a lot of strife to figure this out from the get-go. Which electric car models are you serious about? Are you solely considering Tesla with their direct-to-consumer, non-negotiable prices, or are you heading out to dealerships to find the best deal? Have you test driven your favorite EVs or even rented them on a service like Turo?
Once you have your short list of electric cars, trucks or SUVs that made the cut, it's time to talk trim options, powertrains, and colors.
Drivetrain and range
Do you prefer better range, or traction and acceleration? For some, all-wheel drive versus rear-wheel drive is front of mind. My driveway in snowy West Virginia is as steep as it gets, so I knew that AWD was a must for me. There's always a tradeoff though. RWD electric cars get better range, sometimes 20% more. However, they're not as fast for the speed freaks out there. Do you care more about going the extra mile on the highway, or zipping around town with the best 0-60 time?
And then there's charging time. Before you settle on an EV model, have a plan for how you'll charge it. If you live near a major metro area or along a major interstate, don't fret. Fast chargers are already available near you. However, charging at home is MUCH more affordable.
Would you be okay with adding a few miles of driving range per hour (30 miles overnight) by simply plugging in to a normal 110 Volt wall outlet? Or would you rather spend $1000 on the installation of a faster charger for your home? The answer to that question may depend on what the rated range and charging speeds of your car are.
Trim options
It's often easier to find a base trim at MSRP. I just experienced the hassle of finding a fully-loaded IONIQ 5 Limited in America. There aren't many out there. Depending on the EV you're in the market for, finding the trim you want may or may not be a challenge. For Tesla, it's a non-issue. I've found that the only way to avoid regretting your trim selection is to experience each trim firsthand.
Remember: The average price for an EV remains 20% higher than the overall market in 2023. Buying an EV under MSRP is possible, as proven by our own CarEdge Car Coaches. However, if a higher trim makes it more likely that you'll keep the vehicle long-term, it might be worth it to shell out a few thousand more dollars to get the upgrade. I'm glad I did.
The real value (and fuel/maintenance savings) of an EV will only be had if you keep it long-term (or if it ends up keeping good residual value down the road).
Step 2: Set your boundaries
How long are you willing to wait? How far are you willing to go over MSRP? What will you do if the dealer tries to force add-ons? Would you be patient to save thousands of dollars? These are all questions you should be asking yourself early on.
Would you buy out of state?
As ridiculous as it is, I took a one-way flight 600 miles to New York to pick up my lovely new car at MSRP. Sure, I could have bought a base trim with a $3000 markup a few hours away, but my plane ticket was only $250. What are you willing to do for the perfect car at the perfect price (by 2022 standards)? How far would you go? Would you rather travel to pick up the electric car, or pay $1,000 – $2,000 for delivery?
Would you pay over MSRP?
How much are you willing to pay? Strictly the manufacturer-suggested retail price (MSRP), or a tad more? What will be your plan of action if the perfect car is local for $2,000 or $3,000 over, but the same car is at MSRP five hours away? Remember, EVs ARE negotiable in 2023.
Step 3: Get organized
I'm a spreadsheet guy. Google Sheets and Microsoft Excel are my best friends. Perhaps you prefer lists on a notepad or on your phone. Whatever the case, get organized. If you don't, you may end up calling the same dealership twice, or even worse, losing track of where the best deals are.
Here are some important things to keep track of:
Dealership name (of course) and the state it's in
Does the dealer sell to out-of-state customers?
Do they sell your desired car at MSRP? If not, what's the markup?
Do they push dealer add-ons? What are they?
Do they have existing inventory available, or incoming allocations that are not pre-sold?
Do they accept refundable deposits to reserve a car?
Here's an example template that you can copy and make your own.
I can not emphasize the importance of staying organized throughout your car search, especially if you don't want to spend more time than absolutely necessary on this.
Step 4: Finally, make contact
Now it's time to contact dealers and fill up that spreadsheet. Fingers crossed! Do you prefer phone calls, or messaging the internet sales team? I was impatient, so I called each dealer, and if it sounded like they might be one to work with, I then began the email process. It's VERY wise to document all communications (especially about pricing) in emails or at least text messages.
Don't make it any harder than it has to be. Start with a search radius you're comfortable with, and work outward from there. In fact, start with CarEdge Car Search to find the inventory leads, and don't forget to check out CarEdge Car Dealer Reviews, where dozens of electric car buyers have already shared their dealership experiences. Don't forget to add yours!
Step 5: Proceed with caution, and document everything
When you find what you want (hopefully with no dealer markup and no or negotiable add-ons, find out if you can place a deposit. Some dealerships don't accept deposits, which means you'd have to show up on the day the car arrives. Even then, nothing is a guarantee. Do a risk/reward analysis.
Does the price and spec of the car justify what it would take to get the car?
When you find the deal you'd like to move forward with, get EVERYTHING in writing.
Specifically, these bits of info should be documented at the very least:
Name of the salesperson and sales manager
Detailed 'worksheet' pricing with the vehicle's VIN number and options included

Note: If you're ordering a new factory build from the dealer, there won't be a VIN assigned yet.

Financing options. If you plan to finance, find out what rate you'd qualify for with the dealer, and be ready to bring outside financing with you if necessary. Here are 5 things you need to know about the dealership finance office.

Note: Financing approval is only good for a maximum of 30 days, so apply and arrange for financing when the vehicle is due for arrival at the dealership.

Bringing a trade-in? You'll likely need to bring the vehicle to the dealership to get a firm quote on how much they'll give you for it, or else you're risking a low-ball offer for the trade-in. If possible, find out what they will pay for the trade-in.
Take care of the what-ifs: Before traveling far and wide to buy your EV, consider using your offer to negotiate a better price at a local dealership.
Document, document, document!
Make sure you're aware of the possible arrival date if awaiting a shipment. Be flexible. My delivery date was actually moved up, but others have had to wait a few extra weeks.
Success!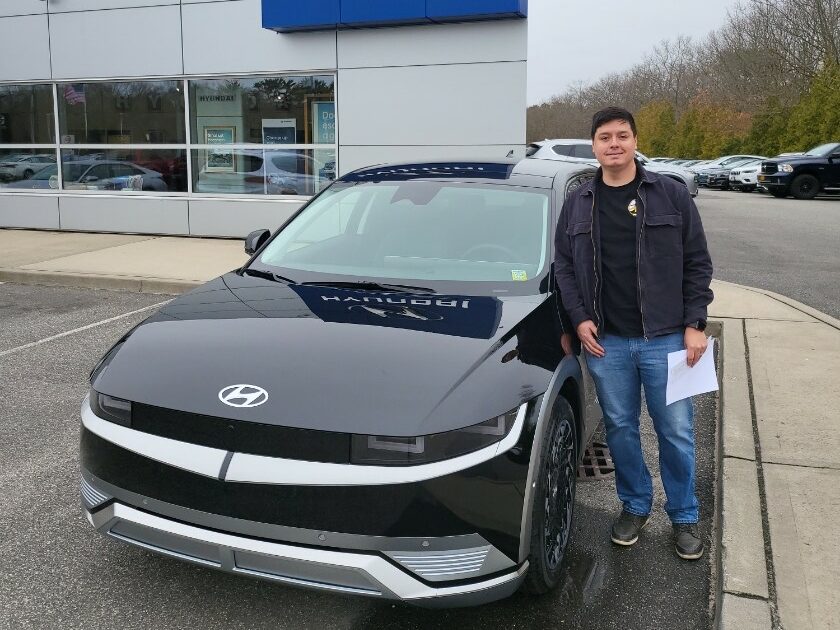 Even in today's hectic, supply-constrained auto market, I'm confident that electric car buyers can find a great deal by following this game plan. Clearly, documenting everything is my thesis. Let us know if you have any questions, thoughts or suggestions. We'd especially love to know how your electric car buying experience turns out!
Be sure to leave a dealer review to help others find pro-consumer dealerships!
Plus, check out our new CarEdge Electric live show every Monday, Wednesday and Friday. We're excited for what's to come, and we're thrilled to have you along for the ride.
Get the most when you sell your car.
Compare and choose multiple offers in minutes: