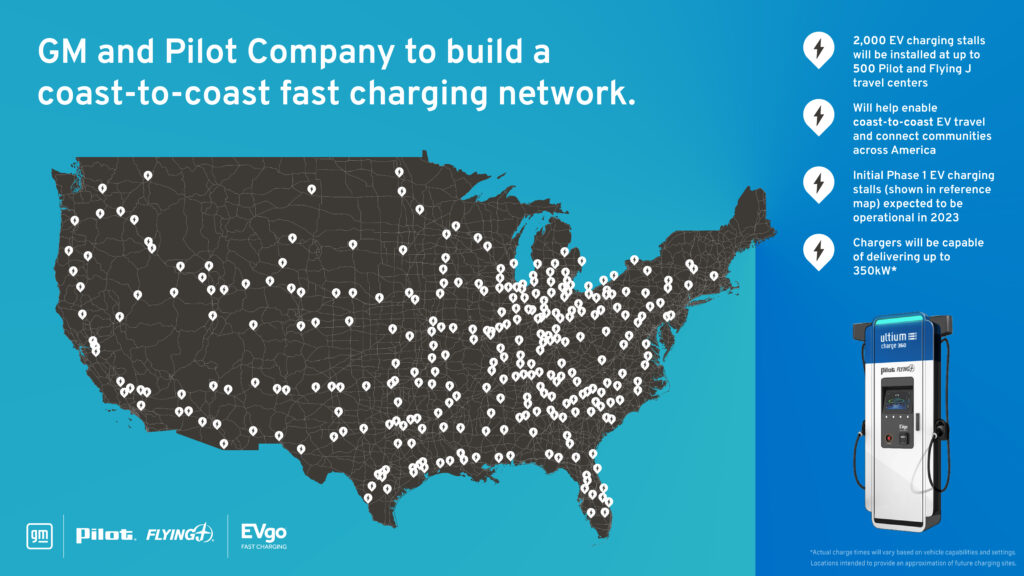 For years, electric vehicle enthusiasts and skeptics alike have said that if electric vehicles were ever to go mainstream, chargers were needed in two places: highway rest areas and truck stops. With today's announcement from General Motors and the ongoing planning of the national charging network, EV chargers just might end up at both of these high-traffic locations. GM has announced a new partnership with EVgo, America's third-largest charging network, and Pilot Company to bring EV fast chargers to 500 truck stop locations nationwide.
EVgo Takes the Lead, with Support From Pilot and GM
GM is on the verge of a massive push to EVs, and is counting on its new Ultium battery platform to overcome past issues with America's most affordable electric car, the Chevrolet Bolt. As long as Tesla's massive Supercharger network remains exclusively for Tesla owners, GM and other automakers will be faced with the challenge of how to provide adequate fast charging infrastructure for their EV customers.
In a press release, GM said that the new EVgo stations will be accessible to all EV brands. EVgo will install, operate and maintain the new charging stations, and Pilot Company's Pilot and Flying J travel centers (more commonly known as truck stops) will provide amenities like restrooms and food options.
The latest announcement is separate from the existing collaboration GM has with EVgo to install more than 3,250 fast chargers in American cities and suburbs by the end of 2025. The first charging stations resulting from this new partnership will go live next year.
What exactly is GM's role in this collaborative effort? From what's been revealed so far, it appears it's in the marketing and financing of these charging stations. The EVgo-installed and maintained stations will be co-branded "Pilot Flying J" and "Ultium Charge 360", according to GM.
With Chevy Bolt sales skyrocketing and the Silverado electric truck almost here, GM's electric vehicle customers are looking for signs of better charging experiences, and according to the announcement, it sounds like this will go a long way toward a more seamless experience.
"GM customers will receive special benefits like exclusive reservations, discounts on charging, a streamlined charging process through Plug and Charge and integration into GM's vehicle brand apps providing real-time charger availability and help with route planning."
Speaking of the Silverado EV and Ultium platform, many of the new EVgo stations will be able to charge at 350 kilowatts, making ultra-fast charging sessions possible in more areas.
Pilot EV Chargers To Become More Like Gas Pumps
One thing that stood out to me was GM's mention of canopy covers for some of the EVgo charging stations. Plugging in during a thunderstorm fully-exposed to the elements doesn't make for a fun EV experience, so I welcome this addition to charging stations.
Timeline: Surprisingly Soon
Phase 1 installations (pictured in the map) are supposed to begin operation by the end of 2023. As far as charging infrastructure goes, that's a quick rollout. Subsequent phases will bring chargers to more locations not announced yet.
Electrify America is currently the charging network of choice for most brands besides Tesla, with over 800 locations in the U.S. Electric vehicle drivers (myself included) are too-often inconvenienced by malfunctioning charging stalls and lines to charge on holiday weekends. With a government-funded national charging network nearing the start of construction, EV drivers are hoping for more reliability, easier access, and less charger downtime. GM's partnership with EVgo and Pilot could be the pillar that finally brings stability to the EV charging experience. We look forward to this collaboration getting off the ground.
Get the most when you sell your car.
Compare and choose multiple offers in minutes: