This year's Los Angeles Auto Show features the debut of several electric vehicles to the North American market. With so many competitively priced EVs hitting the roads next year and the likelihood of expanded EV rebates or tax credits, the future is looking electric. After the cancellation of the 2020 LA Auto Show, legacy automakers and industry newcomers alike are eager to show off their latest and greatest. We'll take a closer look at nine production-ready EVs that stand out as top contenders in this rapidly growing market.
Nissan Ariya – arriving early 2022
CarEdge's Take
Quite nice for a Nissan: The aerodynamic design and next generation tech of the Ariya represents a step up for Nissan as it looks beyond the pioneering Leaf.
Range: estimated 300 miles, TBD
Price: $45,950 – $58,950 (not including incentives)
Nissan was an EV pioneer when it launched the Leaf back in 2011. For years, Nissan led the pack, only to fall to the likes of the Chevy Bolt and Tesla in the second half of the 2010s. So Nissan's all-new Ariya has a lot to live up to, and it will be up against plenty of crossover competition.
This electric crossover features futuristic design language and a suite of next-gen tech. Dual 12" screens provide the driver with Nissan's latest infotainment and digital gauge cluster. The car is capable of receiving remote over-the-air updates to improve performance and tech, a feature popularized by Tesla.
The interior is open and roomy, but the sloping roof design makes for just 15 to 17 cubic feet of rear cargo space, depending on whether AWD adds a rear motor. The 300 mile target range is on par with class leaders like the Model Y and Mustang Mach-E. However, charging speed is not impressive at just 130 kW, likely requiring around 35-40 minutes to charge to 80% on a road trip. But keep in mind that most EV charging is done at home overnight.
The three front-wheel drive trims produce 238 horsepower, reaching 60 mph in 7.4 seconds. Nissan clearly thinks highly of the Ariya, as it's priced above several competitors. The Venture+ base trim starts at $45,950 before incentives, and the premium Platinum+ offers AWD and 389 HP for $58,950. During the reservation period, Nissan only offers its e-4ORCE AWD on the top Platinum trim.
Toyota bZ4X – arriving spring 2022
CarEdge's take
Toyota's Beyond Zero debut: Toyota dominates the hybrid segment, but this late entry to the EV game is playing catch-up.
Range: 250 miles (lower for AWD)
Price: estimated under $40,000 (not including incentives)
In 2019, Toyota announced that it was teaming up with Subaru to develop a new electric platform that would power the two automaker's EVs in the 2020s. Now, we get to see the fruits of their research and development. The 2023 Toyota bZ4X is the first offering from Toyota's new Beyond Zero class of vehicles.
This Rav4-sized compact crossover has a low roofline and polarizing exterior design, akin to a crossover version of a Prius. But there's plenty of space with 30 cubic feet of cargo room. A big 12" screen stands out, and there's a mix of haptic and old-school physical controls. Front-wheel drive is standard, offering up to 250 miles of range. It's not terribly quick, with just 201 HP in FWD models.
The bZ4X arrives in spring of 2022 with an expected base price under $40,000 before incentives.
Subaru Solterra – arriving sometime in 2022
CarEdge's Take
All-wheel drive plus range anxiety: Subaru's first all-electric vehicle offers outdoorsy dimensions but not enough range to stray too far from the interstate.
Range: 220 miles
Price: Estimated $37,000 – $45,000 (not including incentives)
Subaru's half of the partnership with Toyota has resulted in the all-new Solterra electric compact crossover. Spoiler alert: It's nearly identical to the Toyota bZ4X, with one unsurprising distinction. The Solterra features standard all-wheel drive and ground clearance suitable for light off-roading at 8.3", matched only by the Volkswagen ID.4.
Lugging around the extra weight from the second motor hurts the Solterra's range, as it's expected to be rated for just over 220 miles on a charge. For a 2023 model, that's a bit disappointing, especially for an automaker that prides itself in going off the beaten path (where chargers are few and far between).
The estimated starting price is expected to be in the mid to upper $30,000's for the lower trims, likely reaching into the $45,000 range fully-loaded.
Kia EV6 – arriving January 2022
CarEdge's Take
Efficiency and charging reign supreme: The EV6 recently beat Tesla's previous record in a race across the US from coast to coast.
Range: ~ 270 – 300 miles
Price: ~$45,000 – $58,500 (not including incentives)
Kia's first dedicated EV and companion to the popular eNiro takes the automaker's EV game to the next level. Kia and sister company Hyundai have unveiled their new e-GMP electric platform, and the results are impressive. The EV6 is getting rave reviews in Europe where it's already on the road, and it seems to be a serious contender for EV market share.
With range up to 300 miles and fast charging from 10 to 80% in just 18 minutes (!), the EV6 is a sign of the electric offerings to come in the mid-2020s. Don't let the base version's 58 kWh battery and 167 horsepower fool you; most rear-wheel drive trims come with a 77.4 kWh battery (on par with class leaders) and 225 hp. All-wheel drive brings the power: 320 hp comes standard with AWD, and the GT option launches it to a very impressive 576 hp and a 0-60 time of 3.5 seconds.
This Kia has turned out to be a real Model Y competitor. Price options are to be determined, but the EV6 is likely to start in the mid-40s.
Hyundai IONIQ 5 – arriving to select US markets winter 2021
CarEdge's Take
A retro-inspired car from the future: The evocative design of this compact crossover is sure to turn heads. It also speeds through charging sessions.
Range: 269 – 300 miles
Price: $40,000+ TBD (not including incentives)
Rarely does an all-new car enter the market with the novelty that the Hyundai IONIQ 5 is bringing to North America. Hyundai's bold, futuristic yet retro design is unlike anything else on the road. It's like science fiction made real. Hyundai says the design is partly inspired by the 1975 Hyundai Pony, South Korea's first mass-produced car for export.
The result is an angular and pixel-inspired Tucson-sized crossover. Although it's the Kia EV6's e-GMP platform sibling, they don't share any design language. The IONIQ 5 comes in three trims. Standard rear-wheel drive produces 225 hp and a 0-60 time of 7.4 seconds. All-wheel drive brings that up to 320 hp and a zippy 0-60 of 5.2 seconds.
Range is impressive but not exceptional. RWD variants are expected to have about 300 miles of range, and AWD offers 269 miles. Like the EV6, the 350 kW level 3 charging speed is class-leading with over 200 miles of range added in just 18 minutes. Unlike most of today's EVs, the IONIQ 5 and EV6 are capable of bidirectional charging. This means that you can plug household appliances into the car for power in the event of a power outage or remote camping adventure.
Hyundai still has not released pricing for the US, but if Canada's prices are any hint, expect it to start in the mid 40s.
Ford F-150 Lightning: available spring 2022
CarEdge's Take
This truck powers your home or jobsite: The F-150 Lightning serves as a back-up power source that can power an entire home for days, or power tools for hundreds of hours. It has a massive frunk too.
Range: 230 – 300+ miles
Price: $39,974 – $52,974 (not including incentives)
Ford's success with the popular albeit controversially named Mustang Mach-E has shown that the top-selling automaker in America is serious about electrification. Now, Ford is electrifying its most popular segment: trucks. The F-150 has been the best-selling truck for 44 years, so it's a bold move to introduce a new powertrain. But if nearly 200,000 preorders is any indication, the strategy is working out for Ford.
The F-150 Lightning checks all the boxes and then some. The standard-range battery offers 230 miles of range, and the long-range battery brings it up to 300 miles. Payload is an impressive 2,000 pounds, and it can tow up to 10,000 pounds. It's not yet clear how much range is eaten up by towing.
The 4×4 variants powered by two separate motors add head-turning power, carrying the truck to 60 mph in the mid-4 second range. Ford's BlueCruise driver assistance technology allows for hands-free driving on over 100,000 miles of US roads. Yet another impressive feature of the Lightning is the gigantic frunk, or front trunk, that occupies the space under the hood.
Pricing starts at $39,974 for the commercially-focused Pro trim, but the real value and comfort features start at $52,974 for the XLT, and levels up to over $89,874 for the Platinum. Ford says that lifetime maintenance costs will be about 40% less than internal combustion equivalents, and fleet operators are taking notice. There's a lot to love about this electric truck, and it will be interesting to see how it compares to the elusive Tesla Cybertruck and GM's upcoming electric trucks.
Rivian R1T: available now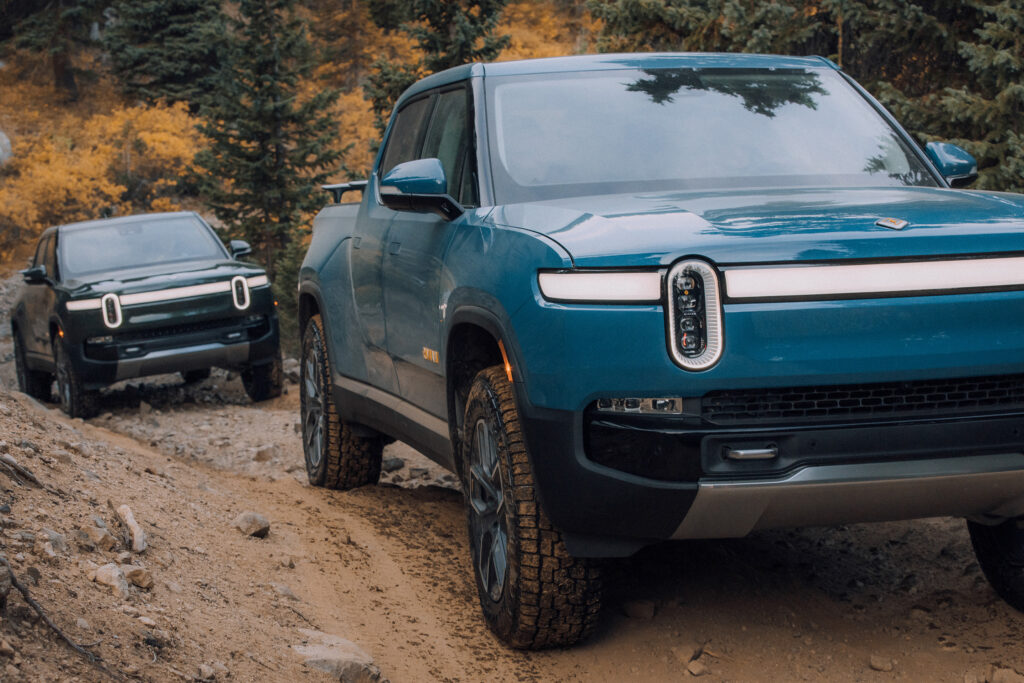 CarEdge's Take
Built with purpose in mind: Rivian's brand is all about making outdoor adventure sustainable. The R1T is the ultimate backcountry crew-cab from the future.
Range: 300 – 400 miles
Price: $67,500 – $83,000+ (not including incentives)
As of 2020, there were zero electric trucks available to North American buyers, but that's all about to change in a big way. The next few years are going to see exploding growth in the electric truck market, with legacy automakers like Ford and GM introducing trucks alongside newcomers like Rivian and Tesla.
Among the emerging crowd, the Rivian R1T stands out. It's a boldly futuristic truck designed with adventure in mind. It's less of a truck for the construction site, and more of a truck for overlanding and exploring wilderness. Backed by both Ford and Amazon, Rivian has put in over a decade of research and development into the design of its first vehicle.
The result is a mid-size crew-cab pickup with 300 to 400 miles of range, depending on battery options. A host of driver assistance features and intuitive tech make the Rivian an excellent choice for the highway and the trail. The R1T is powered by up to 800 hp and launches to 60 mph in as little as 3.0 seconds. An adjustable air suspension lifts the ground clearance up to 14 inches in off-roading situations, while making it possible to lower the clearance significantly on the highway for better fuel economy. Towing is up to 11,000 pounds and payload capacity is 1760 pounds.
The Rivian R1T starts at $67,500 for the Explore trim with a 300+ mile range. The Adventure package with the extended-range battery will set you back $83,000. Rivian also has a full-sized SUV in the works, and they're beginning to fill Amazon's order for 100,000 electric delivery vehicles. You read that right! That's a lot of demand for a company that has delivered well under 1,000 vehicles at the time of this writing.
Fisker Ocean – available late 2022
CarEdge's Take
A legendary designer's unique EV: The sleek aesthetics of this crossover make it a rolling piece of art and an example of sustainable design.
Range: 250 – 350 miles
Price: $37,500 – $69,000+ (not including incentives)
Henrik Fisker's electric ambitions got off to a rough start a decade ago. The Fisker Karma sports car sold 2,000 units before issues with the battery supplier ceased production in 2012. But Fisker is back and they mean business. The stylish Fisker Ocean compact SUV is all the rage at this year's LA Auto Show. Mr. Fisker is a veteran designer at heart, so it's only natural that the Ocean is a truly beautiful car.
Starting at a competitive $37,500, the base trim offers 250 miles of range and 275 hp. The upgraded Ocean Ultra bumps up to 340 miles of range, all-wheel drive and a sporty 540 hp with a 0-60 time of 3.9 seconds. But that's not all. For $69,000, the Ocean Extreme offers a 3.6 second 0-60 time and over 350 miles of range. Fisker is even going to offer a no-commitment lease option for just $379/month, which is basically a subscription service.
On top of the impressive specs and pricing, the Fisker Ocean is largely made of recycled and sustainable materials, and some trims will include a rooftop solar panel. Fisker says he wants this fresh start to produce the highest quality vehicles from day one. That's why they've teamed up with Austrian automaker Magna to produce the Ocean. Magna has made cars for Mercedes-Benz, BMW and Jaguar for decades, so it's safe to say Fisker's production is in good hands.
Lucid Air – available now
CarEdge's Take
What range anxiety? At 520 miles and 131 MPGe, this luxury sedan has claimed the title of Range King for the 2022 model year, a title that it stole from Tesla's Model S.
Range: 406 – 520 miles
Price: $78,900 – $170,000+ (not including incentives)
This ultra-luxury sedan is pushing the frontier of EV technology, but at a luxury price point. The base Air Pure starts at $78,900, and top trims exceed $170,000. What do buyers get for that kind of money? The EPA-rated range of up to 520 miles is industry-leading, beating even the Tesla Model S.
The Air Dream Edition Performance produces 1,111 hp and a 0-60 time of just 2.5 seconds. The interior has been described as pure luxury, with panoramic screens, an expansive glass roof and nearly silent cabin standing out to those lucky enough to get a test drive.
Lucid is already building cars at its new plant in Arizona. Following Tesla's example, the new automaker plans to first produce luxury vehicles before eventually offering more affordable models. An SUV is in the pipeline too. This startup is one to watch.
The Takeaway
The 2021 Los Angeles Auto Show has been a stage for automakers to share their commitment to electrification. Beyond the production-ready EVs, several concept designs also made their debut. By 2030, industry experts estimate that at least one out of four new cars sold in America will be electric. What we're seeing in the unveiling of 2022-2023 models is competition. And when automakers innovate and compete for your business, it's almost always a win for the consumer.