You've just bought your first EV, and now you've come down with a severe case of range anxiety. What's the remedy? You could conservatively plan for charging stops (and charge at home), or shell out thousands of dollars for a suitcase-sized portable battery. Portable electric car chargers are coming to market in 2022. How much do portable EV chargers cost, and are they even worth the money? Here's where things stand today.
What Is a Portable Electric Car Charger?
When combustion-powered vehicles run out of gas, it's rarely more than an inconvenience. When an electric vehicle crawls to a stop on the highway, it's a bigger problem. What if the only charger around is 50 miles down the road? Fortunately, charging an EV is getting easier in America, but range anxiety is a reality for many rural EV drivers and road trippers in 2022.
A portable electric vehicle car charger is an emergency power reserve about the size of a small suitcase that can serve as a portable supply of electricity when there's no public charger nearby. Basically, a portable EV charger is a big battery with bi-directional capability. It can draw power from the grid, but it can also send power to your car.
Get Ready For Charging as a Service (CaaS)
Are portable chargers available? Kinda sorta. You could buy your own portable charger (for a few thousand dollars), or you could subscribe to a service that offers on-demand portable charging as a service. However, it isn't cheap. In fact, far from it. These are the options on the market in 2022, and how much you'll have to fork over for one.
SparkCharge
This new company out of Somerville, Mass. is determined to make owning an EV easier. As Forbes noted recently, think of SparkCharge as the "UberEats or DoorDash of electric vehicle charging." SparkCharge is a service provider that will show up with their portable batteries (affectionately called 'Roadies') to deliver a charge when called upon. The service can be accessed through a subscription-based app called Currently. A service vehicle arrives promptly and begins charging. Currently, SparkCharge's Currently is only available in Dallas, San Francisco, San Jose and Los Angeles. Learn more here.
Size: Doesn't matter, SparkCharge comes to you! The Roadie is about the size of a standard suitcase.
Weight: Battery = 73 lbs, charger is 51 lbs
Power capacity: 3.5 kilowatt-hours of usable power. However, the batteries are stackable on a rolling cart, so you can multiply that by three or four to get up to 14 kWh of usable power for charging. That's a lot more than some competitors offer.
Power output: 20 kilowatts
Miles of range added: "One mile of range added per minute," or a four-stack of Roadie batteries can add 60-70 miles to a single vehicle (in about an hour) or dispense 10 miles of range to seven different EVs.
Price: This is charging as a service (CaaS) at its finest. Here are the subscription options: The Volt subscription costs $25 per month, which covers two charges, each of which comes with a delivery fee of $9.99. The Jolt plan costs $60 for four charges and a $5.99 delivery fee. The Bolt plan is $80 per month for six charges, plus $5.99 delivery. Learn more about SparkCharge here.
The verdict: As EV adoption accelerates, charging as a service will grow as an industry. While today's charging providers are limited by the energy density of their battery technology, the future's looking brighter. If you live in a metro area where SparkCharge is offering service, it may be worth considering. If you do, let us know!
ZipCharge Go
ZipCharge is a new startup out of Britain that promises to bring portable EV chargers to market this year. With wheels on the bottom and a retractable handle (just like a suitcase), the ZipCharge Go is compact, but don't expect it to get you very far.
Size: About the dimensions of a small suitcase
Weight: ~50 pounds
Power capacity: 4 or 8 kilowatt-hour capacity options
Power output: 7.2 kW of power
Miles of range added: 20 to 40 miles in 30 minutes to one hour
Price: Expected to start around $2,000.
The verdict: Just 20 to 40 miles of emergency range for two grand? I think being smart about planning charging stops is a much smarter route to take for EV drivers.
Blink Portable EV charger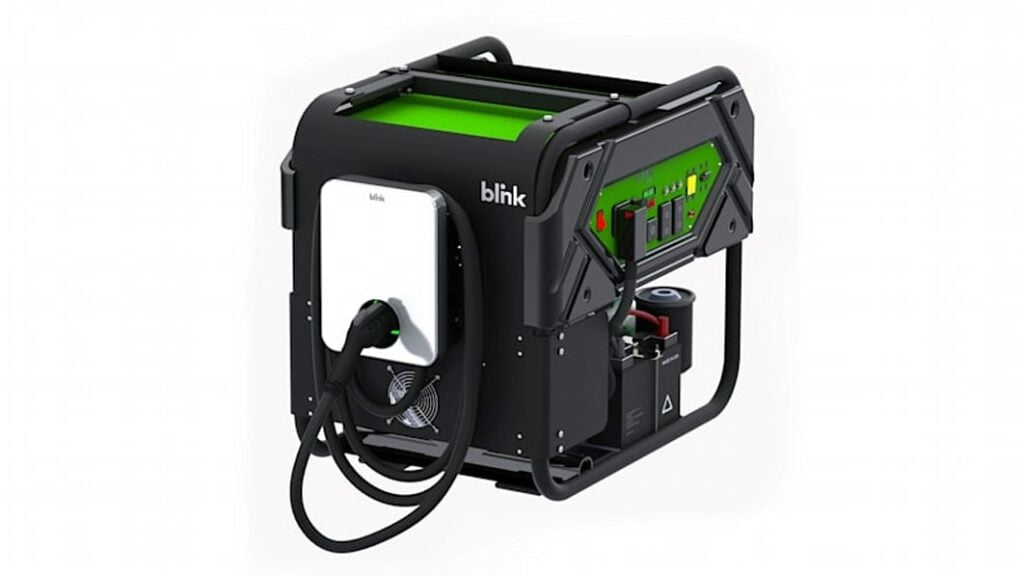 Well-known EV charging company Blink has introduced a portable unit that can be yours for a pretty penny. The Blink portable charger can at up to one mile of range per minute. Blink will sell two versions: one networked for Blink subscribers and one without a network connection so roadside-assistance companies can add the charger to their list of services. Learn more about the Blink portable charger here.
Size: The size of a medium-sized generator
Weight: 350 lbs (this alone would drastically lower driving range)
Power capacity: unknown
Power output: 9.6 kW
Miles of range added: Up to 1 mile of charge per minute
Price: $6,500. Yes, that's a LOT of money.
The verdict: Unless you're a fleet manager responsible for a dozen EVs, I don't see the value of this costly portable charger for the everyday EV driver.
Are Portable EV Chargers Worth the Money?
What it all comes down to is an emerging industry divided into subscription-based AAA-like services, and pricey suitcase-sized batteries that can be hauled around to provide an answer to range anxiety. Consider this: adding one mile of range per minute might be worth it when public fast chargers are much more common and widespread. If you know there's a fast charger 10 miles down the road and you're stranded at 0%, waiting for enough charge to make it there would be a no-brainer. 
But what if the nearest charger is 50 miles away? Or 100 miles away? In most cases, you'll need a tow truck. Charging as a service will pair nicely with a growing fast-charger network nationwide, but until then, city dwellers are likely to be the only EV drivers to benefit. EV charging networks are making big plans for growth, and billions of dollars are being funneled to states for more charging stations.
The smart thing to do is to simply plan your charging stops before you hit the road, at least until there are more chargers available. A Better Route Planner and PlugShare are the best EV trip planning tools out there. I've driven 11,000 miles in my EV without every dropping below 5% state of charge. All it takes is some minor planning and thoughtfulness.
We'll keep an eye on this new option for electric car drivers. Things are changing at lightning speed.
States just announced their massive EV charging proposals. We've gathered every state's EV charging plans in one spot.
Get the most when you sell your car.
Compare and choose multiple offers in minutes: