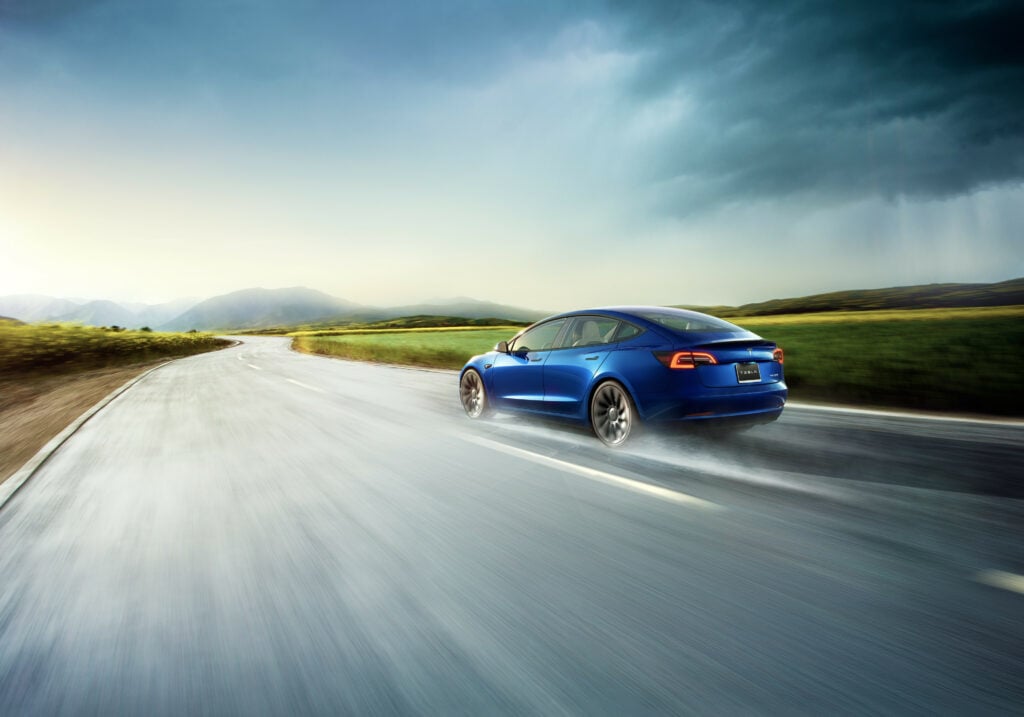 Until charging stations are commonplace, owning an electric vehicle will require more planning and preparation than one would expect for a day's drive. Range is the new MPG, however real-world range isn't easy to pin down. When the U.S. EPA provides official range ratings, the figures are based on vehicles driving in controlled environments on a predetermined track. EV ownership is full of nuances, and one of the greatest is the affect of weather on range. Let's explore how electric vehicles perform in cold weather, hot weather, rain and wind. 
Electric Vehicles in Cold Weather
Cold weather reduces EV range, but how much depends on how toasty you keep the cabin. Sub-freezing temperatures reduce range by between 12% and 30%, but that's without the climate control on to warm the cabin. Data from AAA found that once the heater is turned on, EV range can drop by as much as 41%. Some real-world tests have found range losses closer to 50% with below-zero temperatures. That's not good if you travel long distances across the northern states or the Interior West. More on specific impacts below.
Electric Vehicles in Hot Weather
Yes, hot weather does reduce EV range. According to research conducted by AAA, hot temperatures don't have quite as great of an impact as cold temperatures, but it's still noticeable. In temperatures of 95 degrees Fahrenheit and the air conditioning on, driving range decreases by 17% on average.
A 17% drop in range would mean that a Model Y normally rated for 330 miles on a charge would get closer to 273 miles. Not too big of a deal. For electric vehicles with less EPA-rated range, it matters more. The standard range 2022 Nissan Leaf normally gets 150 miles on a charge, but that would drop to 124 miles in 95-degree weather. Ouch.
Does Rain Affect EV Range?
Rain, snow and anything else falling from the sky does lower EV range. Why? It creates drag, and EV efficiency is all about aerodynamics. The heavier the rain, the greater the impact on range, even if temperatures are perfect for battery performance.
Speaking of which, what is the ideal temperature for electric vehicle battery performance? Geotab's analysis of data from 4,200 EVs found that 70 degrees Fahrenheit (21.5 Celsius) is ideal for battery performance. That's not only perfect for maximum range, it's great weather all around. Learn more in Geotab's full report.
How Much Does Wind Impact EV Range?
Similarly, wind's impacts on electric vehicle range have to do with drag. Drag is in essence aerodynamic friction. Your fancy new electric car can't slide through the air so efficiently with friction working on it.
Wind can work against you or for you. With a steady tailwind pushing you along, it's common to exceed range expectations even on the highway. When there's a substantial headwind, range drops, and sometimes by quite a lot. The impacts of wind on EV range are much more noticeable at highway speeds. It's possible to gain or lose up to 20% of expected range depending on wind direction.
Weather Impacts Depend on Model and Battery Chemistry
Temperature impacts battery performance differently depending on battery type and overall vehicle engineering. Features such as a heat pump, advanced battery preconditioning and even heated seats are just some of the many ways that engineers can do their best to optimize EV performance in suboptimal weather.
EV data specialists at Recurrent looked at data from all of the popular electric vehicle models. They found that EV range in hot and cold weather varies widely from one make and model to another.
Here's how some of America's most popular electric vehicles are affected by cold weather and summer heat.
| Make | Model | Rated Range | Real-World Range (70 deg F) | Cold Weather Range Loss |
| --- | --- | --- | --- | --- |
| Tesla | Model 3 | 353 miles | 339 miles | 335 miles (-5% from rated range) |
| Tesla | Model Y | 330 miles | 320 miles | 323 miles (-2% from rated range) |
| Tesla | Model S | 405 miles | 397 miles | 380 miles (-6% from rated range) |
| Tesla | Model X | 351 miles | 326 miles | 326 miles (-7% from rated range) |
| Ford | Mustang Mach-E | 305 miles | 284 miles | 198 miles (-35% from rated range) |
| Chevrolet | Bolt | 259 miles | 254 miles | 171 miles (-34% from rated range) |
| Nissan | Leaf | 226 miles | 237 miles | 205 miles (-9% from rated range) |
| Hyundai | Kona | 258 miles | 288 miles | 240 miles (-7% from rated range) |
| Audi | e-tron | 222 miles | 224 miles | 206 miles (-7% from rated range) |
For a full breakdown of Recurrent's findings, check out their 2021 report here.
It's Not Just EVs….
The U.S. Department of Energy says that vehicles powered by traditional internal combustion engines (ICE) also suffer efficiency losses as a result of hot and cold weather. ICE vehicles are especially impacted by hot weather due to air conditioning power requirements. The Department of Energy estimates that ICE vehicles lose about 25% of their typical fuel economy when operating with air conditioning on high settings.
One major difference between EVs and ICE vehicles is the affect of cold weather. Electric vehicles use quite a bit of energy to run the heater, whereas ICE vehicles redirect heat generated by the engine and therefore avoid significant effects on efficiency.
Although EV charging stations are becoming commonplace around major cities, many interstate highways have sparse charging infrastructure. Until charging stations are more reliable and easier to find, driving an EV in cold and hot weather will complicate EV ownership and delay EV adoption. A national charging network is on the way, and public fast-charging networks are growing quickly. With EV market share soaring every month, it's imperative that we find solutions to this seasonal challenge that affects millions.
Get the most when you sell your car.
Compare and choose multiple offers in minutes: