In 2021, Tesla's one-size-fits-all crossover took the top spot in EV sales with over 132,000 sold in the US through November. The 2022 Tesla Model Y represents the electric giant's staying power as a force to be reckoned with, and legacy OEMs are late to the game. Tesla recently shared important updates to the Model Y, along with a series of significant price increases. Here's what you need to know about the 2022 Tesla Model Y.
It's a Great Car, But It's Out of Reach For Most
Tesla's Model 3 sedan recently became the first electric vehicle to surpass 1 million cumulative deliveries. The car also has some of the highest customer satisfaction ratings, despite low reliability scores. However, there was always one thing in particular that Model 3 owners wanted more of: space. When the Model Y crossover launched in 2019, Tesla offered a solution for those who desired an electric crossover.
Need a family-sized cabin? Want a sporty drive and all-weather confidence? How about class-leading charging speeds and EPA-rated range? The Model Y has these features and a LOT more. If you're ready to buy a 2022 Tesla Model Y, get in line. Demand has been through the roof. The current backlog of orders shows an estimated delivery window in April-July 2023 for orders placed in July 2022. Upcoming 2022 updates, high customer satisfaction, and the fact that this vehicle is good at almost everything are all reasons for the runaway demand.
2022 Model Y Updates: More Range, More Tech, More Money
Tesla recently announced a small range increase for the Model Y. The updated figures have the Long Range all-wheel drive base version at 330 miles of combined city and highway driving with the 19" gemini wheels, up from 326 miles. This continues to be the all-electric crossover with the longest range on the market.
The Long Range base trim is listed for $67,190 ($65,990 + $1,200 doc fee). Upgrading to the 20" induction wheels (+$2,000) lowers range to 318 miles. The Performance variant ($71,190) gets 303 miles of range.
All new Model Ys can charge at up to 250 kW, which translates to adding 200 miles of range in just 15 minutes at a Tesla Supercharger. There's now one more free paint option. Both pearl white multicoat and midnight silver metallic are available at no additional cost. Tesla's controversial and unfinished Full Self-Driving is unlocked for $10,000 (all Tesla's are equipped with the necessary hardware for FSD). All in all, a fully-loaded red Model Y Performance with FSD will cost a grand total of $87,190 before taxes. 
Giga Texas Introduces 4680 Batteries and a New Variant
To date, Model Ys have been built in Fremont, California for the North American market and in China for Europe and Asia. That will soon change with the opening of Giga Texas, Tesla's brand-new factory and headquarters just outside of Austin.
The first Austin-built Model Y's are rolling off the production line with a surprise in store. These first Texas-made Model Y's are all-wheel drive 'standard range' Model Y's with Tesla's new 4680 tabless battery cells. Tesla is reportedly offering the first batch of this new Model Y variant to customers awaiting orders nearby.
The Model Y Standard Range AWD will cost a few thousand less than the long-range AWD (rumored to be $59,990), but range will be an EPA-rated 279 miles instead of 330. The battery pack has less capacity, with 68 kilowatt-hours instead of the larger 82 kWh pack. Zipping to 60 mph will take 5.0 seconds or so, which is just a hair slower than the long-range variant.
What's so special about Tesla's new 4680 batteries? This larger form factor features a streamlined design that is more energy dense and lightweight per unit of energy stored. In fact, Tesla's 4680 cells are challenging the promise of solid state batteries, an emerging technology that legacy OEMs are betting on.
Mega Castings = One Big Piece of Metal
2022 Model Ys built at Giga Texas will start with a world-first: single castings for the front and rear portions of the frame. Following the introduction of Tesla's megacasting, 2021 Model Ys are already produced with a single rear casting, which is one huge metal cast that replaces what was previously made of 70 individual parts. Mega-castings bring three important benefits for Tesla and their customers. Improved structural rigidity translates to better crash test performance.
Castings greatly simplify production. The new castings also make sense for the incorporation of an all-new structural battery pack for Tesla's new 4680 batteries. Tesla is moving away from the 'skateboard design' that most automakers use for their battery packs, and is transitioning to battery integration into the frame of the car itself.
Get the most when you sell your car.
Compare and choose multiple offers in minutes:
2022 Tesla Model Y Tech Updates
New for 2022, the Model Y is gaining an in-cabin radar that will monitor driver awareness, detect vehicle intrusions, and possibly even alert authorities if a child is left behind in a hot car. It also looks like all new Tesla models will now have the refreshed user interface that the luxurious Mode S and X received in 2021. This new UI enables the driver to customize the infotainment display as desired. Model X, Model S and made-in-China Model Ys have transitioned to a new AMD Ryzen chip for the media computer. The result has been quicker performance for the many apps that are accessible through the infotainment interface. It's not a guarantee, but the 2022 Model Y built at Giga Texas may include the new AMD chip.
All Tesla's receive over-the-air updates periodically, a game-changing strategy that's now spreading through the auto industry. Even years down the road, the Model Y is likely to gain new features and better performance through OTA updates. All you need is a wifi connection.
Performance Remains a Top Selling Point of the Model Y
Rarely does a compact SUV perform like a track car. That's exactly what you get with the 456 hp Model Y Performance. The Performance is the top-tier trim, cranking out 497 lb-ft of torque and propelling to 60 mph in just 3.5 seconds. It also comes with a lowered suspension and 21" uberturbine wheels. All that power comes with a range penalty, dropping it down to a still-respectable 303 miles.
Even the Model Y Long Range base variant is really fun to drive. With 384 hp and 376 lb-ft of torque, the most affordable Model Y still rockets to 60 mph in just 4.8 seconds. A test drive reveals that the power just keeps building beyond 60 mph. The Long Range has a top speed of 135 mph, and the Performance tops out at 155 mph. It's easy to get a speeding ticket in this family car. Ground clearance is 6.6", so off-roading capabilities are limited without modifications.
Some critics claim that Tesla's are a bunch of one-trick ponies. They go fast in a straight line, but that's about it. My experience test driving the Model Y has shown otherwise. It's fun on a curvy road, and it feels well-planted on a variety of road surfaces and weather conditions. It weighs in at 4,416 pounds, so that's what we'd expect. All Model Ys now include double-paned glass, so road noise is greatly reduced compared to the early Model 3's, although it's not as quiet as any of the German luxury cars.
A Polarizing Minimalist Interior
When Tesla unveiled the Model Y, it was met with mixed reactions. Some thought it looked like a bloated Model 3, others saw it as the automaker's key to world domination. Now that the dust has settled, the Model Y has garnered a devoted fan base of families, track enthusiasts and everything in between.
The Model Y's broad popularity is attributed to its multifunctionality. It's a family crossover, but it's also a performance car. Inside, passengers are quite comfortable. There's exceptional second-row leg and shoulder room. Thanks to a standard glass panoramic roof (without a sunshade), head room is more than enough, even for tall passengers. The rear seats recline slightly in case anyone wants to doze off while gazing up at the sky. An optional third row of seats can be tucked into the cargo area for an extra $3,000. It's such a tight fit that you might as well go for a Model X if you really need a three-row SUV.
The Model Y Has 4x the Cargo Space of the Model 3
The rear cargo area is accessed through a power liftgate that opens up to 30 cubic feet with the second row in use. With those seats flat, there's a whopping 68 cubic feet of cargo space. And unlike the class-competing Volkswagen ID.4, there is a large, deep front trunk (frunk!) that is excellent for storing charging cables, smelly shoes or pungent takeout food.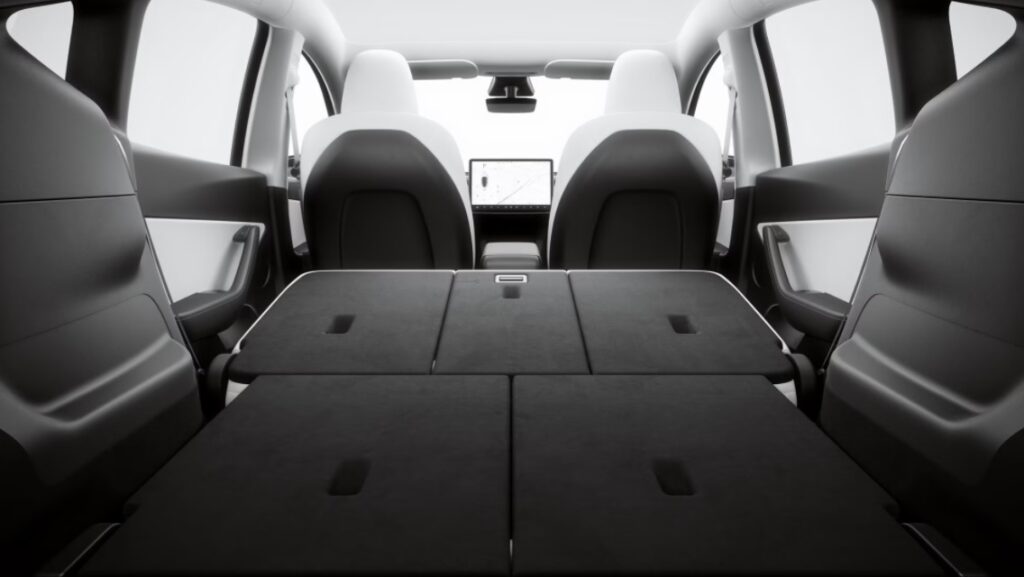 All Teslas include vegan leather at all trim levels. Black comes standard, but white is available for $1,000. Ownership experience shows that the white seats can stain, particularly due to excessive wearing of blue jeans. Yes, Tesla can send a Roadster into orbit, but can't stain-proof their luxury seats.
The speedometer, navigation, climate controls, audio controls and most other features are accessed through the 15.5" touchscreen centrally mounted on the Model Y's dash. Speaking of audio, there's a 14-speaker premium sound system with two amps and a subwoofer. The immersive sound is a winner for audiophiles. There's no gauge cluster like you'll find in the Model S and X, but most drivers say they get used to it quickly. Infotainment and navigation are accessed through Tesla's Premium Connectivity subscription, which costs $10 per month after the trial period.
Autopilot Is Standard, but Be Ready to Drop Some Cash for Full Self-Driving
All Tesla cars come equipped with Autopilot, Tesla's basic driver assist software. Standard autopilot is a combination of lane centering and adaptive cruise control, and it's one of the best in the industry. If you're expecting to hop in your car, take a snooze and be whisked away to work, you'll be disappointed.
Tesla's 'Full Self Driving' (FSD) costs an additional $12,000, but not all who pay for it even have access to it. Presumably fearing liability and regulatory challenges, Tesla requires all drivers who want FSD early access to pass a driving test. The test is conducted over about a week, during which the car carefully monitors patterns of acceleration, braking, following distance and more. Suffice to say, thousands of Tesla owners are angry about this surprise requirement, and many are locked out of their $12,000 purchase for the time being.
For those who do have access to the Beta version of FSD, it's still not a fully-autonomous system. Even Tesla itself admits it is level 2 autonomy, which means that the driver must be prepared to take control of the vehicle at all times. Musk and his team promise that full autonomy (level 3 and above) is right around the corner, but they've been saying that for almost five years now.
CarEdge's Take On the 2022 Tesla Model Y
The Model Y is the most popular EV in America, and it has the specs and performance to back it up. With up to 330 miles of range, some of the fastest charging in the industry and software that just keeps getting better, there's plenty to love. It's not a cheap car, and whether or not EV incentives will once again apply to Tesla's is yet to be determined. Tesla keeps raising prices, as do nearly all automakers. How the Model Y's value compares to other 2022 EVs will depend on how competitors like the Ford Mustang Mach-E and Volkswagen ID.4 set their pricing for the upcoming model year.
If you're ready to take the dive, you can reserve a Model Y with a $250 nonrefundable deposit. For the Long Range Model Y with the base Gemini wheels, expect to wait 11 months for delivery. If you add any upgrades, delivery is 'only' 7 months away. On top of that, Tesla is constantly upgrading their vehicles both in production and through OTA updates. If you order now, the car you get in several months time may very well have an even better range and further updated tech. Tesla's mastery of the latest and greatest is something to consider when shopping for an electric crossover. This segment is getting crowded fast, but the 2022 Tesla Model Y remains one of the best.