December deals are here, and it's the perfect time to buy for some, but not all, new car shoppers. Despite rising interest rates, car buyers can still get a very low interest rate with manufacturer incentives. Plus, some truly amazing lease deals have arrived. Here's a look at the best car deals in December.
NEW: Browse car listings in our Trusted Dealer Network. Nationwide shipping is available!
The Best Auto Loan Rate Offers
Seeking to finance your new vehicle with a low interest rate? Given that the average APR for new car loans is now over 9%, securing a low rate isn't easy. However, these brands are stepping up to the plate with tantalizing APR offers this December. Be sure to check offers for your ZIP code, as these represent the latest new car incentives on the East Coast.
👉 Slash Your Car Loan Interest: Expert Tips for New and Used Car Buyers
0% Financing! Nissan Brings the Deals
What do automakers do when they seriously need to sell some cars? They bring on zero percent financing. In a serious effort to attract buyers, the following models are all advertised for 0% APR in December:
Subaru's EV sales have been slow to start, but there's a good reason why the Solterra isn't very popular. For anyone who takes frequent road trips, the Solterra's slower-than-average charging speeds are a real issue. But for those who stick around town for the most part, 0% financing on a new EV is a sweet deal!
0.9% APR Offers: Kia, Hyundai, Nissan, and Subaru
Get your hands on these models with 0.9% APR for qualified buyers. Most low APR offers are for remaining 2023 model year inventory. It's great to see some excellent Mazda deals this month. For truck lovers, the Sierra at 0.9% APR is hard to beat. Hyundai's electric vehicles are the fastest-charging EVs for under $50,000. Since they lost the federal tax credit, they've been slow sellers. These are the models advertised with 0.9% APR in December:
1.9% APR Offers: Buick, Nissan, and Toyota
Nissan Armada, Buick Enclave, Buick Envision, and Toyota bZ4X: These models are available with a 1.9% APR. Those considering Toyota's first EV, the bZ4X, should be aware that charging is slower than average, especially for the all-wheel drive version. We think the stand-out new car incentives here are from Buick.
2.1% APR Offers: Chevrolet
Secure any of these sought-after Chevy SUVs with an APR as low as 2.1% for well-qualified buyers.
Here's every automaker's best financing offers this month.
👉 How to Finance a Car Like a Pro: The Ultimate Auto Financing Cheat Sheet
The Best Cash Offers in December
2023 Ram 1500: 3.9% APR for 72 months, and between $4,000-$5,200 bonus cash
2023 Dodge Challenger and Charger: $2,000 cash offer, 6.9% APR
2023 Dodge Durango: $5,500 cash allowance, 6.9% APR
2023 Ford F-150: up to $2,500 in cash bonus
2023 Jeep Grand Cherokee: up to $2,000 cash incentive, 2.9% APR for 36 months
Lexus LX, UX, NX, RX, TX, RC, LC: Up to $1,000 cash bonus offer
Cadillac is providing up to $1,500 cash incentives on the XT4, XT5, and XT6.
Chrysler and Jeep are offering NO payments for 90 days.
👉 See ALL of the best APR and cash offers from every major automaker
The Best Lease Deals in December
When it comes to new car incentives, more shoppers are considering a lease as MSRPs soar ever higher. These are the best lease deals this month.
Sedans
With the Hyundai Elantra at $219 per month with $3,499 due and the Honda Accord at $289 per month with $3,399 due, sedan lovers have attractive options. The stylish Kia K5 lease starts at $279/month for 24 months with $3,199 due. One of the best selling sedans of all time, the Honda Civic, starts at $269/month for 36 months with $3,599 due at signing.
SUVs & Crossovers
In December, SUV lease deals provide compelling offers for families. With very high interest rates, now is a great time to consider leasing, but only if you get a good deal.
General Motors is bringing the deals in December. A Chevrolet Equinox lease starts at $269 per month for 24 months with only $1,849 due at signing. Lease the GMC Terrain at $219 per month for 24 months with $4,209 due.
The hot-selling Hyundai Tucson's lease starts at $251 per month for 36 months with $4,011 due. The Santa Fe is available for just a few dollars more.
The 2024 Buick Envista is a subcompact SUV with by far the most modern design of any Buick in ages. Lease an Envista for as low as $179/month for 24 months with $3,819 due.
Trucks
For truck fans, the Silverado 1500 4WD LT at $399 per month for 24 months with $4,529 due is a strong contender.
F-150 XLT: $639/month for 48 months with $4,997 due
Ram 1500 Classic: $478/month for 42 months, with $3,999 due
Electric Vehicles
Tesla's Supercharger network is by far the most convenient and widespread charging network in America. For that reason, we recommend a Tesla EV for first-time EV drivers. Hyundai and Kia EVs are also great options with their ultra fast charging capabilities, but finding a reliable charger can be a hassle.
Tesla Model 3 RWD: $329 per month for 36 months with $4,500 due
Tesla Model Y RWD: $399 per month for 36 months with $4,500 due
Hyundai IONIQ 5: $7,500 EV lease bonus (SE and SEL); $399 per month with $4,999 due (SEL extended range)
Kia EV6: $399/month for 36 months with $4,999 due
BMW i4: $499/month for 36 months with $4,599 due
Lexus RZ: $15,000 lease cash (contact a Lexus dealer for monthly payment)
👉 See ALL of the best lease deals from every major automaker
The Best time to Buy Is Here
As we transition into the year-end car buying season, we anticipate a surge in enticing new car incentives from more automakers, introducing not only low APR offers but also compelling lease deals. The end of the year is always the best time to buy, and this year will be no different.
Here's our breakdown of why December deals are the best we'll see for a while.
Free Car Buying Help Is Here!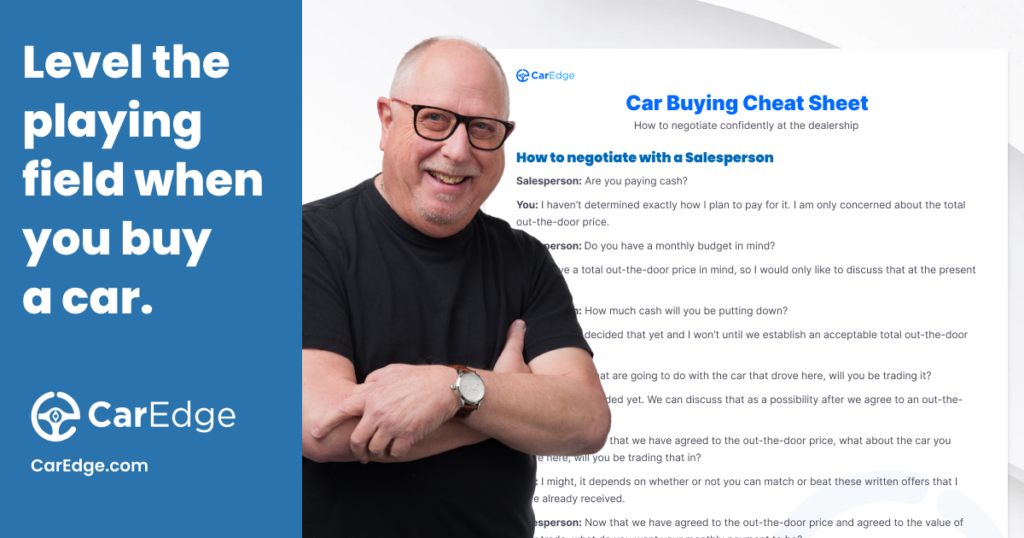 Ready to outsmart the dealerships? Download your 100% free car buying cheat sheets today. From negotiating a deal to leasing a car the smart way, it's all available for instant download. Get your cheat sheets today!