The average price of a new car in America has increased dramatically over the past decade. Ten years ago, the average price of a new car was around $30,000. Today the average price paid for a new car exceeds $49,000, a whopping 60% increase since 2013. Even with higher average prices, cheap cars, trucks and SUVs are still available. We'll take a no-frills look at the least expensive new cars in America, from compact sedans to surprisingly cheap electric cars. What's the cheapest new car in America? What about the cheapest truck, or even the cheapest EV? Are there any new cars on sale for under $20,000? We'll answer these questions and more.
Feel free to skip around with the table of contents below.
Cheapest New Car
Nissan Versa
Starting Price: $16,825 with destination fees
Fully Loaded Price: $19,720
The 2023 Nissan Versa is shockingly affordable, even when compared to sub-compact competitors. With 35 combined MPG and a 5-star overall safety rating from the US NHTSA, the Versa is a solid buy, especially considering that it's the cheapest car on sale in 2023. Plus, the Versa is all-around better rated than the #2 cheapest car in America, the Mitsubishi Mirage (starting at $17,450).
See Nissan Versa listings with local market data and negotiability scores.
Cheapest Crossover SUV
Hyundai Venue
Starting Price: $20,835
Fully Loaded Price: $24,045
So you're in the market for a new crossover, but refuse to pay a dollar over $20,000? The 2023 Hyundai Venue might be the last new SUV with an MSRP under $20,000, but even the required delivery fees push it over the top. At a starting price of $20,835 with delivery, this is the cheapest crossover on sale. The cargo volume of the Hyundai Venue is just 32 cubic feet with the back seats folded, which is less than half of what you get with the larger Hyundai Tucson and Santa Fe.
Although the Hyundai Venue is technically the most affordable SUV/crossover, the only true SUV benefits you get are a rear hatch instead of a trunk and a higher ceiling for hauling.
Fuel economy is merely okay at 29 city / 33 highway, and NHTSA safety ratings are average at 4-starts overall.
See Hyundai Venue listings with local market data and negotiability scores.
Cheapest Hybrid Sedan
Toyota Corolla Hybrid
Starting Price: $23,895 with destination fees
Fully Loaded Price: $26,600
47 miles per gallon for under $25,000? Wow. The 2023 Corolla Hybrid brings affordable fuel economy within reach. The Corolla is available as a sedan, hatchback and small crossover in 2023, but the sedan has the lowest price. All-wheel drive is available for an extra $3,000, and lowers combined fuel economy to 44 MPG.
A 5-star safety rating is a big plus with the Corolla Hybrid.
See Toyota Corolla Hybrid listings with local market data and negotiability scores.
Cheapest Hybrid Crossover
Kia Niro Hybrid
Starting Price: $26,590
Fully Loaded Price: $34,890
The 2023 Kia Niro Hybrid probably isn't what you had in mind. The completely redesigned Niro is better looking than ever, efficient yet spacious, and still very affordable. Cargo volume is compact but reasonable at 64 cubic feet with the back seats folded.
The 2023 Niro Hybrid gets 53 MPG combined, giving you 588 miles of driving range on a fuel tank. Sure, it's half as efficient as the fully-electric Niro, but it can go twice as far without stopping to refuel. The 2023 Niro has not yet received a safety rating from the NHTSA as of this writing.
See Kia Niro Hybrid listings with local market data and negotiability scores.
Cheapest Pickup Truck
Ford Maverick
Starting Price: $24,190 with destination fees
Fully Loaded Price: $36,745 (Hybrid Lariat Supercrew)
The 2023 Ford Maverick is a small truck for a small budget. As the cheapest new truck on sale in 2023, it's an impressive value. The bed is small but usable at 54 inches long (about 4.5 feet). Fuel economy is spectacular for a truck of any size. The bare-bones base option is a 2 liter EcoBoost engine that gets 26 MPG combined.
Adding all-wheel drive ups the price and drops fuel economy down to 25 MPG. When you spend a few thousand dollars more to upgrade to the 2.5 L hybrid engine, fuel economy increases a lot to 42 MPG city and 33 MPG highway (37 MPG combined). A Maverick Hybrid with AWD is on the way too. In either case, fuel savings will quickly make up for the higher upfront cost for most drivers. Not bad for well under $30,000.
Looking for the cheapest full-size truck? That would be the 2023 Chevrolet Silverado 1500 LTD, which starts at $32,195.
See Ford Maverick listings with local market data and negotiability scores.
Cheapest Electric Car
Chevrolet Bolt
Starting Price: $27,495 with destination fees
Fully Loaded Price: $38,485 (Bolt EUV)
You may be shocked to learn that the cheapest electric car in 2023 has an EPA-rated range of 259 miles on a charge. The Bolt EV is a real value, but only for those who have an abundance of patience on road trips. The Bolt EV charges slowly. 90% of EV charging is done at home overnight while you sleep, but public charging is anything but fast in this Chevrolet EV. The 2023 Bolt's peak charging rate of 55 kilowatts means that in a best case scenario, you'll be waiting around at the charger for about one hour every 200 miles or so. For about $10,000 more, you can get a faster-charging EV like the American-made Volkswagen ID.4. The ultra-fast charging Hyundai IONIQ 5 starts in the low $40,000 range.
The upcoming 2024 Chevrolet Equinox EV and 2024 Chevrolet Silverado EV are built on the all-new Ultium electric platform, and will feature much fast charging. If you're in the market for a sub-$40,000 electric vehicle but aren't in a hurry, I recommend waiting for the 2024 Equinox EV. With range over 250 miles, faster charging and a price tag reportedly starting well under $40,000, it should be an amazing deal.
See Chevrolet Bolt listings with local market data and negotiability scores.
Cheapest Tesla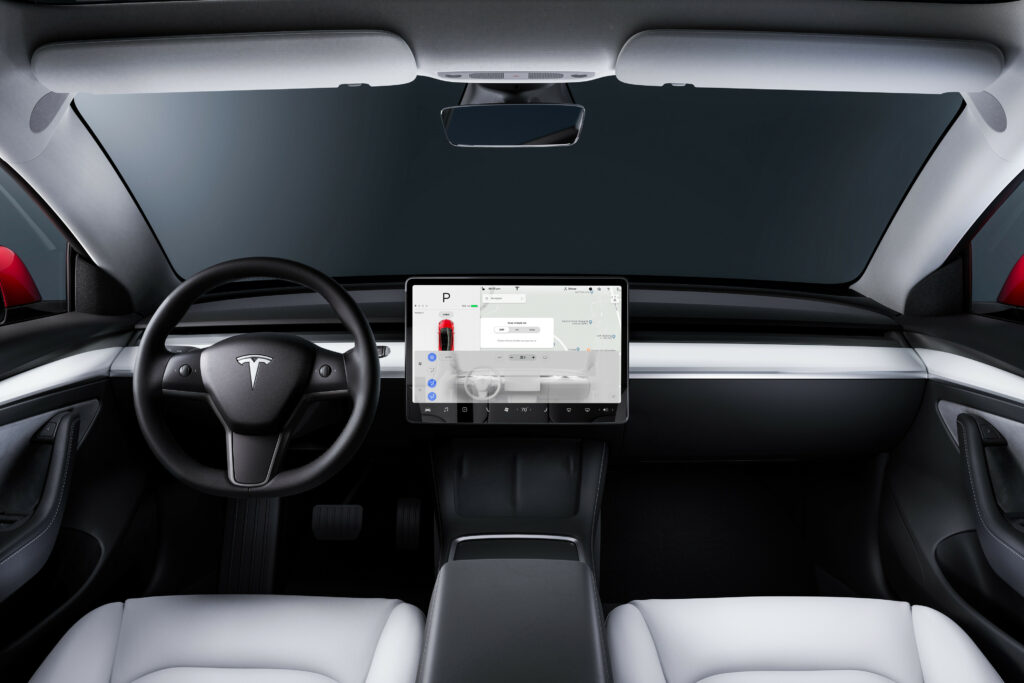 The cheapest Tesla is more affordable in 2023 thanks to massive price drops. The rear-wheel drive Tesla Model 3 starts at $44,380 with destination fees, and gets you faster charging with 272 miles of range.
Used Tesla prices are falling fast. Here's what's in store for used Tesla prices in 2023.
Shop new Tesla models at Tesla.com, or see used Tesla deals at CarEdge Car Search.
Cheapest Electric Truck
F-150 Lightning Pro
Starting Price: $57,869 with destination fees
Fully Loaded Price: $98,769
The F-150 Lightning Pro WAS a cheap electric truck, that is until Ford issued two price hikes in 2022 totaling over $15,000. In 2023, the F-150 Lightning Pro starts at $56,000. The Pro features 230 miles of EPA-rated range (real-world tests show that to be accurate). Charging is simpler overnight, but at public fast chargers, the Lightning Pro takes about 45 minutes to go from 15% to 80%, adding 150 miles of driving range.
Despite the range and charging limitations, the electric F-150 Lightning Pro still makes financial sense for fleet operators looking to cut down on fuel AND maintenance costs.
See Ford F-150 Lightning listings with local market data and negotiability scores.
Yes, You Can Find a Cheap New Car in 2023
The range of vehicles available for under $30,000 is surprisingly broad, from the no-frills Nissan Versa to the fuel-sipping Ford Maverick budget truck. You can even buy an EV with over 250 miles of range for less than most new Camrys and Altimas. We now turn to the next question: are any of these affordable new cars available for purchase? We track new car inventory monthly (see the latest inventory numbers here), but unfortunately several automakers don't report numbers publicly. From the data we do have, we can see that inventory has climbed closer to historical norms, meaning that even the cheapest cars on sale today are available in most markets.
Looking for expert car buying help? Look no further! Your CarEdge Car Coaches are ready to help you negotiate the best deal on your next vehicle purchase or lease. Whether you're wanting self-guided market data, 1:1 help with negotiation, or a full concierge service, we're ready to help you save.