Is there truly a perfect moment to buy a car? As it turns out, there most certainly is. In fact, the difference is so profound that new car incentives are 40% higher during the best time of the year to buy. Our team of Car Coaches, equipped with decades of combined experience, keeps a close eye on the auto market, and there's no doubt about it—the best time of the year to buy a car has arrived.
It Pays to Be Patient
In today's auto market, every dollar saved is magnified by interest rates that now average north of 8% for new cars, and nearly 14% APR for used cars. In other words, you're not 'just' saving $5,000 on that new truck or SUV. You're saving a lot more than that once the cost of borrowing money is factored in.
Think about the unfortunate predicament of EV, van, or truck buyers who drove home a new car in early 2023. Prices remained sky high earlier this year, but 11 months later, we're in a different car market entirely. New car prices are down 3.5% in 2023 market-wide, but some segments have seen MUCH steeper price declines.
Retail EV prices have fallen 10% in 2023, and trucks, vans, and luxury cars have all seen similar price drops. The same Ford Mustang Mach-E or Ram 1500 that would have sold for 10% over MSRP months ago is now sitting on the lot for months at under invoice pricing.
Patience is a virtue that is handsomely rewarded in car buying. But you're here looking for deals, so let's get you some answers. When is the best time of the year to buy a car?
Year-End Deals Reign Supreme
In a perfect storm of downward pressure on car prices, the end of the year offers car buyers opportunities that reward patience. In December, automakers are pushing 2024 model year vehicles to dealer lots that are already full of 2023 inventory. On top of that, OEMs and dealers alike know that most folks wait until the end of the year to try and snag a deal. This results in the best new car sales of the year arriving all at once.
Anytime from now through December 31 is a great time to shop for new car deals. This year, new car sales are so attractive that used car prices could take a hit as buyers flock to new car lots. More on that here.
So, when is the best day to buy a car?
If you're seeking the absolute best time to buy a car, look no further than the final days of December. It's during this period that automotive manufacturers, dealers, and sales staff are highly motivated to achieve year-end sales goals. Their drive to negotiate stems from the fact that dealers receive year-end bonuses from manufacturers upon reaching annual sales quotas.
Factory-to-dealer incentives can translate into substantial income for dealerships. As a result, it's common practice for them to offer enticing perks, including discounted prices, significant rebates, and special financing terms to customers.
These incentives not only benefit the buyers but also contribute to the dealership's financial gains. Call it a win-win situation, something that's all too rare in the automotive business.
Your Best Chance for a Deal Is Here
Every year, year-end car sales emerge as the most significant sales events of the year by a wide margin. Several automakers, especially U.S. domestics, currently grapple with an excess of inventory. 
See the best year-end car sales here, updated weekly.
So, as we navigate through the final months of 2023, seize the opportunity to make the best car deal of the year. With motivations high and incentives even higher, you're primed to make a purchase that leaves both you and your wallet smiling.
Free Car Buying Help For Everyone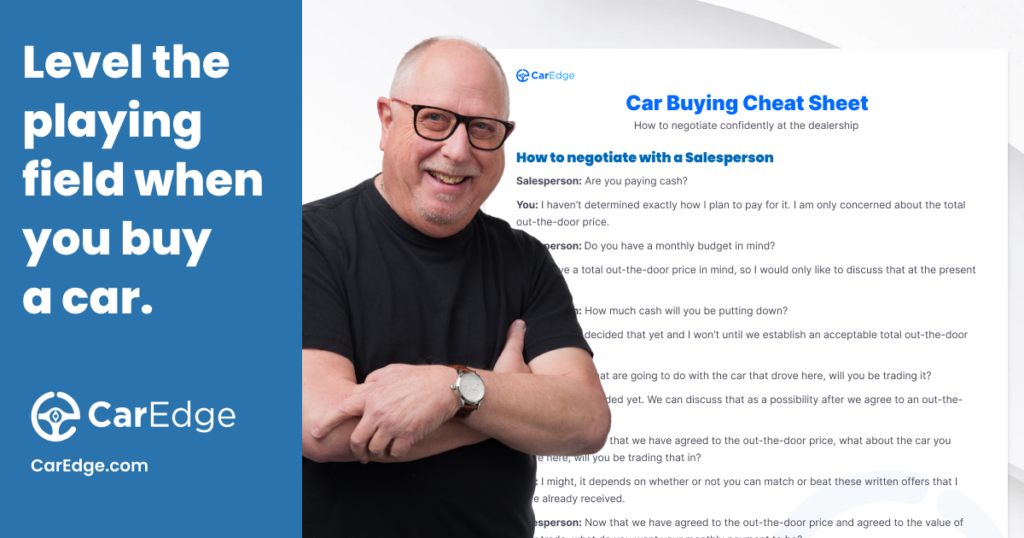 Ready to outsmart the dealerships? Download your 100% free car buying cheat sheets today. From negotiating a deal to leasing a car the smart way, it's all available for instant download. Get your cheat sheets today!