🚘 Search for cars with no ads
Used car prices have increased more than 50% in 2021. Historically, used cars decrease in value. You know the old saying about buying a new car? "The moment you drive off the lot, it's worth 20% less." Well, in today's crazy market, the moment you drive a new car off the dealer's lot it might actually be worth 20% more!
The ongoing chip shortage and undersupply of new vehicles is driving used car prices higher. Rental car companies, car dealers, and consumer demand are keeping prices elevated. Until new car inventories rebound to pre-pandemic levels, we'll see elevated used car pricing.
With more and more consumers not returning their leases, fewer quality used cars are making it to the market. If your lease is coming due, please do not just return it to the dealer, instead, sell it for a profit. You would be leaving money on the table!
Each month we update you on the latest trends in used car prices. Last month's data can be found here: https://caredge.com/guides/used-car-prices-november-2021/
We also track new car prices and inventory levels. Our hope is that we can help you make an informed decision when it comes time to purchase your next vehicle.
This page will be updated weekly with new data from Black Book, Cox Automotive, and other sources.
If you have specific questions about used car prices please ask them on the CarEdge Community Forum.
To get the Black Book value of your vehicle you can do that here: https://app.CarEdgemember.com/trade-in
Let's dive in.
Overall Used Car Market Update December 2021
Wholesale used car price increases show no signs of slowing down. The latest data from Manheim and Black Book show wholesale and retail used car prices hitting all-time record highs. Manheim's used vehicle value index chart paints and eery picture; the data almost looks fake.
Data from Black Book suggests that wholesale used car prices have increased more than 50% since the beginning of this year. The purple line shows 2021 used car price changes. The blue line represents 2019. The differences are stunning.
Wholesale prices are not the only ones going up. Used car retail prices are also hitting all-time highs. Black Book data shows retail used car prices have increased nearly 35% since the beginning of the year. Traditionally the end of the calendar year is when used car prices decrease. That is not the case right now.
One positive indication in the data comes from Cox Automotive. They reported that inventory levels in October were up 20,000 units from September. September ended with 2.28 million used vehicles in inventory, while October ended with 2.30 million. October's supply was still about 8% lower than 2020.
Cox also estimates that the days supply of used car inventory is at 42. Their data suggests that about 1.65 million used vehicles were sold in October 2021, up 40,000 units from the 1.61 million sold in September. October sales ran about 7% below the same year-ago period.
Both Cox and Black Book show retail used car prices hitting all-time highs. Cox has the average listing price for used vehicles at a new record of $26,971. That's a $400 increase from September ($26,548).
Week-over-week Black Books has reported another increase in wholesale used car, truck, and SUV prices. The latest weekly increase was .41%. The price increase among trucks, SUVs, and vans was greater than car price increases.
Used car prices will continue to appreciate as long as automakers are struggling to produce enough new vehicles. We track new car inventory levels monthly. The latest new car inventory data for December is not promising.
That being said, many manufactures, including Toyota have signaled that the worst of the chip shortage is behind them. Other manufacturers, such as General Motors, are removing core features from their new vehicles in an effort to ship them to their dealers.
It's unclear whether we're "on the other side" of the chip shortage yet, and our expectation is that used car prices will continue to rise until it is more clear that the new car shortage is alleviated.
Used truck, SUV, and van prices 2021
Not all used cars are appreciating equally. Used trucks, SUVs, and especially vans are increasing at rapid (and unbelievable) rates. Look at the data provided by Manheim and Black Book below.
Black Book data shows that just last week used compact van prices increased over 2.5%. That's UNHEARD of. These are your Ford Transit Connects, Mercedes-Benz Metris, Ram ProMaster City, and Nissan NV200.
Compact and sub-compact crossovers increased nearly 1% week-over-week.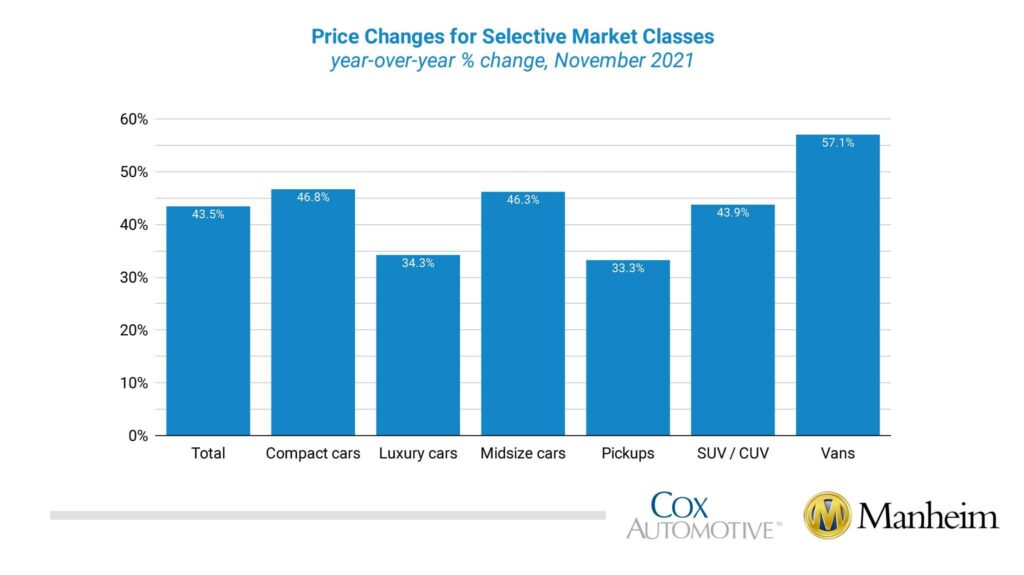 As you can see, the data from Manheim also shows vans leading the way in terms of price increase.
Used car prices 2021
Certain used cars are increasing in value more rapidly than others. For example near luxury cars (think your Genesis and Acuras) are increasing rapidly week-over-week. The same goes for prestige luxury cars like your BMWs, Mercedes-Benz, and Audis.
We recently published data on which brands have seen their new and used prices increase the most (and least) year-over-year: https://caredge.com/guides/which-brands-prices-have-increased-the-most-least-in-2021/
What's going on at the used car auction?
Black Book provides "sales rate" data from the wholesale used car auctions.
Directly from Black Book:
The weekly estimated average sales rate has remained stable at the 70% mark for the 2nd week in a row. This time last year, the estimated average weekly sales rate was around 51%, so while floor prices continue to rise, buyers continue to purchase vehicles at auction at a higher rate.
Typically the holiday season signals an increase in newer used vehicles. This is because of lease returns and rental vehicles coming to the auction. This year that is not happening to previously expected levels. While there was a slight uptick in newer model year vehicles rolling across the lane this past week, a significant portion of vehicles are arriving damaged.
Franchise car dealers are grounding lease returns and not sending them to auction. Fierce competition at the auctions can be mostly attributed to large independent dealerships and rental companies. Because of inventory scarcity, we have seen bidding wars across the country. Wholesale values and floors continue to increase and give no indication of slowing down.
We've heard stories from our community of similar experiences at the auction, and it appears that rougher and rougher vehicles are crossing the auction block at this time.
Are any used cars depreciating?
No. From all of the data we've been able to get our hands on, it looks like there isn't a single style of vehicle or particular nameplate that is not increasing in value right now. We know that certain vehicles are appreciating less than others, however all vehicles are increasing in value right now.
Luxury vehicles, and in particular luxury SUVs are appreciating much less rapidly than other vehicles. Take for example the Mercedes-Benz GLC, it has only appreciated 8% year over year. This further reinforces the theory for why the Mirage has increased in value nearly 50%; consumers need affordable and attainable used cars, not expensive and luxurious ones.
How long will used car prices keep going up?
Although our crystal ball has been notoriously cloudy here at CarEdge, we feel confident in saying that used car prices will continue to increase well into 2022. Even when automakers get production back up to speed for new vehicles, there will be lingering effects from this period of time where they have not been able to produce at expected capacity.
Also, the price to produce new vehicles has gone up. As a result of the chip shortage (and other supply chain issues), we expect MSRP on new vehicles to be considerably higher than before. Why? Because the manufacturers costs are increasing, and they will likely pass that along to the consumer. As a result, the demand for used cars will continue to be high because used cars (especially vehicles like the Mitsubishi Mirage) will be the only "attainable" price point vehicles for many people.
For these reasons, we think week over week, and month over month used car price increases will continue for at least another 12 months.
When should I sell my used car?
If used car prices are likely going to continue to appreciate, it would make sense to hold onto your used vehicle and wait to sell it. That being said, our best recommendation is to track the value of your used vehicle weekly. To do this we encourage you to use the "value my vehicle" section of your CarEdge account. You should also get quotes from Carvana, Vroom, CarMax, etc.
There may be small fluctuations in price from week to week, but we expect the price of your vehicle to gradually increase overtime. The indicator for when to sell will be when you see week over week declines in the value of your vehicle.
If You're Buying a Used Car …
Our recommendation has been, and will continue to be to stop buying cars! We're so passionate about this that we even made a website: http://stopbuyingcars.com/
However, if you need to buy a used car right now, here's what you need to remember.
How to value if it's a fair deal
The only way to know if you're getting a fair deal is to get the out-the-door price from the seller and then compare that to the vehicle's value. To get the out-the-door price follow this guide:
To know if the vehicle's price is fair, we encourage you to run the VIN through the CarEdge vehicle valuation page and to also get a quote from Carvana to see what they would pay to buy the car right now. If the Carvana quote is close to what you are paying for the vehicle, then it's likely a pretty fair deal.
Get a pre-purchase inspection
In today's market, with "rougher" used cars for sale it is critically important that you get a pre-purchase inspection done on the vehicle you are thinking of purchasing. We have heard too many horror stories of people buying used cars "as-is" and then getting stuck with a piece of junk. Avoid that, and get a PPI!
Consider an extended warranty from CarEdge
Last but not least, consider getting an extended warranty on your used vehicle. CarEdge partnered with AUL Corporation to sell extended warranties with a flat markup, transparent pricing, and free consultations with an Auto Advocate. If we can help you protect your use car, we want to. More on that here: https://caredge.com/extended-warranty/ and request a free quote here: https://app.CarEdgemember.com/service-contract