Over the past year, electric trucks have gone from nothing to the most-watched vehicle segment on the planet. Back in the pre-pandemic good ol' days of 2019, electric trucks were relegated to the concepts of startup fantasies like Rivian, Nikola and Bollinger. Tesla's Cybertruck was the first to be unveiled in November of 2019, however it's still at least a year away from production. In 2022, buyers have two to choose from: The $100,000+ GMC Hummer EV, and the mid-size luxury-oriented Rivian R1T, which starts over $70,000. Electric trucks have remained out of reach for the average consumer. 
Get the most when you sell your car.
Compare and choose multiple offers in minutes:
This is where Ford has a chance to really make a splash in the market. With the best-selling F-150 being the unofficial symbol of working America, it's only natural that the F-150 gets the honor of being the first electric truck for the masses. Even better, it's going to offer features and utility that no truck has ever seen before. The anticipation is building.
The 2022 Ford F-150 Lightning may not turn heads like the Cybertruck, but the Lightning's capabilities are astounding. What exactly makes the F-150 Lightning so innovative, and will it overtake Tesla as the face of electric trucks?
Here's What Stands Out With the F-150 Lightning
It's the most powerful F-150 ever
You can power tools, other EVs and even your entire home with the truck
The Lightning looks normal, but features state-of-the-art technology
The front trunk is bigger than most regular trunks
320 miles of range
2022 F-150 Lightning pricing won't break the bank
The 2022 F-150 Lightning Reimagines Truck Capability
Look, I get it. Most traditional truck buyers don't follow the latest and greatest in the EV space. What does matter, however, is the utility of the truck they drive. Can it get the job done reliably?
Ford's most anticipated electric vehicle is not the Mustang Mach-E. It's not an electric Explorer. It's without a doubt the 2022 F-150 Lightning electric truck. For well over 30 years, the F-150 has been the best-selling vehicle in America. Now that Ford expects 40% to 50% of its global sales to be fully electric by 2030, how does the F-150 fit into the picture?
Ford has made it clear that they intend to entice traditional truck buyers into an electric F-150, while also attracting new consumers to the brand. So far, it seems to be working like a charm. As of January 2022, Ford has 200,000 reservations for the F-150 Lightning in the books. This truck hasn't even entered series production yet and it's already sold out until 2024.
Light Bars and Typical F-150 Looks
On the exterior, the Lightning looks a lot like a combustion-powered F-150. The distinguishing features are daytime-running light bars across the top of the front grille and across the tailgate in the back. The Lightning also has aero wheel options to improve efficiency for maximum range. They don't look silly like some aero wheels do. Other than that, you really have to stare at it to notice the Lightning is any different. Three new faux grille options are there for looks. With an EV, the grille merely protects the spacious front trunk.
The charge port right in front of the driver's door doubles as a name plate. Ford intentionally designed the exterior to appeal to traditional truck buyers. Not everyone wants a spaceship.
Interior: A Huge Touchscreen Tops Off a Classic Interior
The F-150 Lightning is only offered in crew cab configurations. The interior dimensions are the same as the gas-powered F-150, but that's a compliment. Plenty of space up front, and lots in the back. Up front, the biggest difference is the 15.5" infotainment screen. It's only in the higher trims of the Lightning for now, but it's probably a sign of what's to come for the whole lineup. Everything from drive modes to towing configurations and entertainment is all accessed through the huge vertical screen. Climate controls are always fixed at the bottom of the display, although it's still a touch-screen feature. Sorry physical button enthusiasts!
Utility reigns supreme in the F-150 Lightning electric truck. The center console folds down into a work desk, but that's a feature that combustion-powered versions also have. The rear seats offer the same generous space that you'll find in the gas equivalent, including under-seat storage. Available Max Recline Seats offer nearly 180 degrees of recline. Perhaps a charging nap is in your future?
American-Made Batteries Power Dual Electric Motors
The 2022 F-150 Lightning is powered by dual electric motors, each of which could fit inside a duffel bag. The electric motors are powered by large lithium-ion batteries produced through a joint venture with SK Innovation in Georgia. American-made batteries for American-made EVs! That's not as common as you'd think.
The F-150 Lightning's battery lives under the floor of the truck, where it's out of the way and secured in a waterproof casing surrounded by crash-absorption protection. Ford says the battery was designed with extreme weather and abuse in mind. It can handle off-road adventure like a champ. Innovative thermal management keeps the battery at optimum temperatures.
The base 'standard range' battery is a 98 kilowatt-hour (kWh) usable lithium-ion battery. Stepping up to the extended range configuration gets you a 131 kWh battery pack built from the same chemistry. This extended-range battery offers more towing, a lot more performance, but less payload. Why less payload? The bigger battery is much heavier. The F-150 Lightning weighs 6,500 pounds!
The base standard range battery supplies the two motors with 425 HP and 775 lb-ft of torque. The extended range battery opens up to 565 HP and the same 775 lb-ft of torque. Notably, four-wheel drive is standard across all trims. One motor is located at the front axle, and another is in the rear. Both the battery and motors get metal skid plates that shield the underbody from impacts, water and the elements for durability.
Range
The official EPA numbers are out! The standard range battery is rated for 230 miles on a charge, and the available extended range battery is good for 320 miles. The final EPA numbers exceed what Ford had previously estimated. Ford engineers have fueled rumors that the Lightning's range estimates are calculated with 1,000 pounds of payload included. With an empty bed, the F-150 Lightning may go even further on a single charge.
Drive Modes
Ford offers four drive modes: normal, sport, off-road, and haul. Additional settings include one-pedal driving (a Tesla favorite) and the option to lock the differential with the touch of a button. Why would you want a sport mode on your F-150? The Lightning launches to 60 mph in just 4.4 seconds!
Fast-Charging Capability, At Home and On the Road
More than 80% of electric vehicle charging is done at home. Ford is the only automaker to offer an 80-amp charge station as standard equipment. At home, the F-150 Lightning adds an average range of 30 miles per charging hour, fully charging an extended-range truck from 15% to 100% percent in about eight hours. Keep in mind that the truck charges overnight while you're sound asleep. EV owners typically wake up each morning with a full battery to start the day.
At a public DC fast charger like you'll find at Electrify America, The 2022 F-150 Lightning can accept 150 kilowatt charging speeds. This is below what the upcoming Silverado EV offers, but it's still decent. If the charging curve is above average, 150 kW won't be a problem at all. At a DC fast charger, the extended-range F-150 Lightning is targeted to gain up to 54 miles of range in 10 minutes. In 41 minutes, Ford says it can charge from 15% to 80%.
Charging an electric truck is A LOT more affordable than fueling up at the gas station. Fuel savings just might justify the time it takes to charge. At Electrify America, a typical charge from 5% to 90% (adding 255 miles of range) will only cost about $35. The real savings are in your garage. At home, where most charging is done, the same charge to 90% would only cost $15 at average residential electric rates. Learn more about how much it costs to charge an electric vehicle here.
Towing, Payload and Storage
On the surface, the bed of the F-150 Lightning is pretty standard. It's the usual 5'5" bed with a power tailgate. Sadly, it lacks the magical pass-through feature of the upcoming 2023 Chevrolet Silverado EV. Upon closer inspection, there are some very useful gadgets. The side of the bed includes several household 120-volt outlets and a more powerful 240-volt outlet. Ford says the Lightning can power worksite tools for days without having a big impact on the state of charge. This really highlights the immense energy capacity of the 98 to 131 kWh battery, and how comparatively little energy small appliances and tools consume.
How does towing or hauling around a bed full of materials impact range? Just like with any gas or diesel-powered truck, fuel efficiency decreases with towing and higher payloads. Ford's engineers thought of this, and they've used the Lightning's electrical infrastructure to offer an impressive remedy. Using the scales built into the truck and a fancy computer, real-time range estimates are constantly calculated based on payload and towing demands. The gauge cluster displays an accurate estimate of how much range you have in any given scenario. No need to do calculations in your head.
With the 230-mile standard battery, payload capacity is 2,000, and towing is up to 7,700 pounds. The extended range battery opens up towing to 10,000 pounds, but the added weight of the battery lowers payload to 1,800 pounds. The Lightning weighs about 1,000 pounds more than regular F-150s.
The F-150 Lightning has a massive 14 cubic-foot front trunk. Finally, a truck with a trunk! There are four power outlets providing 2.4 kW of power and two USB ports, all within the front trunk. The floor has a drain too. You can even charge tools in the front trunk while driving the vehicle.
Power Your Tools, Appliances or Entire Home With the Lightning
Pro Power Onboard is Ford's vehicle-to-load system that produces . Power reserve functions allow the driver to automatically cut off power supply once the battery state of charge drops to a predetermined level.
An even bigger deal is Ford Intelligent Backup Power. With the proper setup and accessories, the F-150 Lightning automatically kicks in to power your house when the power goes out. Once power is restored, the truck automatically reverts to charging its battery. Ford says that based on 30kWh of electricity usage in the average American home, F-150 Lightning with extended-range battery can power an entire home for up to three days, or as long as 10 days with power rationing. THIS could be the feature that wins over the masses.
Wait, that's not all. Ford has more tricks up its sleeve than a dealership F&I manager:
"In the future, Ford will introduce Ford Intelligent Power, which can use the truck to power homes during high-cost, peak-energy hours while taking advantage of low-cost overnight rates to charge the vehicle in time for your morning drive. This can help save money on electricity that powers your vehicle and home while also taking pressure off the grid in peak usage times."
You heard here first, folks. You'll soon have the ability to buy a truck that can lower your entire utility bill. Considering that this feature alone would save a ton on monthly bills, charging the F-150 Lightning will basically pay for itself! That could be HUGE savings for those accustomed to paying $60-$80 for every tank of gas.
Tech In the F-150 Lightning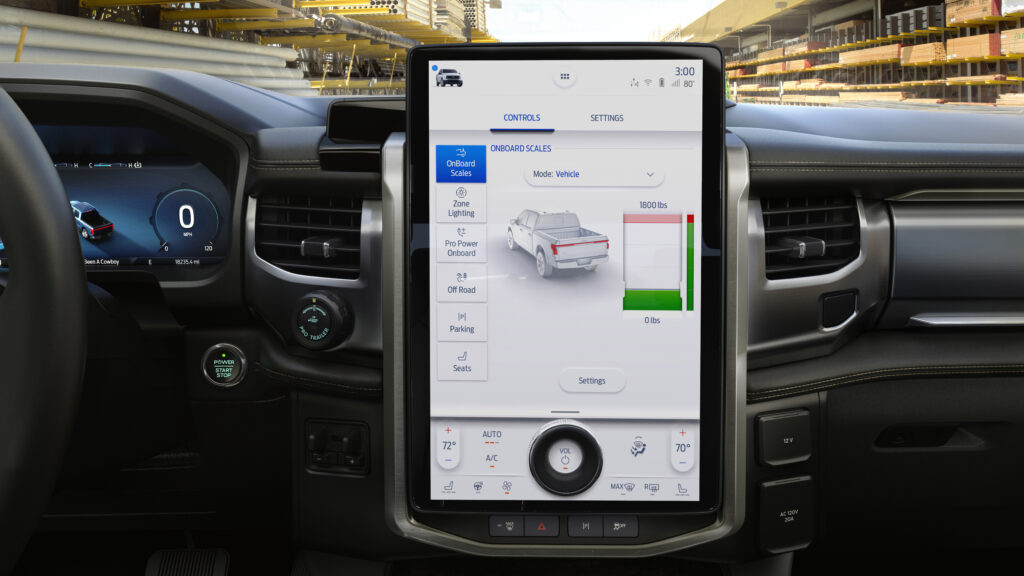 The Lightning can learn all about your hauling habits. The truck recognizes which trailer you're hauling, combines that with info from the onboard scale, and provides immediate updates to driving range and power.
The F-150 Lightning has games! Tesla popularized in-cabin gaming, and now Ford has seen the appeal of a lighthearted, fun-yet-functional vehicle experience. Automakers are all about 'experience' these days.
The gauge cluster is conveniently located within the line of sight for the driver. It displays useful information about real-time battery conditions, motor performance and power distribution. In the Lightning, everything is customizable.
Does Ford want to spy on you? Probably not. However, two driver-facing cameras are built into the dash. These are actually safety monitors for Blue Cruise, Ford's advanced driver assistance technology. Blue Cruise enables hands-free driving on divided highways, as long as your eyes are on the road. This is wading into level 2 autonomy, but Ford has more ambitious driver assistance plans in the works.
There's also a 360-degree camera for parking assistance. Exterior zone lighting lets you illuminate precisely what you need to see in the dark.
F-150 Lightning Pricing and Trim Options
The work and fleet-oriented Pro edition starts at $39,974. The Pro includes bare-bones manual vinyl seats and no frills. Most consumers will start their shopping at the $52,974 XLT trim. This is where most of the desired features and comforts enter the scene. A step up will land you at the $67,474 Lariat. Both the XLT and Lariat come with the 230-mile standard range battery unless you opt for the extended range battery. On top of the spec sheet is the Platinum. For $90,874, you can get an extended range battery, 22-inch bright machined aluminum grille, the larger (15.5-inch) touchscreen, upgraded sound, and both heated and ventilated seats. Check out the major differences below:
Notice that the soon-to-be-popular XLT trim listed at a starting MSRP of $52,974 is actually a $72,474 truck in disguise. If you want to step up from the 230 mile standard range battery to the bigger battery, going for the XLT just doesn't make sense for most buyers. Ford clearly wants buyers to take the dive for the Lariat or Platinum trims. Kind of sneaky if you ask me.
No Dealer Markups? F-150 Pricing Under the Spotlight
Ford recently sent a memo regarding F-150 Lightning pricing to their dealers, and it was swiftly leaked online. It reveals that the automaker intends to preserve what little is left of positive dealership experiences. The memo cuts right to the chase. "It has come to our attention that a limited number of dealerships are interacting with customers in a manner that is negatively impacting customer satisfaction and damaging to the Ford Motor Company brand and Dealer Body reputation." Wow, Ford actually wants their customers to have a pleasant dealership experience.
This memo brings up a key concern about F-150 Lightning pricing. Will dealers use unprecedented demand to try and justify outrageous additional dealer markups? Clearly, Ford corporate is intent on getting ahead of the problem before it snowballs out of control and tarnishes the brand for hundreds of thousands of new Ford customers. Find out more about this secret memo and what CarEdge advocates think about it here.
Incentives
Does the Ford F-150 Lightning electric truck qualify for the EV tax credit? Yes! The federal EV tax credit slashes up to $7,500 off of the Ford F-150 Lightning pricing. Lawmakers are considering revisions to the EV tax credit that could possibly add to the discount. Right now, buyers receive the incentive when they file taxes. Proposed changes to the law would make the discount effective at the point of sale.
I Want One! Where Can I Buy a Ford F-150 Lightning?
Sadly, there's no easy answer. If you were among the hundreds of thousands to place a pre-order back in early 2021, you just might receive your F-150 Lightning by the end of 2022. Most current reservation holders will receive theirs in 2023. Ford is doubling down on production capacity due to high demand, so if you get in line soon, maybe you'll also get your truck before 2024. For the time being, reservations are closed so that existing deposit-holders can place their official orders. Soon, Ford says they will open reservations back up to the masses. Ford currently has about 200,000 reservations in the books. With the doubled production capacity, Ford will be making about 150,000 per year. Do the math, and that means most F-150 Lightning buyers will have to wait until 2024.
If you're ready to buy an electric truck now, there are only two options with immediate availability. The popular Rivian R1T is an outdoorsy luxury mid-size truck. The R1T starts around $70,000 before incentives. The GMC Hummer EV is crab-walking its way into dealerships, but only at a hefty price tag. For $100,000, the reimagined electric hummer truck can be all yours. The Tesla Cybertruck was just delayed to 2023 at the earliest, so there's not much to say about that concept for the time being.
Is it worth the wait for the Ford? F-150 Lightning pricing is attractive, and it's sure to get truck buyers the most value for their money out of the few options we have today. Plus, who wouldn't want to have a truck that also serves as a generator for backup power? Tesla has been stubbornly against adding vehicle-to-grid functionality to their models, probably because Tesla also sells home battery products.
CarEdge's Take
The 2022 Ford F-150 Lightning electric truck is the pinnacle of utility. You can power a dozen tools, save hundreds to thousands on fuel, and even power your entire home with this truck. Unfortunately, Ford didn't anticipate so much love for the Lightning. If this truck was at dealerships today, they'd be flying off the lot. F-150 Lightning pricing is what you'd expect from a truck in today's market. It's likely to set buyers back by at least $60,000 with options included. If only there was an electric Ford Maverick for those of us who prefer to spend less.
Do you think the F-150 Lightning will sell to traditional truck buyers? Or will Ford appeal to a different demographic altogether? We'd especially love to hear from you if you're a reservation holder. The Lightning will have a lot to live up to after the long wait we're in for.