At a time when the average transaction price for a new car is approaching $50,000, a sub-$40,000 electric crossover sounds too good to be true. The Fisker Ocean introduces rare value in the crowding EV segment, however it represents something more for its creator.
Rarely does a designer have creative freedom over an entire vehicle's development. The all-new Fisker Ocean shows what's possible when art, luxury and sustainability are front and center from start to finish. Here's everything you need to know about the latest sporty crossover to pull up to the electric vehicle party: the 2023 Fisker Ocean.
Fisker: A Bit of History
Car enthusiasts will remember Hurricane Sandy for the thousands of vehicles that were flooded in saltwater at East Coast ports. A large batch of those flooded cars were Fisker's first deliveries of the 2012 Fisker Karma hybrid sports car. Famed vehicle designer Henrik Fisker co-founded Fisker Automotive in 2007 with Bernhard Koehler and Quantum Technologies, and things were not going well when 338 brand-new cars sat smoldering in six feet of ocean water.
Completely losing your first batch of production vehicles is just about the worst thing that could happen for any young auto brand. Fisker had overcome a lawsuit from Tesla, the failure of its battery supplier, and laying off most employees. Bankruptcy soon followed, and vehicle development screeched to a halt. Fisker burned through $1.3 billion in its short history before failing altogether.
However, that was certainly not the end for the Fisker brand and vision. In 2014, Fisker Automotive's Karma vehicle design, tooling and a manufacturing facility in Delaware were purchased by Wanxiang Group, a Chinese auto conglomerate. They continue to produce the Karma sports car today.
New Life For Fisker
A few years later, Henrik Fisker rebranded his sustainable transport projects into Fisker Inc. A lot had changed over the 2010s. Tesla succeeded against all odds, crossovers were replacing sedans everywhere, and electric vehicles were entering the mainstream. Most importantly for Fisker, electric vehicle battery technologies were maturing.
In 2020, Fisker opened up reservations for a new electric crossover dubbed the Ocean. It's not clear if the name choice is a healthy dose of irony or a real coincidence considering what brought the brand to its knees in 2012. This time around, Fisker seems to truly have the wind in its sails. Fisker is officially partnering with Magna to mass produce the Ocean electric crossover starting in late 2022.
The 2021 LA Auto Show brought a real emphasis on electric vehicles. From legacy automakers to EV startups, the world was excited to show off the future. Among the many EV headlines at the LA Auto Show was the unveiling of the production-ready Fisker Ocean electric crossover. Here's why the Fisker ocean is seriously a car to look forward to in 2022.
Sustainable Design, Affordable Price
Just look at those curves, that front fascia, and the limited glimpses we have of the interior. The Fisker Ocean is one gorgeous crossover. It's muscular yet composed, and there's nothing out there like it. The Ocean is slightly larger than the popular and more expensive Tesla Model Y when it comes to height, width and length.
Fisker says that the interior is surprisingly spacious due to the compact electric motors and skateboard battery design underneath the floor. Much of the interior is made of recycled materials, of course with a luxury flare.
The Fisker Ocean will enter the U.S. market at a starting MSRP of $37,499 (excluding incentives). In some states, tax credits and state rebates will bring the effective cost of an entry-level Ocean below $30,000. Tired of one-size-fits-all trim options? Fisker offers compelling option packages to customers across the Ocean's entire price range.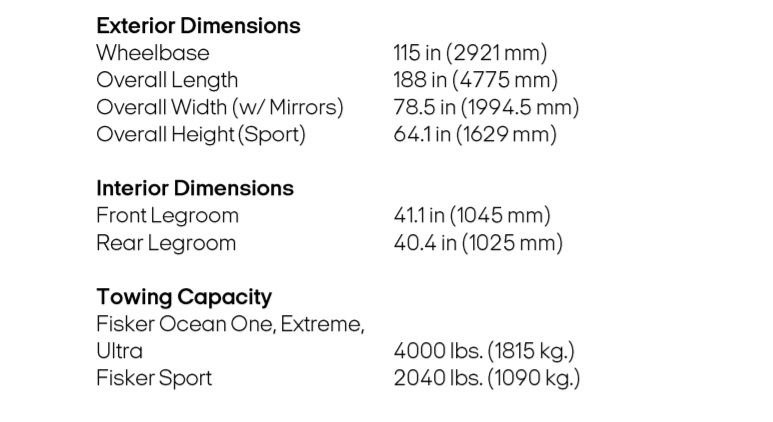 Fisker Ocean Sport Price
Starting MSRP: $37,499
The entry-level Ocean still comes well-equipped with a 17-inch central touchscreen, premium sound and a BigSky roof. The Ocean Sport is powered by a single front-wheel drive motor that's more than enough power for most. The Fisker Ocean Sport starts at an MSRP of $37,499.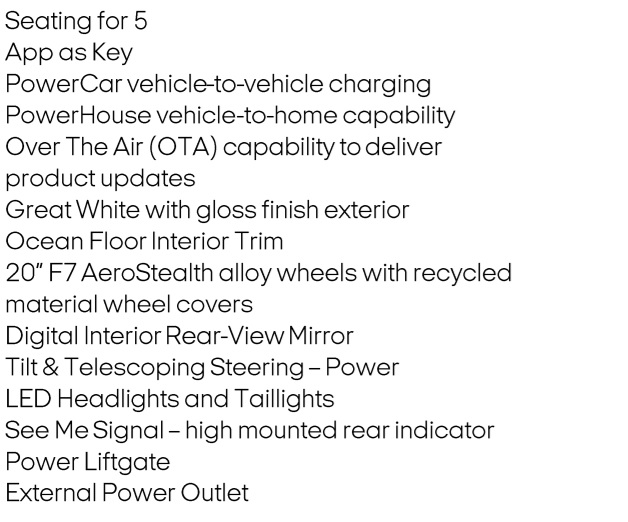 Fisker Ocean Ultra Price
Starting MSRP: $49,999
The Ocean Ultra will be the option that most buyers will go for. Stepping up to the Ultra gets you dual motor all-wheel drive, three drive modes for diverse driving conditions, and 360-degree cameras.
There's a LOT more. The Ultra also tacks on Fisker's more expansive OpenSky glass roof, unique interior trim options, and phone-as-a-key.
The Fisker Ultra is also where the brand's famous California Mode becomes accessible to buyers. Fisker California Mode lowers all windows, including the rear window, effectively turning the cabin of the Ocean into open-air space perfect for breezes and sunshine.
The Fisker Ocean Ultra starts at $49,999, a noticeably lower base MSRP than you'll find in most similarly equipped competitors.
Fisker Ocean Extreme Price
Starting MSRP: $68,999
Want a solar roof on top of your car that can harness the sun for up to 2,000 miles of range every year? You can have that and more with the Fisker Ocean Extreme. The Ocean Extreme comes packed with an abundance of high-end luxury amenities at a more premium price point.
On top of what the Ocean Ultra offers, the Extreme gets Park My Car, and advanced driver assist systems like lane change assist. The 17" screen found in all Ocean trims turns into a revolving screen that can flip horizontal or vertical.
The Ocean Extreme also gets Fisker Limo Mode, which allows rear-seat passengers the ability to control audio volume, heating and cooling. The Fisker Ocean Extreme starts at $68,999, but you get a whole lot of quirks and features.
Fisker Ocean One Price
Starting MSRP: $68,999 (sold out)
The launch-edition Fisker Ocean One will be the first-ever vehicle launched by Fisker Inc. Unfortunately for today's buyers, the Ocean One is limited to the first 5,000 units produced. All are spoken for, so the Ocean Extreme is your next best bet. This luxury edition comes fully loaded with all available premium features.
Fisker Ocean Specs and Performance
The Fisker Ocean Sport will have an expected 0-60 mph time of 6.9 seconds with peak horsepower of 275 hp. The Fisker Ocean Ultra drops the 0-60 time to just 3.9 seconds with a peak of 540 HP. That's a full second quicker than the dual motor, long range Tesla Model Y. The Fisker Ocean Extreme and Fisker Ocean One will have an estimated 0-60 mph time of 3.6 seconds, with 550 HP.
The Fisker Ocean Sport will have Earth and Fun drive modes, while the Fisker Ocean Ultra and Fisker Ocean Extreme will add Hyper mode. The Fisker Ocean Extreme and the Fisker Ocean One will also have an Off-Road mode. The Fisker Ocean Ultra, Fisker Ocean Extreme, and Fisker Ocean One trims will have a Smart Traction torque-vectoring system to enhance performance and safety.
Fisker Ocean Range and Battery Size
Fisker estimates that the EPA range of the front-wheel-drive, single-motor Fisker Ocean Sport will be 250 miles on a single charge. The Ocean Sport gets a lithium-ion phosphate (LFP) battery cell chemistry supplied by respected battery supplier CATL. EPA ranges for the all-wheel-drive, dual-motor Fisker Ocean Ultra and Fisker Ocean Extreme are estimated at 340 miles and 350-plus miles, respectively.
The Ocean Ultra, Ocean Extreme and limited-edition Ocean One will use CATL-supplied battery packs with a nickel-manganese-cobalt cell chemistry. Fisker says that they've worked in close collaboration with CATL to create reliable, high-energy packs for the Fisker Ocean.
Don't Want to Buy? Try Fisker's Flexee Lease
For just $379 per month (a bargain these days!), you can lease a Fisker Ocean SUV under a very untraditional lease agreement. Fisker says that they believe electric vehicles should be affordable to all, and this is how they're going to try to get there.
With a Fisker Flexee Lease, there are no term limits and you can cancel at any time. It's basically a long-term rental that appears to be worry-free. After twelve years of leased driving, Fisker will retire and recycle the electric SUV. The Fisker Flexee Lease requires an initial payment of $2,999, and it includes up to 30,000 miles per year. Maintenance is covered. Sounds like a great deal if you ask me!
Fisker Ocean Incentives
In the United States, buyers of the Fisker Ocean qualify for up to $7,500 in federal electric vehicle tax credits, depending on annual tax liability. Many states offer additional electric vehicle rebates and tax credits that drop the effective price of the Fisker Ocean well below $30.000. US lawmakers are considering revisions to the Electric Vehicle Tax Credit that could possibly up the incentive amount to over $10,000 for the Fisker Ocean, and even higher for vehicles made in the United States with union labor. Your electric utility may even offer some kind of EV rebate.
When Will the Fisker Ocean Be Available?
You can jump on the Fisker reservation list with a $250 refundable deposit, but know you're signing up for a waiting game. Fisker is proud to announce that production is scheduled to begin at Magna's state-of-the-art, zero-emissions factory in November 2022. The first 5,000 Oceans made will be the top-tier Ocean One that is already sold out. We expect those who get in line for a top-trim Fisker Ocean in early 2022 will likely take delivery in the second half of 2023. There's a longer wait ahead if you're interested in the more affordably priced ocean trims – 2024 at the earliest.
Fisker Will Open Six Brand Experience Centers in 2022, Four in America
The first two Fisker Experience Centers will open soon in Los Angeles and Munich, Germany. Later in 2022, the company plans to open at least four additional centers in London, New York, Miami and Copenhagen.
CarEdge's Take
Your automotive advocates at caredge.kinsta.cloud are feeling optimistic about Fisker. The car is beautiful and the specs are promising, but the price points are very competitive for what you get. We would not be so enthusiastic about the brand if it had not already announced strategic partnerships that elevate reliability ratings from day one. Austrian automaker and supplier Magna-Steyr has been building luxury vehicles for the likes of BMW, Jaguar and Mercedes. CATL's battery packs are arguably the best out there. Even Tesla uses them for some manufacturing.
Of course, our opinions can only be so strong when no reviewers have had the chance to take a ride in a production-ready Fisker ocean just months before production is set to start.
Another thing to consider when making any vehicle purchase is how close you live to Fisker's planned Experience Centers. It's never a great idea to be too far away from maintenance if you need it. For example, I'd love to purchase a Fisker Ocean myself, but I live in West Virginia. I doubt Fisker will be coming to the Mountain State anytime soon. We don't even have a Tesla showroom or service center in the state.
At this price point and with these specs, the 2023 Fisker Ocean just might shake up the electric crossover segment like never before. We will be keeping our eyes on Fisker as they enter the American market.
Get the most when you sell your car.
Compare and choose multiple offers in minutes: