🚘 Search for cars with no ads
When shopping for a new car, it's essential to understand the dealer invoice price to ensure you're getting the best deal possible. This guide will show you how to look up the dealer invoice price, and will provide you with all the information you need to negotiate with confidence.
What is Dealer Invoice Price?
Dealer invoice price refers to the amount a car dealership pays to the manufacturer for a vehicle. It's important to know this price because it can serve as a valuable tool in negotiating the final cost of a car. By understanding the dealer invoice price, you can have a better idea of a fair price for the vehicle you're thinking of buying.
Franchised car dealerships buy their inventory directly from their manufacturers. Similarly to you and I, dealers "floor plan" their purchases. Floor plan is industry jargon for "finance," and it means that dealerships take out loans to pay for all of the vehicles you see on their lot, just like most consumers do when they finance the purchase of a new vehicle.
Dealerships receive an invoice directly from the factory telling them the price of the car (including the destination fee) that they owe. The dealer invoice is something you'll want access to when negotiating the price of a new car.
When it comes to used cars, they are primarily bought and sold from the auctions or customer trade-ins, and in these cases looking at a dealer invoice price won't be an option. You can always ask a dealer what they paid for a used car, but there typically won't be a willingness to share that information.
On the new car side of things, dealers are much more likely to be open and transparent about the invoice cost they paid to purchase a vehicle. This has become a sales tactic that nearly all car dealerships use to convince customers that they are getting a fair deal.
How to Find the Dealer Invoice Price
Ask the Sales Manager for the dealer invoice
At the end of the day, there is only one foolproof way to get the invoice price of any new car — ask the salesperson or sales manager at the dealership. This doesn't have to be overly complicated. A quick email that says, "Hi, I am interested in this Ram 1500 pickup truck, and I want a fair deal. Can you please send me out-the-door pricing, a copy of the Monroney label, and the invoice you paid from the factory?" Will go a long way.
Referencing the out-the-door price is a great way to show a salesperson or sales manager that you know what you're talking about, and you don't want to spend hours discussing monthly payment goals. Asking for the Monroney label, or window sticker is also a great way to show you're on top of your game. You want to know what options and features the vehicle has, and what better way than to look at the Monroney label? And finally, asking for the factory invoice makes it clear to the dealer that you want to make a fair deal.
The same thing applies to money factors when leasing a car. Do not be afraid to ask a dealer what the money factor is on a lease, and to follow that question up with, "Is this the buy rate, or are you marking it up?" If the dealer can't give you a straight answer, that's another sign it's time to find someone new to work with.
Tips for Negotiating Based on Dealer Invoice Price
Set a target price: Determine a target price based on the dealer invoice price and any applicable incentives or rebates. This will give you a starting point for negotiations.
Preparation is key: Bring printouts of your research, including the dealer invoice price and any incentives or rebates, to the dealership as evidence to support your negotiation. Don't forget this negotiation cheat sheet!
Stay calm and confident: Negotiating can be stressful, but staying calm and confident during the process can help you secure the best deal possible.
Free Car Buying Help Is Here!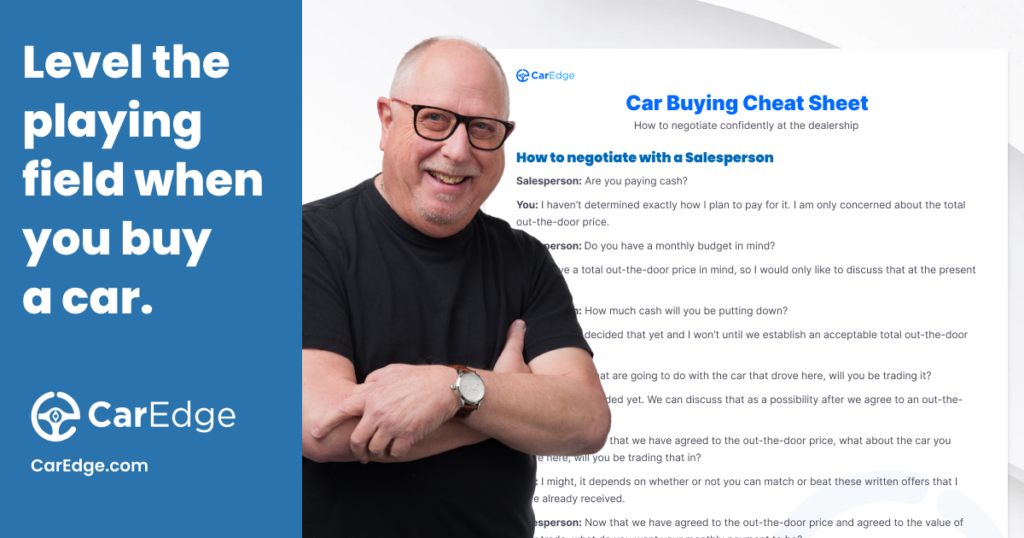 Ready to outsmart the dealerships? Download your 100% free car buying cheat sheets today. From negotiating a deal to leasing a car the smart way, it's all available for instant download. Get your cheat sheets today!