We recently shared five affordable electric cars to buy in 2022. "Affordable" only goes so far in today's auto market, and not a single top pick lists for under $35,000. With battery and charging advancements around every corner, leasing is a great way to keep up with the pace of technology without having to purchase a new car. All things considered, these are the 5 best electric cars to lease in 2022.
Hyundai Kona EV
The often overlooked Hyundai Kona EV was the Korean automaker's electric flagship years before the fancy new IONIQ 5 stole the show. When it comes down to numbers, the Kona EV is a great value. We featured it in our recent CarEdge list of the best affordable electric cars.
This front-wheel drive subcompact crossover gets 258 miles on the charge, exceptional range for a budget EV. Some owners get over 275 miles on a single charge. If you plug in at home, charging to 100% from a 240-volt dryer outlet will only take you about 9 hours from 10% state of charge. That will get you a full battery overnight while you're sleeping. At a DC fast charger, the Kona is behind the competition. In 47 minutes, the Kona Electric charges from 10% to 80% capacity. For perspective, the new Hyundai IONIQ 5 can do the same in 18 minutes, but it costs nearly twice as much.
You can lease the Hyundai Kona EV for just $259 /mo with $3,699 due at lease signing for 36 months and 10,000 miles of driving allowance per year. If this is your price range, the Chevy Bolt, Nissan Leaf, and the Kona's cousin the e-Niro are the only other options. You can't go wrong with the Kona at this price point.
Volvo XC40 Recharge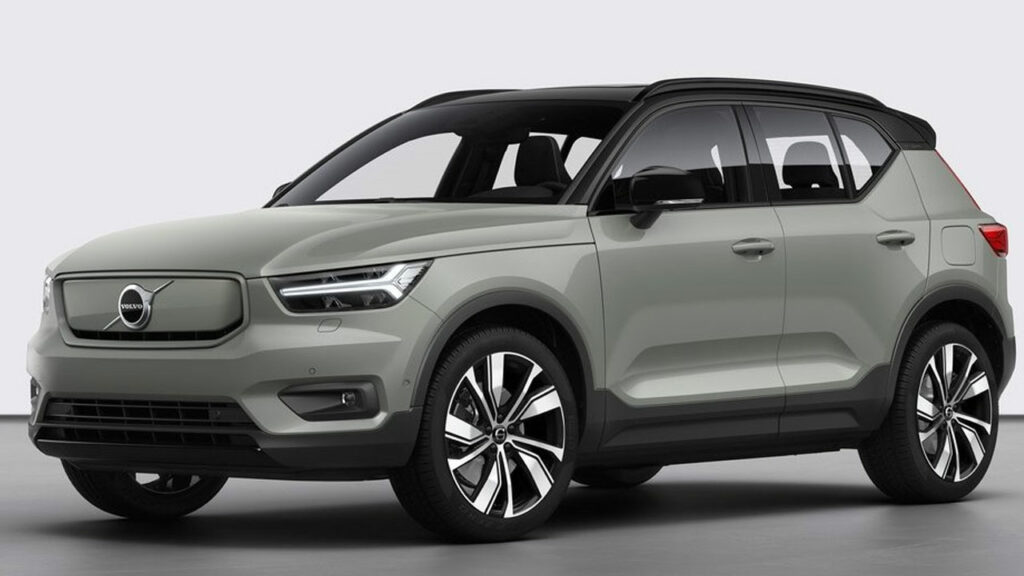 Volvo and sibling Polestar are ramping up their commitment to electrification. The Volvo XC40 Recharge (pure electric) has been the darling of auto reviewers time and time again. Test drivers share a common theme: the XC40 Recharge is a lot more fun to drive than they had expected.
It may look like a family car, but this electric Volvo can launch to 60 mph in just 4.7 seconds as it puts down power via dual electric motors. With 223 miles of range on a charge and up to 150 kW charging speeds at a public fast charger, the XC40 Recharge is just about average for an electric car in 2022. It IS a solid road-tripper, unlike some other options on this list.
Infotainment runs on Google's Android Auto operating system, much like the popular Polestar 2. An upscale cabin adorned with the elegant and dark-themed interior we've come to expect from Volvo features plenty of hidden storage and generous room in the back seat. This electric crossover feels a lot larger than it really is.
Leasing the XC40 Recharge is available for $540 a month with $3,500 down, and 10,000 miles of annual driving allowance. If you're looking for a peppy electric crossover with a Scandinavian flair, Volvo's XC40 Recharge just might be the one.
Learn more about the 2022 XC40 Recharge here.
Nissan Leaf
If you're shopping on a tight budget, don't overlook the original posterchild of EVs, the Nissan Leaf. A few years before Tesla's sales ballooned into EV domination, the Leaf was leading electric car sales in America. Why did it fall out of favor? It looks like an appliance, drives like an appliance, can't make it very far on a charge, and charges slower than most of the competition. But it's cheap!
With those complaints aside, the Nissan Leaf is still a solid choice for a lease in 2022. We can only recommend the Leaf in the extended range, faster charging versions. That would be the Plus models, which are rated for up to 226 miles on a charge, and can charge at 100 kW charging speeds at a DC fast charger equipped with the CHAdeMO adapter.
The Leaf is not recommended for frequent long-distance travelers. It's just too much of a pain to stop so frequently and charge for a whole hour once every 180 miles. But for everyone else, the Leaf is a great electric car for around town. Plus, it still qualifies for the EV tax credit.
As of April, the 2022 Nissan Leaf is available for $179 per month for 36 months with $4,179 due at signing. It's important to note that Nissan keeps the EV tax credit when you lease a Leaf. Regardless, that's as cheap as it gets to lease a new EV in 2022.
2023 Fisker Ocean (It's Worth the Wait)
At a time when the average transaction price for a new car is approaching $50,000, a sub-$40,000 electric crossover sounds too good to be true. The Fisker Ocean introduces rare value in the crowded EV segment. We recently shared an in-depth review of the Fisker Ocean.
For just $379 per month, you can lease a Fisker Ocean SUV with the new Fisker Flexee Lease offer. Fisker says that they believe electric vehicles should be affordable to all, and this is how they're going to try to get there.
With a Fisker Flexee Lease, there are no term limits and you can cancel at any time. It's basically a long-term rental that appears to be worry-free. After twelve years of leased driving, Fisker will retire and recycle the electric SUV. The Fisker Flexee Lease requires an initial payment of $2,999, and it includes up to 30,000 miles per year. Maintenance is covered.
The Fisker Ocean will be available in very limited quantities late this year. It won't be until 2023 or even 2024 that a Fisker lease will be easy to come by. Nevertheless, keep it on your radar!
Get the most when you sell your car.
Compare and choose multiple offers in minutes: