2023 is shaping up to be an exceptional year for year-end car deals. A perfect storm of high inventory, soaring interest rates, and holiday sales is coming together to bring big discounts. Here's why savvy car shoppers should keep take 2023's year-end car deals seriously.
👉 Just want to see the deals? See December's best new car incentives here.
1. Rising Interest Rates and Increased Floorplanning Costs
One of the most compelling reasons to expect significant year-end car deals in 2023 is the steady rise in interest rates throughout the year. The average new car loan APR is now 9%, with used car loans averaging around 14%.
As the cost of borrowing money increases, automakers and dealerships will be motivated to lure buyers with more attractive financing options. Simultaneously, rising rates mean higher dealership floorplanning costs, which put additional pressure on dealers to move inventory. With rates on the climb, it's an opportune moment for buyers to lock in a low-interest loan before they potentially rise even further.
👉 These are the best auto financing offers in December. 
2. High New Car Inventory
The auto industry has seen an influx of new car inventory in 2023. Factors like supply chain improvements, slower sales, and high MSRPs have contributed to a surplus of vehicles waiting for buyers. Dealerships are eager to clear out these excess stocks by year-end to make room for the next year's models. This means potential discounts, rebates, and promotions that can significantly reduce the purchase price.
👉 See the most recent new car inventory update here.
3. Slow Sales Earlier in the Year
Sluggish car sales in the earlier part of the year have left many dealerships with excess inventory. In an effort to meet annual sales targets and improve cash flow, dealerships often resort to offering generous discounts and incentives in the final months of the year. For buyers, this translates into an excellent opportunity to snag a deal on the vehicle they desire.
4. Black Friday and Holiday Season
Some things never change. Every year, the holiday season is when car dealerships roll out their best deals. Automakers and dealerships understand that consumers are ready to spend during this time, and they respond with enticing promotions, discounts, and special offers. After decades of holiday sales, consumers have come to expect big discounts in December, and often wait all year for year-end car deals.
5. New Year's Inventory Clear-Out
As the year comes to a close, automakers and dealerships are eager to clear out remaining inventory to make way for the arrival of new models. This urgency often translates into even more competitive pricing and incentives as they aim to finish the year on a strong note.
👉 December's big year-end sales are out now! Here's the best of the best.
December Is THE Time to Buy
In summary, 2023's year-end car deals are the best sales we've seen all year due to a combination of rising interest rates, high new car inventory, holiday promotions, and the need to clear out existing stock. Car buyers who are patient and strategic in their approach can capitalize on these factors to secure a fantastic deal on their next vehicle.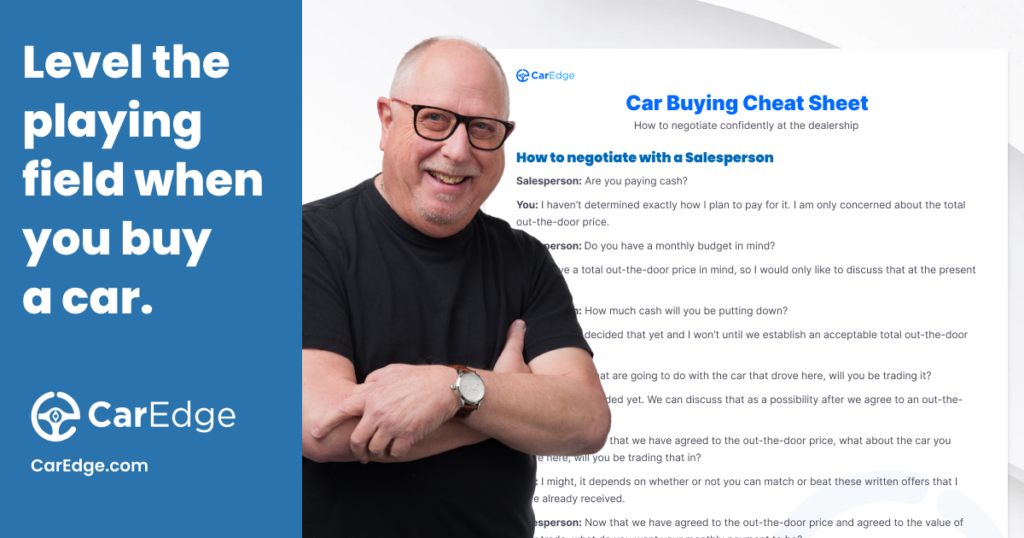 Ready to outsmart the dealerships? Download your 100% free car buying cheat sheets today. From negotiating a deal to leasing a car the smart way, it's all available for instant download. Get your cheat sheets today!

The CarEdge team is here to help! Learn more about how our team of consumer advocates is changing car buying for the better.