Can a car dealer charge you more than the manufactures suggested retail price (MSRP)? If you live in the United States, the answer is an emphatic "yes," and ever since the great chip shortage of 2021 (yes, we are naming it that), more and more car dealers have increased their new car selling prices well above MSRP.
Today we'll walk you through the laws that allow car dealers to sell their inventory at thousands, tens of thousands, and hundreds of thousands above MSRP. These laws protect dealers to markup their inventory to levels well beyond MSRP. We've included a bonus "craziest markups" section at the bottom of this post to give you some context as to how out of control new car pricing currently is.
In this post we'll also give you some suggestions for how you can find dealers that are not marking their new cars over MSRP, as well as the "word tracks" you can use when trying to negotiate with a salesperson or sales manager.
Without further adieu, let's dive in!
How can a car dealer charge more than MSRP?
Many goods are sold by manufacturers through their network of dealers or agents. Think about insurance as an example. Many insurance products are sold by an agent, who is simply a licensed producer that represents an insurer. Could you buy insurance directly from the insurer? Sure, some companies allow for that, but not all. Many insurance companies don't want to have to deal with selling their own product. As strange as that sounds, it's pretty common, and instead of selling directly to consumers they employ agents to do that for them.
The same dynamic applies in retail automotive. Can you buy a car directly from a manufacturer? Yes. Do most manufacturers not sell directly to consumers because they don't want to deal with all that it entails? YES. The hassle of dealing with customers, plus franchise dealer laws in all 50 states make it an easy decision for automakers to leverage their dealer partners to sell cars. That being said, there is certainly a wind of change. There are currently 13 states there have been proposed laws to allow for automakers to sell directly to consumers.
So long as most new cars are sold through dealers, the dealers will have their discretion to price their inventory however they'd like. MSRP does stand for manufacturers suggested retail price after all. At the end of the day, the franchise dealer model is simple:
The automaker is responsible for producing the vehicle. The dealer is responsible for selling the vehicle. The bank is responsible for financing the purchase of inventory for the dealer. The customer is responsible for negotiating and purchasing the vehicle.
Within the franchise agreements that dealers sign with their OEMs they do not have rules that prevent them from marking up vehicles beyond the suggested retail price. If automakers wanted to be consumer advocates and cap the price of their vehicles, they could do this by simply adding and enforcing a price cap rule with their dealer body.
This will likely never happen. Why? Because gross profit on new cars has never been higher (upwards of 16% for Lithia Automotive), and automakers and dealers alike are enjoying this new reality. If automakers attempted to stop their dealers from selling above MSRP they would be picking a fight with their best customer (remember, the dealer buys the inventory from them!).
Common Add-ons & Accessories
Some dealerships refuse to sell their cars for more than MSRP. That's great. The issue is that they add all sorts of add-ons and accessories to a vehicle that you didn't ask for. Here's a perfect example of that from a Land Rover dealership: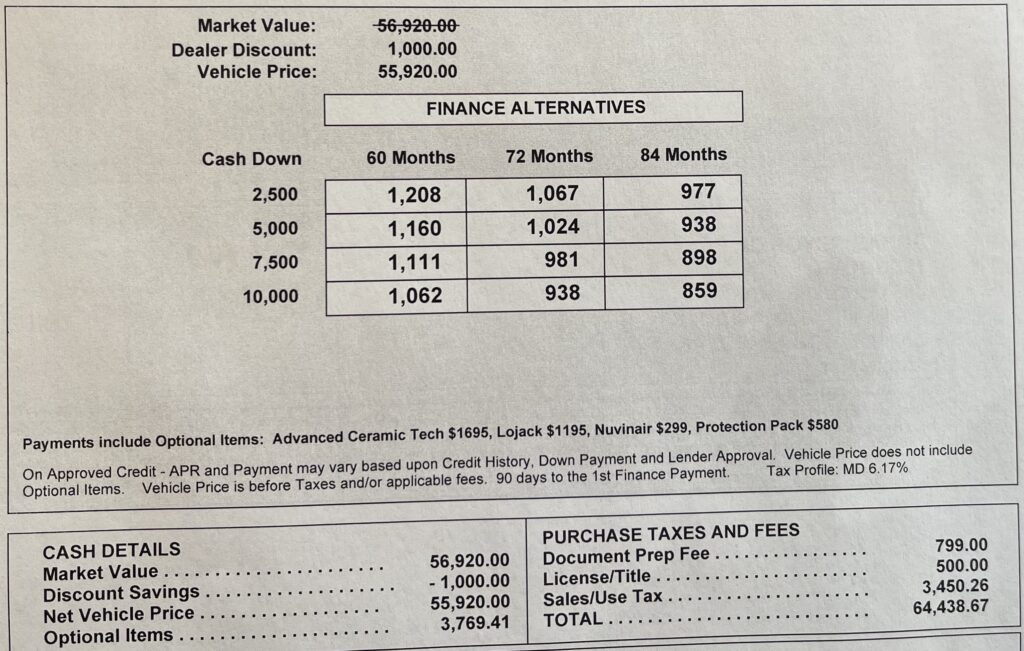 In this case the dealer discounted their price by $1,000. That's awesome! Then they added $3,769.41 in accessories and add-ons 🙁
The accessories they added are:
Advanced Ceramic Tech for $1,695
Lojack for $1,195
Nuvinair for $299
Protection Pack for $580
Our recommendation in this case (and in the current market) would be to negotiate the cost of the accessories down to the dealer's cost. The dealership incurs a cost to their service department to install these products. That cost is likely a few hundred dollars (refer to the table below). With that in mind, you'll want to ask for the RO (repair order) they issued for the installation of the accessories.
| | | | |
| --- | --- | --- | --- |
| Item | Cost to Dealer | Retail Price | Dealer Profit |
| Interior protection | $50 | $500 | $450 |
| Paint protection | $100 | $850 | $750 |
| Undercoating | $200 | $700 | $500 |
| Rustproofing | $50 | $800 | $750 |
| Car alarm | $300 | $800 | $500 |
| VIN etching | $75 | $400 | $325 |
| Lojack | $325 | $1,000 | $675 |
| Nitrogen-filled tires | $35 | $250 | $215 |
| Window tinting | $25 | $300 | $275 |
Additional Dealer Markup
Many car dealerships are selling their new cars above MSRP, and they aren't shy about it. Every new car comes with a window sticker, also known as a Monroney Label. Many dealers are adding additional stickers to new cars with their additional dealer markup. Here's an example:
In this case the dealership added both add-ons (Theft Patrol, Perma Plate, and Mobile Clear Shield Package), and a "Market Price Adjustment" of $10,000. The market adjustment is additional dealer markup. You get nothing in exchange for having paid an additional $10,000. It is pure profit for the dealership.
How to negotiate when the car is over MSRP
What can you do when a new car is for sale over MSRP? How can you negotiate a lower price? Well, as always, remember "if it's taxable, it's negotiable." That means if it's taxed on the bill of sale, you can negotiate its price.
As a refresher, here are the fees that you can and cannot negotiate on.
When it comes to additional dealer markup and add-ons we encourage you to not settle for what the dealer is asking for. Dig your heels in a bit and try and get some money back in your pocket. Just because they are asking for $10,000 in additional markup doesn't mean they won't accept $5,000.
If the dealer is adamant about their pricing and won't budge, consider factory ordering a new vehicle. When you factory order you can get a legally binding signed buyers order for the agreed upon selling price at the time you place the order.
Head to Deal School!
If you found this article helpful, you will likely benefit from our 100% free Deal School course. You can access Deal School for free here: https://caredge.com/deal-school/
The craziest car dealer mark ups
Thanks to the CarEdge Community, we have received dozens of reports of insane dealer mark up. Here's a collection of some of the most egregious cases: