The average new vehicle sells for nearly $50,000, but not every vehicle costs the same to maintain and operate. Fuel economy, reliability, insurance, and maintenance needs are just some of the factors that determine the total cost of ownership for any vehicle. Automakers have made it clear that they're bringing EVs to the masses, however cheap electric cars remain elusive.
Consumers in the market for an affordable vehicle in 2022 are presented with diverse options, including a larger selection of electric vehicles than ever before. EV's are no longer just for tech nerds. People who had never imagined themselves in an electric vehicle are making the switch simply for fuel savings.
However, it remains true that the majority of electric vehicles carry luxury price tags. It's unlikely you'll hear anyone say there are "cheap electric cars," however there are affordable EVs. Here are five affordable electric vehicles that drivers love in 2022.
The best affordable electric car: Volkswagen ID.4
Starting at $40,760
240 – 260 miles of range
Learn more: CarEdge Review of the Volkswagen ID.4
Pros:
Affordable
Accurate range ratings
Over-the-air update capability
3 years of free charging at Electrify America
Qualifies for the federal EV tax credit
Cons:
RWD is slow for an EV
Reliability remains to be determined
It's hard to find one on a dealer lot
If you're in the market for a great electric vehicle that will get you from A to B in comfort and confidence, the 2022 Volkswagen ID.4 should be on your short list. Capable performance, great safety ratings and a spacious cabin make the ID.4 a great place to be for the price point.
The 2022 ID.4 can go the distance, leaving range anxiety behind for the most part. Dozens of real-world range tests show that even on the highway at 70 mph, the ID.4 gets well over 200 miles on a charge. In city driving, closer to 300 miles is likely.
2022 updates are bringing bidirectional charging, plug-and-charge, increased range, quicker charging and major over-the-air updates to the ID.4. Even 2021 models will get new features via OTA updates this summer. Learn more about the game-changing capabilities of OTA updates here.
When it comes time to charge, you can either juice up at home overnight, or take advantage of 3 years of free Electrify America charging with unlimited miles. For frequent travelers, the Electrify America incentive can be worth a few thousand dollars. At a fast charger, charging to 80% takes about 30 minutes.
The all-wheel drive version of the ID.4 is where this crossover really shines. Adding another motor to the front axle increases horsepower to 295 with 339 lb-ft of torque and a very satisfying 0-60 time of just 5.4 seconds. However, it's not quite a car you'd take to the track. The handling is well-tuned for attacking winding roads in inclement weather, although it maintains a more family-oriented demeanor.
The 2021 ID.4 earned a Top Safety Pick+ rating from the Insurance Institute for Highway Safety, and a five-star rating from the National Highway Traffic Safety Administration's rigorous crash testing. CarEdge recently detailed all electric vehicle safety ratings in 2022.
The Volkswagen ID.4 is about as good as it gets for its use case. For the frugal-minded, It's a particularly compelling car in the base Pro trim with rear-wheel drive (MSRP $40,760). Volkswagen's EVs still qualify for the $7,500 federal EV tax credit in the US, which can turn the entry-level ID.4 into a $34,000 purchase. That's an amazing value in today's market.
The best range for a "cheap" electric car: Kia EV6
Starting at $40,900
232 – 310 miles of range
Learn more: CarEdge Review of the Kia EV6
Pros:
Great range
Fastest charging EV
Over-the-air update capability
Available in all 50 states in 2022
Qualifies for the federal EV tax credit
Cons:
Low profile may not appeal to those looking for a SUV
Reliability remains to be determined
It's hard to find one on a dealer lot
If you're a techie who demands the latest and greatest that automakers have to offer, but don't have the budget to buy an extravagant Lucid Air or Mercedes EQS, the Kia EV6 and its platform sibling the Hyundai IONIQ 5 just might be what you're looking for.
Kia and Hyundai partnered up to engineer the new E-GMP battery and powertrain platform. The first two models to feature this advanced architecture are the Hyundai IONIQ 5 and the all-new Kia EV6. Both of these crossovers offer ultra-fast charging, impressive range, and over-the-air update capability for just over $40,000.
The 2022 Kia EV6 has a premium feel to it, and that's something we're still learning to expect from Kia. Aggressive looks on the outside are met with a welcoming, spacious interior. The cabin is open and airy.
The EV6's front dash consists of dual 12.3" screens, one for infotainment and another for the instrument cluster. Higher trims also include an augmented reality heads-up display that projects driving directions and basic info onto the windshield within the driver's line of sight.
The Kia EV6 is no slouch; it can hustle with a heavy foot. All-wheel drive variants produce 313 hp and a 0-60 time of 5.1 seconds, but range drops to 274 miles on a charge. Longer range rear-wheel drive trims still reach 60 mph in just 7.3 seconds. For perspective, that's about two seconds quicker than the popular Subaru Forester.
With a starting MSRP around $42,000 with destination, the 2022 EV6 represents incredible value for leading-edge tech. It even has faster charging and longer range than similarly priced Tesla models.
The greatest advantage the Kia EV6 has over any Tesla model is that the EV6 qualifies for the federal electric vehicle tax credit. Buyers can save up to $7,500 on their federal taxes if they purchase a Kia EV. Tesla and GM brands are no longer eligible since they've already sold greater than 200,000 electric cars.
If you're a fan of the specs but not the aggressive looks, the Hyundai IONIQ 5 may be the perfect compromise.
The fastest charging for a "cheap" electric car that isn't a Tesla: Hyundai IONIQ 5
Starting at $40,925
220 – 303 miles of range
Learn more: CarEdge Review of the Hyundai IONIQ 5
The IONIQ 5 made our CarEdge list of the 5 best cars to buy in 2022!
Pros:
Fastest charging EV (also Kia EV6)
Unique, retro-meets-futuristic looks
Enough performance for some fun
Over-the-air update capability
2 years of free charging at Electrify America
Qualifies for the federal EV tax credit
Cons:
Real–world range comes up short
Reliability remains to be determined
Most available today are higher trims
Available in select states until mid-2022
The all-new 2022 Hyundai IONIQ 5 is a uniquely retro electric crossover. You're sure to get plenty of thumbs-ups at stoplights in this head-turner. It's under $50,000, and surprisingly available at dealerships today. Hyundai says that the pixelated design draws inspiration from the first car they brought to America, the Hyundai Pony.
Also built on the new E-GMP platform, the Kia EV6's sibling is as comfortable slamming into curves as it is cruising the interstate. The all-wheel drive variant is adequately powered with 320 horsepower and 446 lb-ft of torque. The AWD IONIQ 5 can get up and go with a 0-60 time of 5.2 seconds. That's just a hair above the current electric crossover sales champion, the Tesla Model Y.
Range varies from 220 miles up to 303 miles depending on battery size and drivetrain. That's slightly above average for a 2022 model. It's important to note that some real-world highway range tests have struggled to get the IONIQ 5 past 200 miles on a charge.
The IONIQ 5 does have one massive advantage over its competitors: charging speed. When you plug in at any Electrify America charging station, the IONIQ 5 can handle up to 230 kW charging speeds. Charging from 10% to 80% (adding 212 miles of range) takes just 18 minutes. The only other vehicle on the market capable of charging that fast is the $75,000+ Lucid Air luxury sedan. The IONIQ 5 has a major charging advantage over the ID.4 and Mustang Mach-E.
The IONIQ 5 is part crossover, part oversized hatchback. That's not a bad thing. Somehow, Hyundai pulls off this delicate balance in all the right ways. The Ioniq 5's interior volume (passenger and cargo combined) is 133.7 cubic feet, which is larger than the VW ID.4 and Ford Mustang Mach-E. The roominess has more in common with a Hyundai Santa Fe than a Kona.
Starting at just $40,925 for the 58 kWh smaller battery base model, the IONIQ 5 is available for thousands less than was expected. Most buyers will opt for the larger battery pack (77.4 kWh), which is comparable to other class competitors. With standard rear-wheel drive, the IONIQ 5 SE with the long range battery starts at $44,875. All-wheel drive is available for $3,500-3,900 more. The Limited trim starts at $51,825 and maxes out over $56,000 with all options included.
The affordable Tesla: Model 3 Rear-Wheel Drive
Starting at $44,990
272 miles of range
Learn more: CarEdge Review of the Tesla Model 3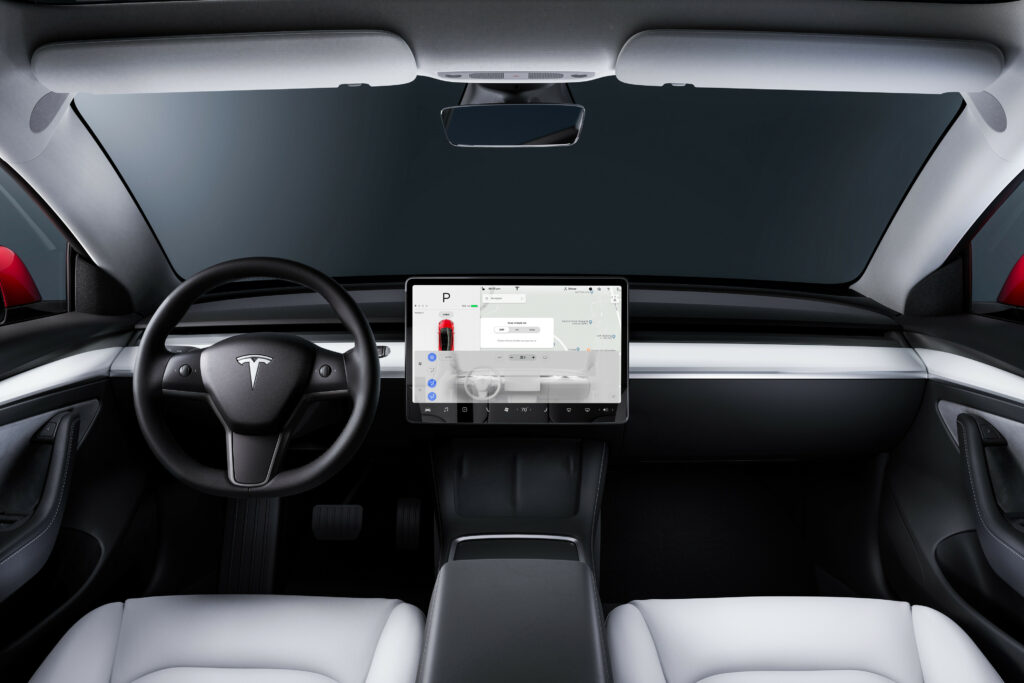 Pros:
It's a Tesla that's actually affordable
There's a very short wait for delivery
Enough performance for some fun
Tesla Supercharger network
Over-the-air update capability
Cons:
Does not qualify for the federal EV tax credit
Lacking many luxury features, such as massaging seats
No Apple CarPlay or Android Auto
White and midnight silver are the only free paint options
Say hello to the only Tesla available for less than $50,000. In reality, the 2022 Rear-Wheel Drive Model 3 is the same car as the 'Standard Range Plus' variant that the American automaker sold until 2021. Perhaps calling something 'standard' just wasn't on-brand for the luxury automaker.
Don't get your hopes up if you're thinking you can get access to Tesla's Full Self-Driving for under 50 grand. Tesla now charges $12,000 for FSD, which would bring the 2022 Rear-Wheel Drive Model 3 closer to $60,000 after taxes and fees.
Find out everything you need to know about self-driving cars in our CarEdge guide to autonomous vehicles.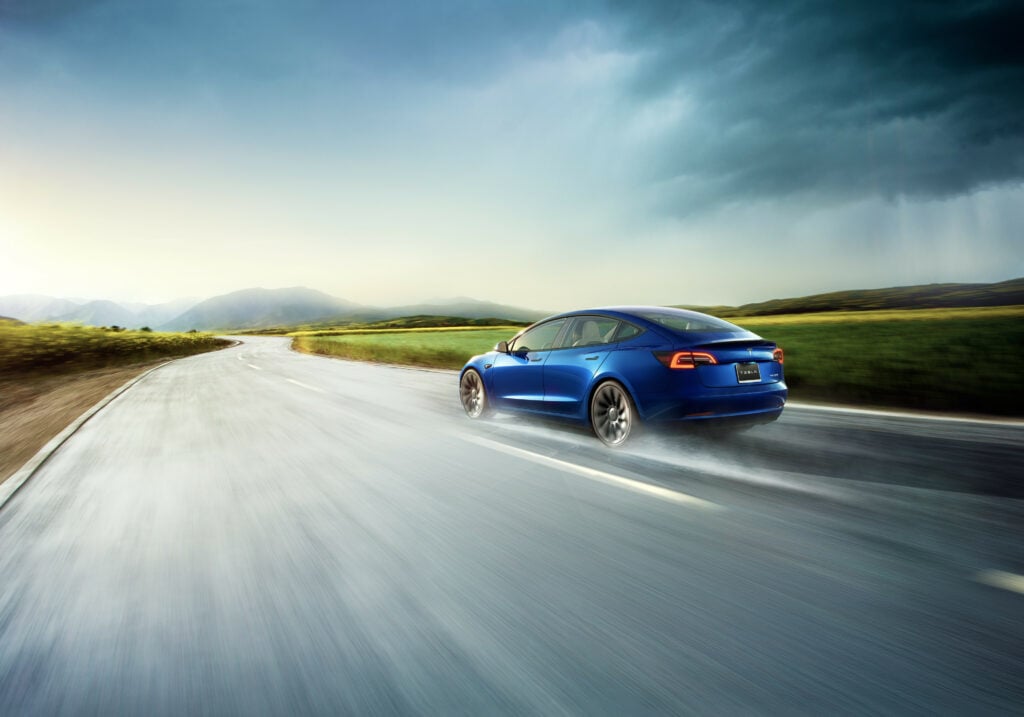 This base trim has received some 2022 upgrades, most notably an increase in range from 262 miles to 272 miles on a charge with the included 18" aero wheels. The 2022 Rear-Wheel Drive Model 3 features new lithium iron phosphate (LFP) batteries which will allow the car to repeatedly charge to 100% without risking as much harm to the life of the battery.
The Rear-Wheel Drive Model 3 is powered by a single electric motor that produces 296 hp and 277 pound-feet of torque. This sedan powers to 60 mph in just 5.8 seconds, not bad for a base trim.
At a Tesla Supercharger, its 60 kWh battery pack can accept up to 170 kW when nearly empty. In the real world, that means charging from 10-80% (adding 190 miles of range) takes about 26 minutes.
The 2022 Tesla Model 3 Rear-Wheel Drive now sells for a notoriously non-negotiable $44,990, plus the $1,200 destination and doc fee. So the cheapest Tesla is now $46,190. Just a year ago, it was $38,190.
The best "cheap" electric car: 2022 Hyundai Kona Electric
Starting at $34,000
258 miles of range
Search hundreds of Hyundai Kona EVs for sale today at CarEdge Car Search!
Pros:
A great alternative for those considering the Chevy Bolt
Under $30,000 with federal incentives; under $25,000 for some
Real-world range exceeds ratings
Unbeatable 10-year/100,000-mile warranty
Cons:
Slow charging speeds
Full of tech from the previous generation of electric vehicles
A previous recall associated the Kona with 'potential fire hazard'
Front-wheel drive only
Overshadowed by the IONIQ 5
Hyundai's forgotten electric vehicle should not be overlooked by those in search of a very affordable entry into electric mobility. The 2022 Hyundai Kona EV may not look all that attractive, but it has decent range and room to fit most lifestyles.
For just $34,000 before incentives, you can become the owner of the original Hyundai EV. This front-wheel drive subcompact crossover gets 258 miles on the charge, exceptional range for a budget EV. Some owners get over 275 miles on a single charge. The Limited trim, top-of-the-line option comes in at $42,500.
If you plug in at home, charging to 100% from a 240-volt dryer outlet will only take you about 9 hours from 10% state of charge. That will get you a full battery overnight while you're sleeping. At a DC fast charger, the Kona is behind the competition. In 47 minutes, the Kona Electric charges from 10% to 80% capacity.
If you're more of a Kia lover, we have great news. The Kia e-Niro is basically the Kona Electric with a Kia face.
Due to the Kona Electric's charging faults, this would not be a great road-tripping vehicle. But if you're looking for cheap electric cars perfect for zipping around town, this is a great deal not to be overlooked.
Runner Up: 2023 Fisker Ocean
Available in 2023, but you can reserve one now.
Learn More: CarEdge review of the Fisker Ocean
The Fisker Ocean sure does promise a lot. Will it deliver? At just $37,000, Fisker's all-electric brand quotes 250 miles of range for the entry-level Fisker Ocean crossover. The 2023 Fisker Ocean didn't make our official list for a few reasons. It hasn't been produced yet, and delays have pushed the start of production back to November 2022. Fisker says they have 32,000 reservations in the books, so if you're looking to buy one, it may not be possible until mid-2023. Furthermore, the more capable and sporty Fisker Ocean trims start at $50,000.
CarEdge's Take: Range and Reliability Matter Most
You may be wondering where the Chevrolet Bolt and Nissan Leaf are on this list of cheap electric cars. The Leaf is one of the originators of the EV segment, having started it all back in 2011. However, Nissan has regrettably not invested in range or battery performance upgrades over the years. It's failing to keep up with the growing competition.
The 2022 Nissan Leaf S gets just 149 miles of range and charges quite slowly at between 50 and 100 kilowatts at a fast charger. It is the MOST affordable electric vehicle, with prices ranging from $27,400 to $37,400, however we can't recommend an EV that leaves the lot at a disadvantage. As electric vehicles come to market with 250 to 400 mile ranges, how will the Leaf retain any resale value?
And then there's the Chevrolet Bolt. It's affordable and even looks okay with the recent facelift. While it's true that the recall fix is giving Bolts brand-new, modernized battery packs, the reliability of the Bolt has taken such a hit that it's too great of a financial risk for today's consumers to get behind the wheel worry-free. You don't want your $31,000 purchase to be a symbol of unprecedented fire risk. What would it take to change my mind? At this point, a few years of problem-free driving. Until then stay away from the Chevrolet Bolt. As you can see, there are plenty of other affordable electric vehicles out there in 2022.
Follow the money. Automakers are going all-in on electric vehicles in 2022 and beyond. The consumer benefits as competition rises, so perhaps affordable EVs are here to stay. If you're looking to go electric in 2022, you don't have to buy a Tesla, Nissan Leaf or Chevy Bolt. Every automaker is racing to become the next big thing in the world of EVs.
Some parting advice: consider all options, and test drive as many electric vehicles as you can. You'll be amazed at what's out there, and even more amazed at what's to come.
Get the most when you sell your car.
Compare and choose multiple offers in minutes: