As we approach the end of 2023, you might be pondering a common question: 'Should I buy a car now, or should I wait until 2024?' Luckily, the CarEdge team has created a comprehensive guide to assist you in making the right choice. Whether you're considering a new or used car purchase, various market factors come into play that can sway your decision. In this guide, we'll provide insights into the best strategies for both scenarios.
New Car Market: December 2023 – The Perfect Time to Buy
Year-End Car Sales are here. If you're on the fence about buying a new car in 2023 or waiting until 2024, we have answers for you. Experienced car shoppers know that the best deals of the year often come right at the end. December has a long-standing tradition of offering exceptional incentives for buyers. Why? Let's delve into the reasons.
1. The Urgency to Sell: Auto manufacturers and dealerships are motivated to clear out their inventory by year-end. They need to make room for the incoming 2024 models, and every day a 2023 model sits on the lot, it eats into their profits. The longer a car remains unsold, the more it costs in terms of dealership floorplanning expenses.
2. Rising Interest Rates: Rising interest rates make the cost of borrowing money go up. As rates increase, automakers aim to counteract this by offering more attractive financing options to entice buyers. This month, there are low APR offers that won't exist come 2024. Car makers are giving 2023's year-end sales everything they've got. If low APR financing is important to you, don't wait until January, or you'll be disappointed.
3. The End of the Quarter: The final quarter of the year carries extra weight for automakers and dealerships. Meeting sales goals becomes a top priority, both for business success and employee bonuses. As a result, there's added pressure to sell every vehicle possible in December.
4. Black Friday Sales: The year-end savings extravaganza always kicks off with fantastic Black Friday deals. This is when many automakers and dealerships pull out all the stops to attract buyers with enticing promotions, discounts, and special offers. Black Friday deals are now live!
5. Abundant 2023 Inventory: In December 2023, there will still be a substantial inventory of 2023 models available. Buying a 2023 vehicle at this time provides an excellent opportunity to secure a great deal, as dealers look to move these models to make space for the new arrivals. See the latest new car inventory update here.
6. Waiting for 2024: Buyers who delay their purchase until 2024 may find that much of the 2023 inventory has already been sold. This leaves them with fewer options and almost certainly higher prices on 2024 models. For most popular models, MSRPs are increasing by at least a few hundred dollars for 2024. Plus, interest rates will NOT drop in the first quarter of 2024.
Used Car Market: Uncertainty Ahead
When it comes to the used car market, the situation is less clear-cut. Used car prices have been on a downward trend, one that's likely to pick up pace in December. However, what will happen in 2024 is far less certain. Here's what you need to know:
1. Current Trends: Used car price data from Black Book indicates that used car prices have been slowly declining, dropping an average of 1.4% over the past month. At the wholesale auctions where car dealers buy and sell used inventory, prices have experienced more drastic swings. As we head into December, retail and wholesale prices are expected to fall further.
But what happens after we ring in the new year? The Black Book data below shows that for all of the five previous years, used car prices held flat for the first 10 weeks of the year.
2. Year-End Sales Impact: 2023's year-end sales will be huge for several reasons. One impact of December's year-end new car sales will be reduced demand for used cars. As more car buyers flock to take advantage of new car deals with shockingly low interest rates, there's the potential for used car prices to experience a more pronounced drop. When demand falls, prices follow.
The extent of this decline will depend on the number of buyers entering the new car market during this period. It's also important to note that used car dealers have been notoriously slow to lower sticker prices for used cars. Remember this: even if sticker prices remain the same, negotiability will improve in December. For the educated car buyer, better deals are within reach.
3. January and Beyond: Beyond January, predicting used car prices becomes challenging. The used car market is still grappling with the long-lasting effects of pandemic-related car shortages. These impacts are likely to persist for several more years. As we mentioned previously, used car prices have remained steady for the first 10 weeks of each of the past five years. History tells us that prices are likely to level off in January and February. What happens beyond that is anyone's guess.
Take Advantage of Deals in 2023
For new car shoppers, December 2023 presents an unparalleled opportunity to secure the best deals of the year. With numerous incentives, year-end urgency, and the availability of 2023 models, waiting for 2024 is probably not the best choice.
However, the used car market remains more unpredictable. While recent trends suggest falling prices, the full extent of these changes and how long they will last are uncertain. With the unique dynamics at play, waiting until 2024 is a bit of a gamble.
Used car prices may continue to fall, but a more likely scenario is prices holding steady in early 2024. Waiting too long could result in even higher interest rates, adding insult to injury as rates already average well north of 10% APR.
See our car market predictions for 2024.
Ultimately, the decision to buy a car now or wait until 2024 should be based on your specific circumstances and priorities. Whether you choose to take advantage of December's new car deals or navigate the evolving used car market, careful research and timing can lead to a sweet deal on your dream car. We're here to help!
Free Car Buying Help Is Here!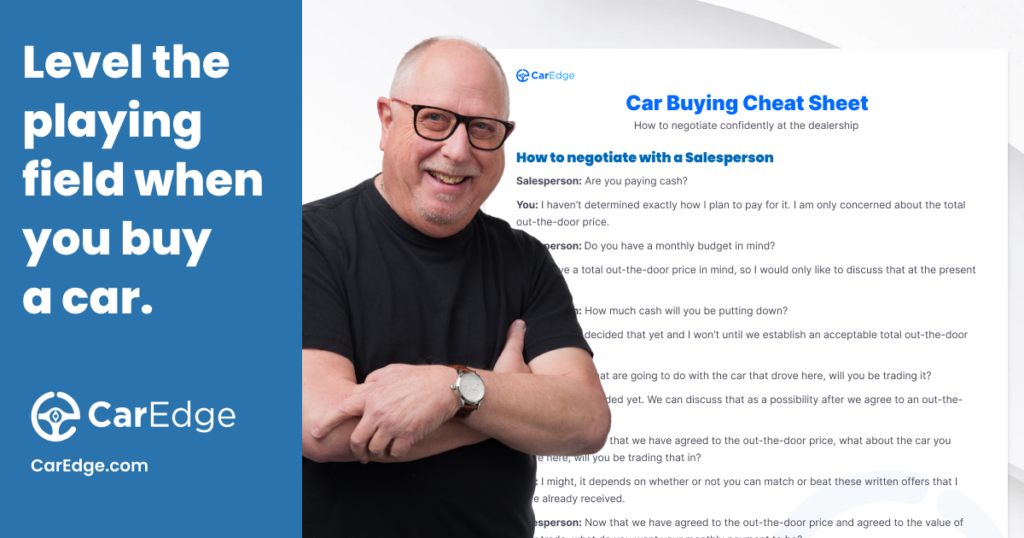 Ready to outsmart the dealerships? Download your 100% free car buying cheat sheets today. From negotiating a deal to leasing a car the smart way, it's all available for instant download. Get your cheat sheets today!