If you're in the market for an affordable electric vehicle, you've likely already arrived at the realization that 'affordable' doesn't mean cheap in 2022. In fact, our own CarEdge list of the best affordable electric cars features one car (the Tesla Model 3) that now starts just shy of $50,000. Are there any truly cheap electric cars available today? You may be surprised with what we found.
2022 Nissan LEAF
After earlier rumors suggested that the Nissan LEAF was to be discontinued, a Nissan executive recently stated that the LEAF is here to stay. That's GREAT news for EV affordability.
We must point out that General Motors decided to slash the price of the LEAF's competitor, the Chevy Bolt, to steal the title of 'cheapest EV in America.' More on that below.
Price: Starting at $27,400
Range: 150 to 226 miles, depending on battery size
Charging Speed: Either 50 kW or 100 kW speeds, depending on battery
Tax credit: It qualifies!
Available at dealers now: See who has inventory at CarEdge Car Search: Nissan Leaf
Tesla is the face of electric cars today, but for years it was the Nissan Leaf at center stage. When Nissan brought the Leaf to market in 2010, it was a short-ranged novelty that somehow began to catch on. With just 73 miles of range on a good day, the first iteration of the Leaf was a bug-eyed appliance good for around town, but not much else.
Over a decade later, and the 2022 Nissan Leaf is a lot better than the first. However, it's still a budget vehicle, and you get what you pay for. Still, it's a great entry point into EVs for many. The Leaf now has enough range to make regional travel realistic, but charging speeds have unfortunately remained too slow to make it easy. If you're eager to get into an electric car for under $30,000, you'll surely want to check out the 2022 Nissan Leaf.
2023 Chevrolet Bolt EV – The Cheapest Electric Car
Price: Starting at $26,595
Range: 259 miles
Charging Speed: 55 kW speeds (adds 100 miles in 30 minutes of charging)
Tax Credit: The Bolt no longer qualifies for the federal EV tax credit, but state incentives may apply
The 2023 Chevy Bolt is the cheapest electric car today. It is available at dealers nationwide, as long as the mandatory recall fixes have been completed. See who has inventory at CarEdge Car Search: Chevrolet Bolt and Bolt EUV 
General Motors has sold over 100,000 Chevrolet Bolt EVs since launching the subcompact crossover in 2016. In 2021, the Bolt gained a new sibling: the larger Bolt EUV. Shortly after the Bolt EUV joined the show, several Bolt battery fires spurred a very urgent recall into action. When all was said and done, battery supplier LG Chem was found to be responsible for the Bolt battery fires, and agreed to pay General Motors $2 billion in damages. 
Fast forward to 2022, and most Chevrolet Bolt's (all for sale) have received new battery packs. The Bolt is a GREAT deal now that it's fixed. If you're never in a rush on road trips (or just plan to use the car around town), the 2022 Chevrolet Bolt is worth a look. It charges painfully slow, but hey, it is the cheapest electric car today.
If you check out used Bolts, request official documentation showing that all recall work was completed. The Bolt will be eligible for the new EV tax credit here in the United States, but only after 1/1/2023. See our full guide to EV tax credits for more info.
2022 Hyundai Kona EV
Price: Starting at $34,000
Range: 258 miles
Charging Speed: 100 kW speeds (180 miles added in 47 minutes)
Tax Credit: It qualifies!
Available at dealers nationwide. See who has inventory at CarEdge Car Search: Hyundai Kona EV
The 2022 Hyundai Kona EV is no Tesla, but it has decent range and room to fit most lifestyles. Plus, it's really cheap AND still qualifies for the $7,500 federal tax credit.
For just $34,000 before incentives, you can become the owner of the original Hyundai EV. This front-wheel drive subcompact crossover gets 258 miles on the charge, exceptional range for a budget EV. Some owners get over 275 miles on a single charge. The Limited trim, top-of-the-line option comes in at $42,500.
If you plug in at home, charging to 100% from a 240-volt dryer outlet will only take you about 9 hours from 10% state of charge. That will get you a full battery overnight while you're sleeping. At a fast charger, the Kona is behind the competition. In 47 minutes, the Kona Electric charges from 10% to 80% capacity.
The all-new Hyundai IONIQ 5 has stolen the show with more range, MUCH faster charging, and retro looks, but it starts closer to $45,000 with destination and availability is very limited. For those who are willing to give up a few luxuries, the Hyundai Kona EV is a solid choice.
2022 Kia Niro EV
Price: Starting at $39,990
Range: 239 miles
Charging Speed: 100 kW at a DC fast charger (adds 100 miles of range in about 30 minutes)
Tax Credit: It qualifies!
Available at dealers nationwide. See who has inventory at CarEdge Car Search: Kia Niro EV
The Kia Niro electric version is the sibling to the aforementioned Hyundai Kona EV. Both source their power from a 64 kilowatt-hour battery, which is a tad smaller than more expensive electric cars. The Niro EV can charge at up to 100 kilowatt speeds at a fast charger. At least that's better than the Nissan LEAF and Chevy Bolt.
The Niro EV's back seat is slightly more spacious than the Kona's, so it's more popular with families and those with large pets. There's also a plug-in hybrid version. For just a few thousand dollars more, keep in mind that you could check out the base trims of the newer Kia EV6, Hyundai IONIQ 5 and Volkswagen ID.4. 
2022 Mini Cooper SE Hardtop Electric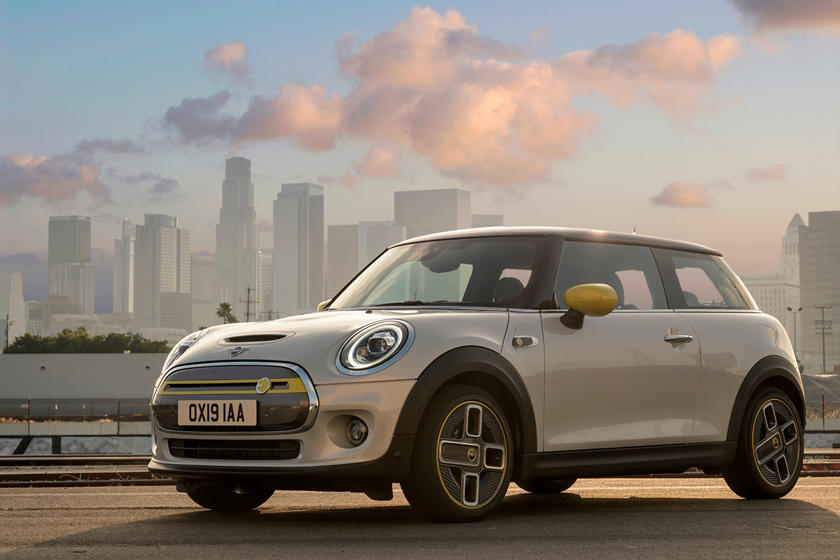 Price: $30,750
Range: 114 miles
Charging Speed: 50 kW speeds (about 90 miles of range in 36 minutes)
Tax Credit: It qualifies!
Available at select dealers nationwide. See who has inventory at CarEdge Car Search: MINI Cooper Electric
For just over $30,000, you can own an electric Mini. It's practically a luxury golf cart! Jokes aside, it's not a bad deal IF you don't plan to go very far. With 114 miles of EPA-rated range, it's a zippy way to scoot around town.
Not-so-honorable mention: 2022 Mazda MX-30
Price: $34,695
Range: 100 miles
Available in California to those who don't travel much. Check it out if you must at CarEdge Car Search: Mazda MX-30
Why didn't I include Mazda's first fully-electric vehicle on this list? It's a brand-new model, yet it only gets 100 miles of range on a charge. That, and the fact that it is only sold in California as a regulatory compliance vehicle for now. Come on, Mazda! That's not enough range to safely make it across Los Angeles!
CarEdge's Take
An electric car under $35,000? Sounds like science fiction, but as you can see, a few can be had for what used to be considered average car prices. Most of these cheap electric cars don't have the best range, the fastest charging or the need for speed, but they won't drain the bank like a Tesla will. Let me know which cheap EVs you're checking out in 2022.
Some parting advice: consider all options, and test drive as many electric vehicles as you can. You'll be amazed at what's out there, and even more amazed at what's to come.
Get the most when you sell your car.
Compare and choose multiple offers in minutes: