Would you believe me if I told you that the best-selling plug-in hybrid in America is a Jeep? As wild as that sounds in a world of Teslas and Toyotas, that is perhaps the most interesting bit of EV trivia today. Although PHEVs offer the convenience of gas stations and the savings of fully-electric miles, we've been hearing more drivers ask for an all-electric Jeep. When will the electric Jeep Wrangler arrive? What about an electric Cherokee or Gladiator? Let's dive into what we know today. Check back for updates as more details are released.
Jeep 4xe: Jeep's Strategy For Electrifying It's Lineup
When Jeep unveiled the Wrangler 4xe plug-in hybrid in September 2020, skeptics wondered if off-roading types would ever give an electric Wrangler a try. Over two years later, the electrified Wrangler is the top-selling plug-in hybrid in America. 19,207 Wrangler 4xe's were sold in the first half of 2022, beating the previous champion, the RAV4 Prime, by nearly 8,000 sales.
Since then, Jeep has announced that the 4xe sub-brand will continue to grow as Jeep's electric wing. Jeep 4xe models will include full battery-electric vehicles (BEVs) and plug-in hybrids (PHEVs).
In 2023, these are the Jeep 4xe models available now:
By 2025, Stellantis says that the Jeep 4xe family will grow to include four fully-electric models and several plug-in hybrids. I have a feeling that Jeep and its parent Stellantis are looking forward to the future, considering the success of the Wrangler 4xe.
The Wrangler EV Is a Plug-In Hybrid For Now
If you're in the market for a fully-electric Wrangler, you'll have to wait a bit longer. But if you're willing to consider a plug-in hybrid (PHEV), the Jeep Wrangler 4xe is available now. In fact, the Wrangler 4xe PHEV is one of the top-selling electrified vehicles in America. Jeep has recently said that the massive popularity of the Wrangler 4xe inspired their plans to accelerate bringing By the end of 2025, Jeep says they will have four all-electric Jeep models, and plug-in hybrid options across their lineup.
The 2023 Wrangler 4xe starts at $55,590 for the Willys 4xe. No matter the trim option, the 2023 Wrangler 4xe is good for 375 horsepower and 470 lb-ft of torque, along with 21 miles of all-electric range. That comes out to a combined 49 MPGe. That's double what you get with the gas-powered Wrangler. If you drive a lot, the savings will add up quickly.
Jeep's Grand Cherokee 4xe Electrifies the Best-Seller
Starting just shy of $60,000, the Grand Cherokee 4xe plug-in hybrid is the definition of value in today's selection of PHEVs. A Trailhawk 4xe can be had for $62,880. Jeep says that this is where capability meets sustainability.
The Grand Cherokee 4xe is properly powered by a hybrid powertrain that puts out 375 horsepower, 470 lb-ft of torque, 6,000 pounds of towing capacity and a VERY impressive 56 MPGe. All-electric range is 25 miles, with 470 miles of total driving range with one tank of gas and a full charge. We haven't heard word of an all-electric Grand Cherokee just yet, but Jeep just made major announcements regarding what's next in their 4xe product lineup.
The Jeep Recon EV Is Made For Off-Roading Enthusiasts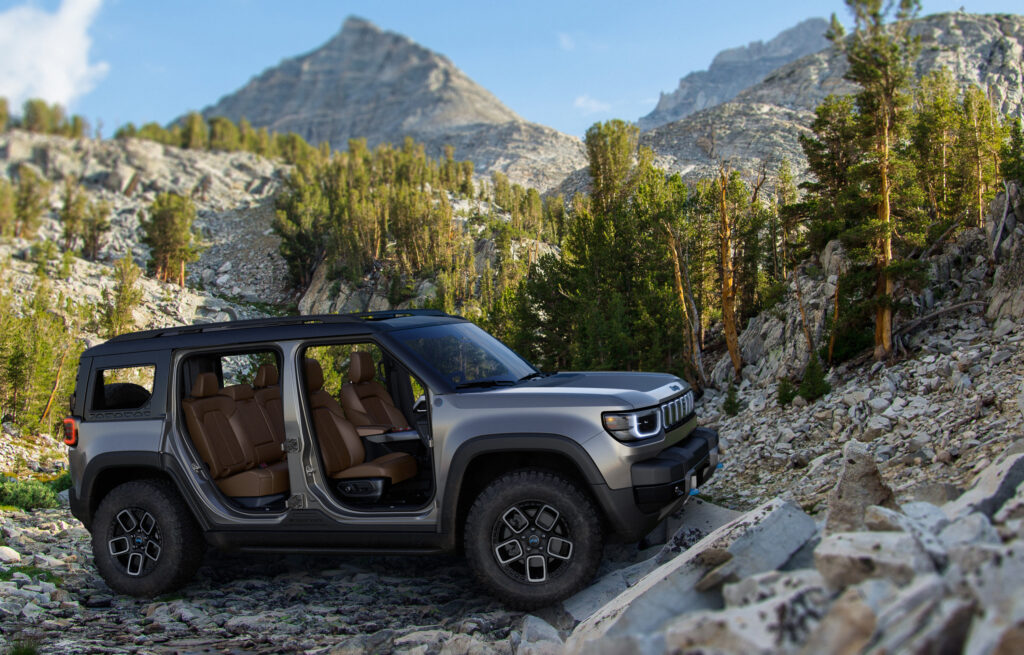 A convertible, open-top, off-road electric Jeep is finally on the way. If the electric Wrangler's plug-in hybrid powertrain just doesn't cut it, the fully-electric Recon should suit your needs. This is targeted towards those yearning for an electric Rubicon.
The Recon's design is inspired by the Wrangler, according to Stellantis' Chief Design Officer Ralph Giles. The Recon is an all-new model separate from some of the Recon packages that the Wrangler has featured from time to time. Take one look at it, and it's clearly something different altogether. It's kind of boxy, kind of rounded, but unabashedly off-road capable.
Jeep says it will have "true trail-rated capability". The Recon will have tow hooks, off-road tires, and underbody protection to ensure that the battery is always protected. Remember, EVs are built on skateboard-like platforms with batteries beneath the cabin and motors between the wheels.
Is this a Rubicon-capable EV?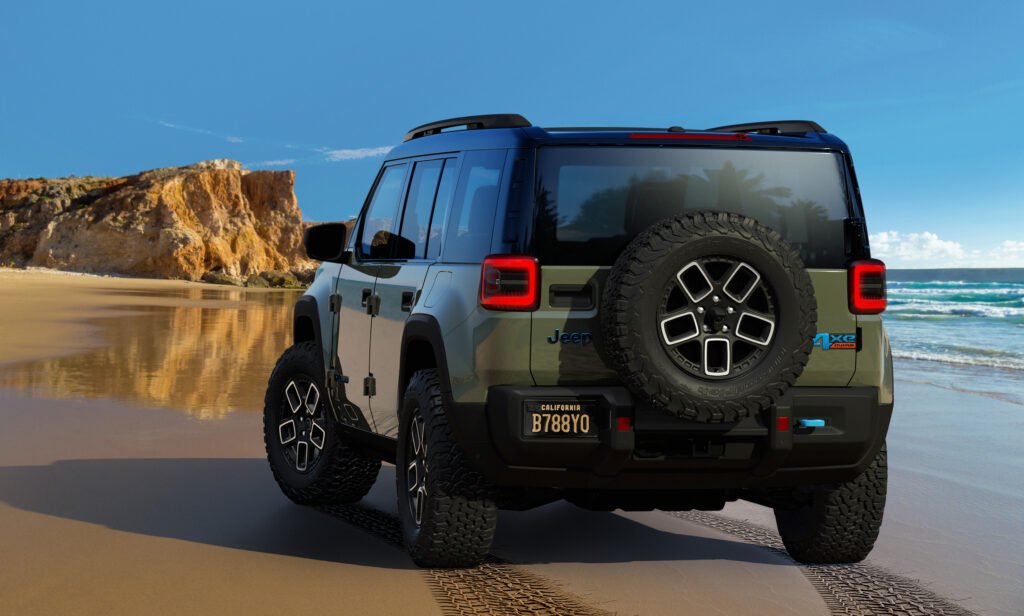 Jeep wants you to know that it is. ""The all-new, all-electric Jeep Recon has the capability to cross the mighty Rubicon Trail, one of the most challenging off-road trails in the U.S. and reach the end of the trail with enough range to drive back to town and recharge," said Jeep CEO Christian Meunier.
These are the additional details released by Jeep and parent company Stellantis:
Reservations for the Jeep Recon will open in early 2023
True trail-rated capability with Jeep Selec-Terrain traction management system, e-locker axle technology, under-body protection, tow hooks and aggressive off-road tires
Authentic Jeep open-air freedom with a one-touch powertop, removable doors and glass
The latest generation Uconnect system, including detailed travel guides of the most notable off-road trails
Recon EV Pricing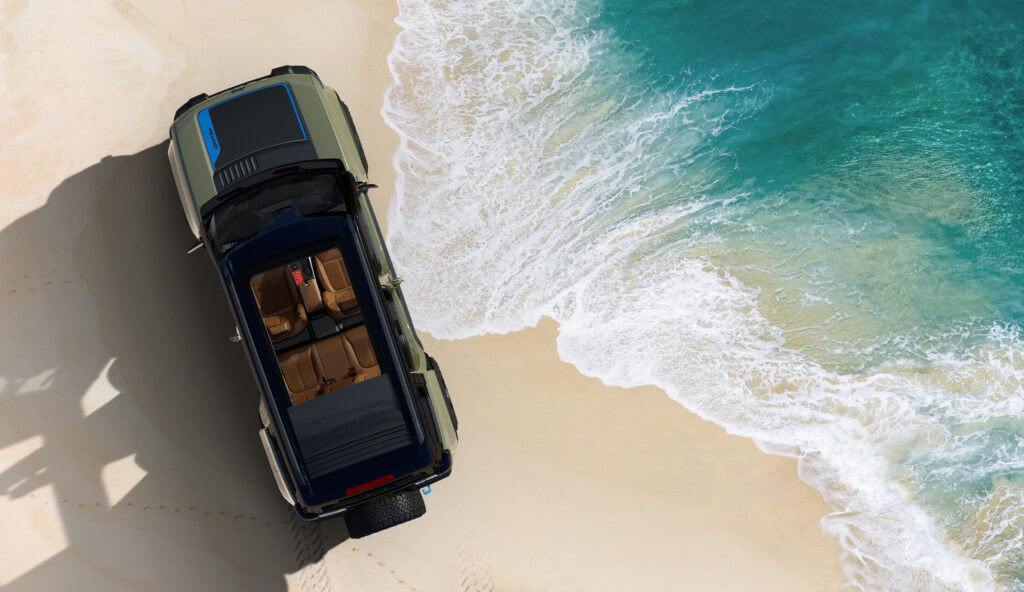 Stellantis didn't announce exact pricing, and considering the volatility in lithium-battery supply chains right now, that was probably wise of them. We can infer from the Recon press release that they are positioning the Recon to basically be an electric Wrangler Rubicon. EVs are always more expensive, so I expect Recon pricing to be roughly $5,000 – $8,000 more than Wrangler Rubicon prices like-for-like. With that said, I estimate the Recon's starting price to be in the ballpark of $46,000, with fully-optioned trims going for closer to $60,000.
If that's out of your price range, here's our list of the BEST electric cars for under $50,000.
Will the Recon EV Be Made In America?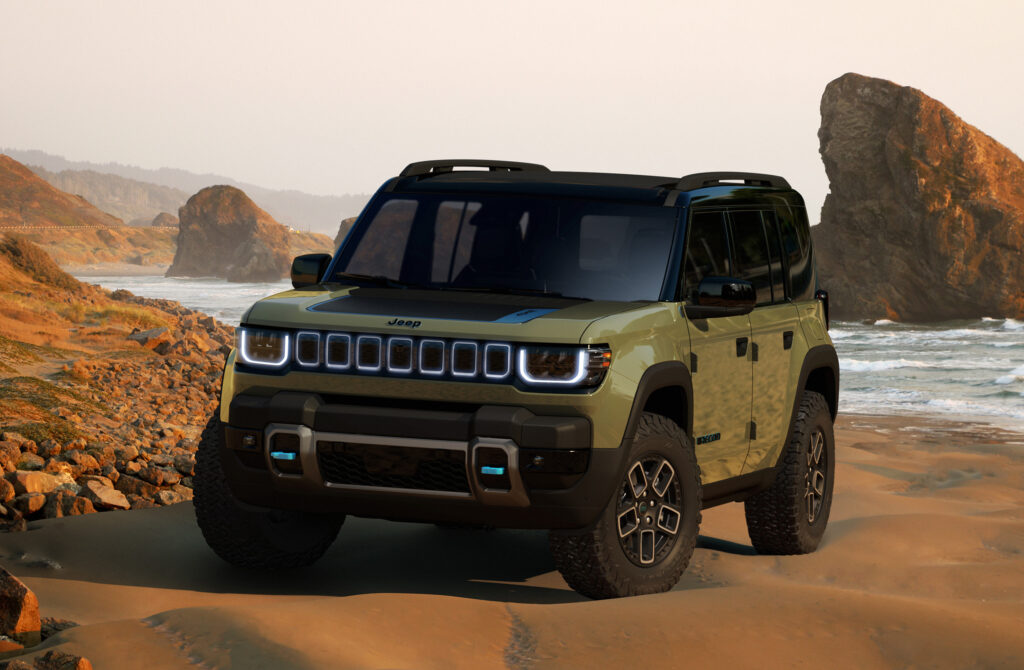 Good news for EV tax credit hopefuls! The electric Recon will be built in America. It's not confirmed where batteries will be sourced from, but it's highly likely that they will be supplied by the new Stellantis-Samsung SDI battery plant to be built in Indiana.
Will the Jeep Recon qualify for tax credits? With made-in-America batteries AND final assembly, it's highly likely that it will. Remember, you'll have to keep the price under $80,000 for an SUV, and fall under the income limits.
Wondering if you qualify for the $7,500 EV tax credit? See eligibility criteria and qualifying models here!
The Electric Wagoneer S Is a High-End Jeep. Expect It to Be Expensive.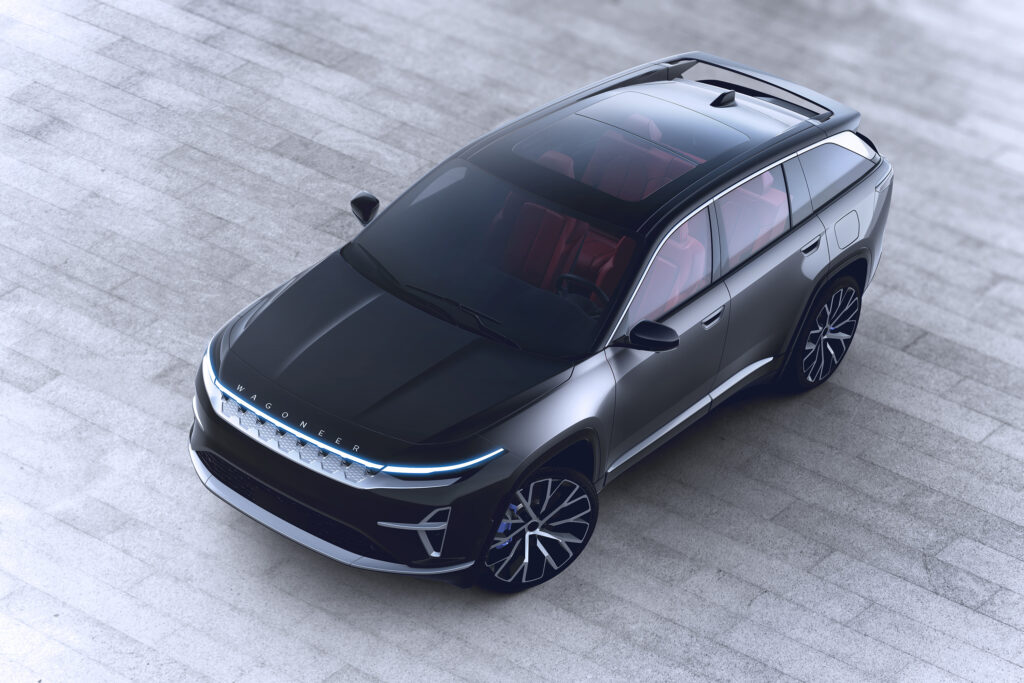 By now, I think we're all getting used to the Jeep Grand Wagoneer's foothold in luxury status. The 'regular' Wagoneer is much more approachable, but it's still near-premium priced at $60,000. If you haven't noticed, luxury automakers are going electric, and Jeep is giving the Wagoneer the EV treatment too.
Jeep calls the electric Wagoneer the 'Wagoneer S', but indicated in their own unveiling that it may be a placeholder name. We know little about the Wagoneer S right now, but here's what Jeep has shared:
It's a premium mid-size SUV
Range will approach 400 miles
4×4 capability is standard
The Wagoneer S will be made in North America
Reservations open in early 2023
Wagoneer S Pricing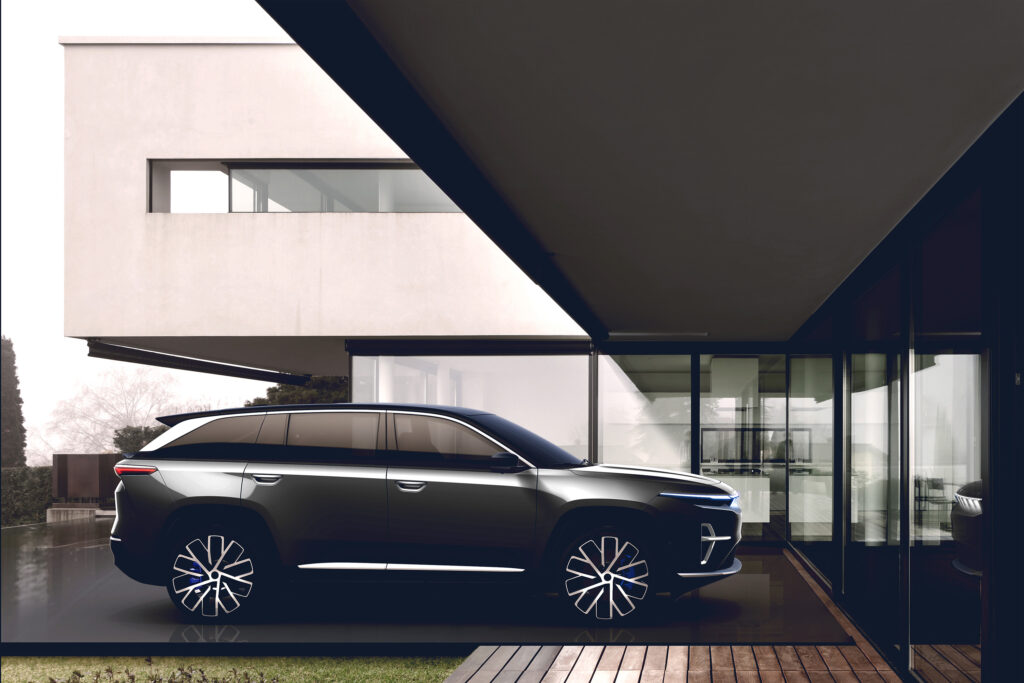 Stellantis isn't hiding their plans to price the Wagoneer EV in the premium class. They call the Wagoneer S 'The Art of American Premium', so expect a premium price.
Need evidence for convincing? Jeep just announced these performance specs for the Wagoneer S: 3.5 second 0-60 time, over 600 horsepower and range of 400 miles on a charge. Every EV available today with performance and range costs at least $80,000. We're talking about the Lucid Air, Tesla Model S, and a few others. Factor in that this is a mid-sized SUV, and it becomes crystal clear that this won't be cheap. This one is tougher to estimate than the Recon EV, but considering the pricing for the combustion-powered 2023 Jeep Wagoneer, I think the Wagoneer S electric vehicle will have a starting price between $65,000 and $75,000.
EVs require more costly raw materials, and that drives prices higher. Don't forget that the more miles you drive in an EV, the sooner the payback period will arrive to break even versus more affordable gas-powered models. And you're driving thousands of miles with zero tailpipe emissions along the way.
The good news is that the all-electric Jeep Wagoneer S is likely to qualify for up to $7,500 in federal incentives, plus whatever your state has to offer.
We'll update this page when we know more.
Is the Jeep Avenger Coming to America?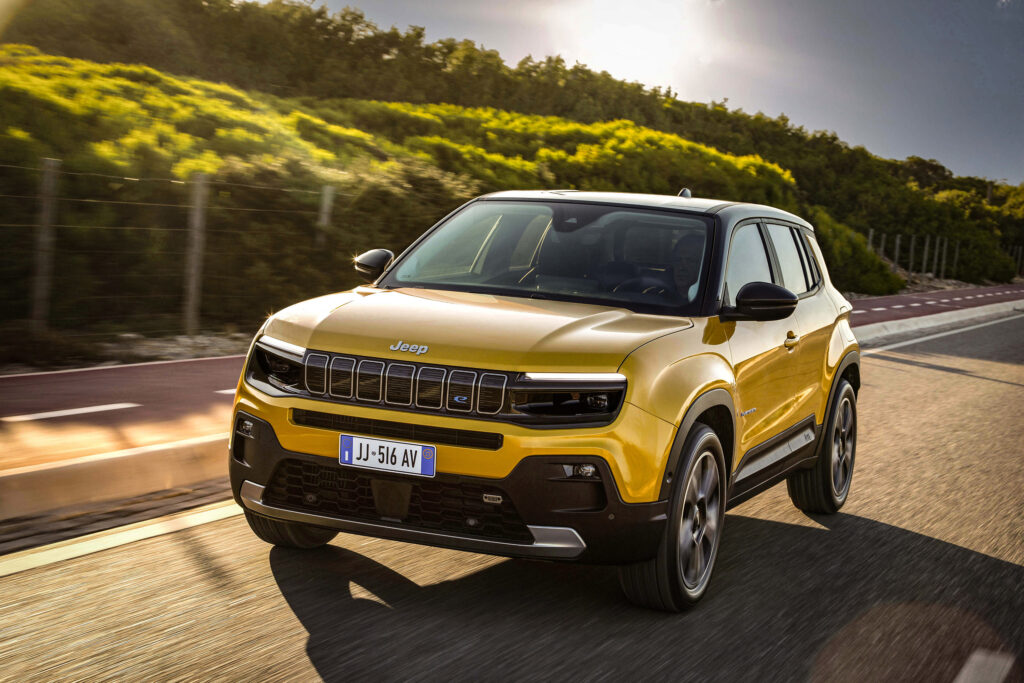 Sadly, Stellantis doesn't think that the more compact Avenger electric Jeep is suitable for the American market. They have said that the Avenger will be built in Poland for European markets, with no plans to bring it stateside. Americans live compact SUVs, so I suspect this is more of a supply constraint issue.
We'll be sure to update this page with more information on electric Jeeps as Stellantis releases more details. 2023 and especially 2024 look to be big years for Jeep's 4xe ambitions.
Get the most when you sell your car.
Compare and choose multiple offers in minutes: