Electric trucks are few and far between on highways, but they're all the rage online. There are fewer than 3,000 electric trucks on the road today, but at least 1.5 million reservations are in the books for upcoming electric truck models. Will trucks ever catch up to crossovers in the electrification of the auto industry? With how many models are in the development pipeline, it will be interesting to find out. Let's take a look at every electric truck on the way, and the few you might catch a glimpse of in 2022.
Rivian R1T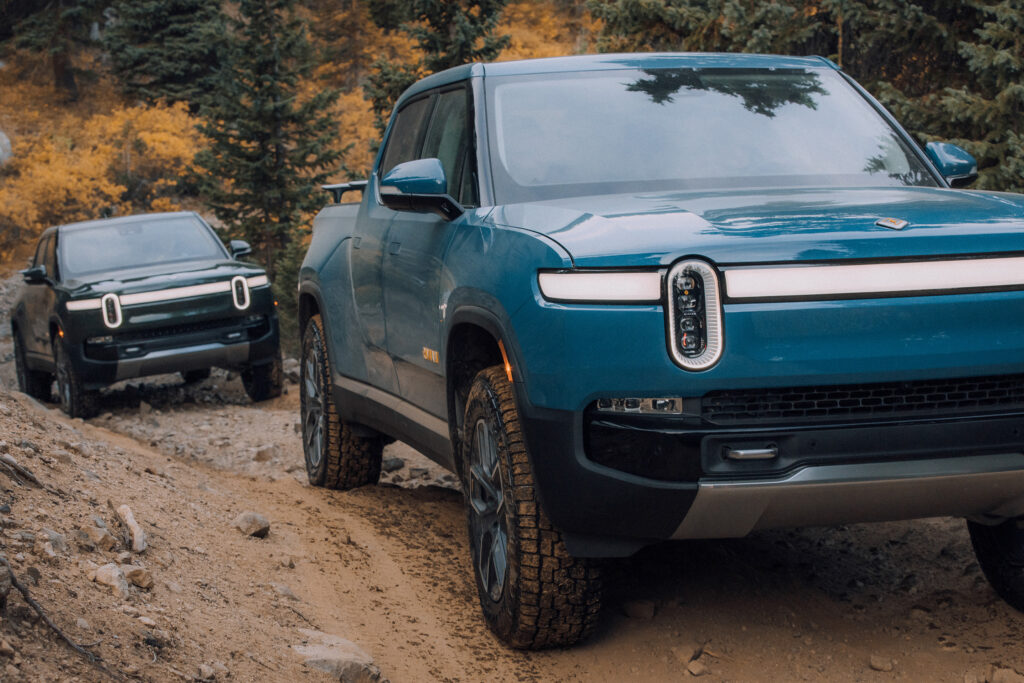 Introduced: Late 2021
Range: 314 miles
Fuel economy: 71 MPGe
Cost to charge 0 – 100% at home: $19
Price: $78,975 – $121,690
"It's bigger than a Ford Ranger, smaller than a F-150, and a whole lot more expensive."
The 2022 Rivian R1T is the most common electric truck on the road today, but that doesn't mean it will be easy to find one. About 2,000 have been sold as of spring 2022. As is often the case, supply shortages (and inflation) have put a damper on the much-anticipated rollout of Rivian's first model.
Nevertheless, it's a very capable truck. The R1T can tow more than 11,000 pounds and the pickup offers a payload capacity of 1760 pounds. And it's fast, with a 0-60 time of 3.3 seconds. It's a rugged, outdoorsy-themed truck for those who use their pickup for more play than work. If you're in the market for one, get in line. If you're lucky (and have a deep wallet), you just might take delivery of one by the end of 2023. Rivian prices recently jumped by $10,000 – $20,000, so don't expect a Rivian for the original price of $69,000.
GMC Hummer EV
Introduced: Late 2021
Range: 329 miles
Fuel economy: 47 MPGe
Cost to charge 0 – 100% at home: $30
Price: $80,000 – $110,000+
"American excess at its finest….. and least efficient."
If you would like a 9,000-pound, crab-walking mammoth of a truck that can seemingly overcome physics to reach 60 miles per hour in three seconds, General Motors has you covered. The revived Hummer is a large luxury truck meant to turn heads more than it's meant to haul stuff to the worksite.
The Hummer EV's #1 party trick is the crab-walk. That's when the truck turns using all four weeks, allowing it to slide through traffic. The EPA-rated range of 329 miles is a bit misleading. It has a MASSIVE 212 kilowatt-hour battery. That's triple the capacity of most electric crossovers! While technically it starts around $80,000, used ones are already selling for a quarter of a million dollars.
Ford F-150 Lightning
Introduced: Late 2022
Range: 230 – 300 miles
Fuel economy: 68 MPGe
Cost to charge 0 – 100% at home: $14 – $20
Price: $39,974 – $90,874
"This will be the first mass-produced electric truck on the market, but we're bracing for the dealer markups."
We recently detailed all we know about the upcoming electric F-150 in a special CarEdge preview. It turns out that truck fans are REALLY looking forward to the Lightning. The question remains, can Ford make enough of them?
Here's What Stands Out With the F-150 Lightning:
It's the most powerful F-150 ever
You can power tools, other EVs and even your entire home with the truck
The Lightning looks normal, but features state-of-the-art technology
The front trunk is bigger than most regular trunks
Up to 320 miles of range, but mediocre charging speeds
Ford has 200,000 reservations in the books for the F-150 Lightning, so new orders can expect a 2024 delivery. If you're patient, this just might be worth the wait.
Here's everything we know about the Ford F-150 Lightning.
Chevrolet Silverado EV
Introduced: Spring 2023
Range: Up to 400 miles (depending on battery size/trim)
Cost to charge 0 – 100% at home: $28
Price: $39,900 – $80,000+
"It's the direct competitor to the F-150 Lightning, but it will charge a LOT faster."
When Ford made such a big deal with the unveiling of the F-150 Lightning, we all knew General Motors would be cooking up something special. The Chevrolet Silverado EV was unveiled at last, and the specs and looks have exceeded expectations. Chevy claims it has faster charging, more power, and more range than the Ford.
It's a flexible truck too, and one that's definitely going to see some worksite use. The storage capacity of the 5-foot-11-inch bed can be extended to 9 feet with the 'available' Multi-Flex Midgate.
GM says that the new Silverado is basically a rolling generator, if you buy the required accessories. "When combined with the available accessory power bar, the Silverado EV's PowerBase charging system offers up to 10 outlets, to provide a total of 10.2kW of all-electric power for countless worksite or recreational needs, including powering your home, with the required equipment." It can even charge other electric vehicles!
Learn more about the Chevrolet Silverado EV in our in-depth analysis.
Tesla Cybertruck
Introduced: 2023
Range: Up to 400 miles
Price: Unavailable
"Did someone make a truck in Minecraft?!"
Ever since Tesla pulled the curtains back in November 2019, the world has divided into two camps: those who adore the Cybertruck's angular, Mars-ready looks, and those who abhor it. No matter what your opinion is, it's still just an idea for now. Tesla has repeatedly pushed back its arrival, and now says that 2023 will be the start of production.
The Cybertruck will have 3,500 pounds of payload capacity, and can tow 14,000 pounds. Those specs are on another level for sure. It's also a performance-oriented truck, with a 0-60 time of 2.9 seconds. Pricing had previously been announced to start at $40,000 for rear-wheel drive base variants, but that was later removed from the Tesla website. We expect pricing to range from $55,000 to over $80,000, but it's pure speculation at this point.
Toyota's Electric Truck
In late 2021, Toyota teased the above image of an electric truck. It closely resembles an electric Tacoma, which would be a dream come true for many Toyota fans. They haven't said a word since, but we'll update you with the latest once we know more.
Ram 1500 Electric Truck
Stellantis has taken its sweet time getting into EVs. In 2024, the Ram 1500 electric truck will make a debut with a range of up to 500 miles and futuristic design cues. It will be capable of fast-charging, a quick 0-60 time, andthe latest tech from Stellantis.
The electric Ram 1500 will be built on the new STLA platform that is currently in development. More to come.
GMC Sierra Electric Truck
They say it's coming, but we don't know much yet. The electric Sierra will share the same powertrain engineering as the Silverado EV.
"Like the GMC Hummer EV, the electric Sierra will be purposefully built on the Ultium Platform with the premium materials and capability customers have come to expect from GMC trucks," says GMC.
Canoo
The Canoo 'Pickup Truck' has more in common with the Tesla Cybertruck that one might suspect. It's weird-looking, has space-age ambitions, and has been repeatedly delayed. Canoo has undergone multiple leadership shakeups, and that has delayed the launch of Canoo's first products by a few years (and counting).
The Canoo truck has a targeted payload capacity of 1,800 pounds, a 6' 8" bed when extended, and about 500 horsepower. At least 200 miles of range are to be expected on a charge. Hopefully it turns out to be at least 250 miles considering the competition.
As odd and mysterious as the Canoo Pickup Truck is for now, the EV startup already scored a significant contract, at least symbolically. NASA selected Canoo to transport astronauts to the upcoming Artemis spaceships for missions to the moon in 2025.
With a bit of luck, the Canoo truck just might be available to reservation holders in 2023. Learn more about Canoo here.
Get the most when you sell your car.
Compare and choose multiple offers in minutes: