In 2023, the new car market is doing something it rarely does: holding steady. Although prices are stable, they remain close to record highs. This stability comes after several years of tumultuous changes in the automotive industry, from the pandemic-driven recession to the supply chain shortages that followed. As new car price trends prove tough to forecast, keeping an eye on the market's subtle movements becomes crucial for potential buyers and sellers alike.
👉 Bookmark this page. Each month, we'll refresh the information with the latest new car price data from the analysts at Cox Automotive. Even better, we'll share insights, tools and new data from auto industry insiders, equipping you with the knowledge to make smart car buying decisions.
Let's delve deeper into the current state of the new car market.
New Car Prices – December 2023 Update
Which segments of new cars are experiencing price drops, and which are seeing a rise? Is now a good time to buy a new car, or is it a good time to sell? We will address these pressing questions and more.
According to recent data from Cox Automotive, the average transaction price for new cars is $47,936, a marginal increase from the previous month's $47,797. Notably, new car transaction prices are down 3.5% ($1,532) since the start of 2023, marking the most significant decline in a decade.
| Month-Year | Average New Car Transaction Price |
| --- | --- |
| 1/1/2023 | $49,468 |
| 2/1/2023 | $48,558 |
| 3/1/2023 | $48,289 |
| 4/1/2023 | $48,277 |
| 5/1/2023 | $48,658 |
| 6/1/2023 | $48,671 |
| 7/1/2023 | $48,165 |
| 8/1/2023 | $48,126 |
| 9/1/2023 | $47,797 |
| 10/1/2023 | $47,936 |
In particular, the luxury vehicle segment has experienced notable price reductions, largely due to Tesla's aggressive pricing strategies. Tesla is now a top-10 luxury brand in America, not just the leader of electric vehicle sales. Luxury vehicle prices have dipped 7.4% YoY. Tesla's average transaction prices (ATPs) plummeted by a whopping -20% compared to September 2022, as the brand pushes for higher sales volumes.
On the flip side, non-luxury vehicles have seen a price increase of less than 1% YoY, with the average price for new non-luxury vehicles in December standing at $44,331. This price is down slightly from last month, but is up about 1% from one year ago.
Let's not pretend that just because car prices are stabilizing at new highs, cars are somehow affordable. The average new car price is up 30% since 2019, when the average price paid was around $37,000.
We track used car prices weekly. See this week's used car price update.
Negotiability Is Key
If you're looking for the BEST deal on a new or used car, remember this: knowledge is power when it comes to negotiating car prices. When you have an understanding of local inventory dynamics, car price trends, incentives, and the negotiable aspects of a car deal, you're better prepared to drive away proud of your deal.
Free Car Buying Help Is Here!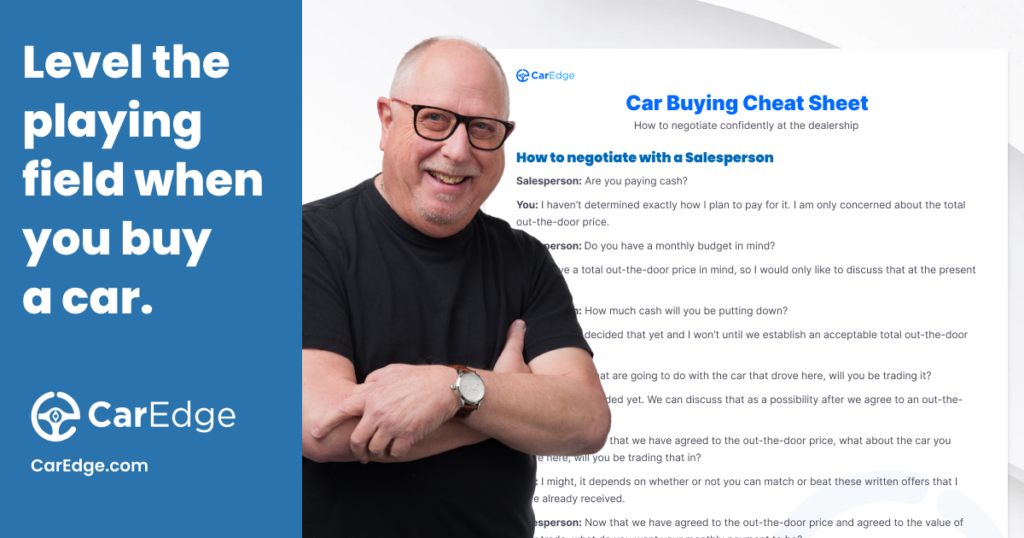 Ready to outsmart the dealerships? Download your 100% free car buying cheat sheets today. From negotiating a deal to leasing a car the smart way, it's all available for instant download. Get your cheat sheets today!
2024 New Car Price Forecast: Prices to Remain High
New car prices are expected to remain near current levels as we move through 2024. With substantial price movements being unlikely, understanding the nuances of the market is vital for those looking to engage in transactions in the coming year. For more detailed insights and predictions about the 2024 auto market, including potential wildcard scenarios that might shake up the industry, check out our 2024 car market forecast.