What do you think 2024 will bring? Hopefully next year will be less exciting than the past few. Already in this decade, we've seen a pandemic cause a freefall in car sales, followed by a severe supply shortage that sent prices through the roof, only for car prices to stabilize at a new, much higher normal. Will car prices drop in 2024? Is there relief in sight for buyers facing high interest rates and slim supply? CarEdge co-founder Ray Shefska, with his four decades of auto industry insight, shares his car market predictions for 2024. Let's explore.
High Prices Will Continue in 2024
As much as we'd love to be wrong, it's very likely that both new and used car prices will remain high in 2024. CarEdge co-founder Ray Shefska recently shared his thoughts on the most likely scenarios in the short-term.
All things considered, Ray says that continued high prices are all but guaranteed. When automakers see an opportunity for 'price adjustments', they're not going to pass it up.
"I don't foresee better pricing soon with various factors at play. For instance, the ongoing UAW strike is pushing labor costs up, despite them comprising only five percent of total vehicle production costs. This increase will inevitably lead manufacturers to adjust their MSRPs, providing a convenient excuse for doing so."
Multiple factors are converging that lend to this thinking.
For new cars, it's fair to blame high prices on the manufacturers. Despite consumer demands for more affordable options, OEMs keep producing over-priced SUVs and trucks. Gone are the $30,000 base models.
The continuous production of high-margin vehicles by manufacturers, which are typically priced out of reach for the average consumer, is a losing strategy in our eyes. Nevertheless, with $100,000 trucks and glamorous SUVs coming out of American and foreign automakers alike, this is the road we're headed down.
"I'm skeptical about the auto industry having a stellar year in 2024, considering that a significant percentage of consumers feel they can't afford new cars. Manufacturers are increasingly relying on fewer buyers to pay higher prices in order to turn a profit. The average buyer does not benefit in this situation," said Ray.
This is all in addition to the costly EVs that are filling up dealer lots.
Here's where it gets interesting. The continued production of high-margin vehicles is primarily motivated by the manufacturers' need to fund their ventures and investments into the electric vehicle (EV) market. Unlike Tesla, the likes of GM, Ford and Stellantis are still figuring out how to make mainstream EVs that can turn a profit.
This isn't merely hearsay. In Ford's earnings report, executives noted the continued profitability of their internal combustion-powered lineup, but also the financial woes of their EV division. Ford expects to lose $4.5 billion on EVs by 2023's end, despite overall profits rising. The 'Blue Oval' has $100,000 trucks to thank for that.
Interest Rates Will Stay High
Cash will remain king in 2024. As of October 2023, the average new car loan APR is north of 9%. Used car loans are even more expensive, with the average APR at 14%. See the latest monthly payment statistics here.
The Federal Reserve has stated that rates will remain near current levels through at least the first half of 2024. With that said, auto loan interest rates are forecasted to remain high in 2024.
The tandem of soaring prices and stiff interest rates creates a scenario where affordability takes a significant hit. It's the sad truth that some buyers will be priced out of the market as a result.
The lowest auto loan rates will continue to be found with manufacturer incentives. New car inventory has been steadily rising, leading to low APR offers from some automakers. Zero percent financing is still possible if you shop for deals, and APRs under 3% are quite common.
See this month's manufacturer incentives, featuring the lowest APR offers.
Used Car Forecast: A Tight Market Persists
As we gaze into the automotive crystal ball for the forthcoming year, a rather annoying trend appears to hold its ground: the significant shortage in the used car market is on track to persist in 2024.
When it comes to used car prices, supply and demand drive the market. In 2023 and 2024, it's the reduced supply of used cars that ensures prices will remain elevated. Used car prices rose 36% in 2021, only to fall 7% the year after. As 2023 comes to a close, it looks like used car prices will end the year about where they began 12 months ago.
The roots of the used car shortage can be traced back to the supply chain problems of 2021-2022. The production of new cars slowed, and sales dropped like a rock. Fewer cars sold in 2021-2022 resulted in fewer trade-ins and subsequently, a tightened supply of used vehicles. With approximately 15 million new cars that were initially scheduled for production globally never seeing the light of day, the ripple effect has led to a lasting shortage of used cars.
This is not a short-term hiccup. Industry insiders like Ray predict that the scarcity of pre-owned vehicles is likely to extend through this decade.
Ray emphasized the connection between today's new car market and the shortage of used cars that he expects to see continue in 2024. "Manufacturers aren't motivated to produce vehicles under $30,000 since they need high profit margins to support their EV initiatives. Production will continue to focus on high-margin vehicles, not affordable models and trims. The problem is that these expensive new cars are accessible only to a small fraction of buyers. Ultimately, more buyers will turn to the used car market for prices they can afford, no matter how inflated used car values may be."
Consumers in the market for used cars should understand that higher prices and limited options will be around for a while. See the latest used car price date, courtesy of Black Book:
Used Car Price Trends for 2023 (Updated Weekly)
Tesla Will Still Dominate EVs
Legacy automakers have invested over half a trillion dollars in electrifying their lineups. The sad reality is that not a single one of them is anywhere close to Tesla in EV market share.
As of last check, 60% of electric vehicles sold in America were Tesla models.
In 2024, we expect Tesla to continue to dominate. Even if Tesla EV market share drops to 40-50%, that's still domination by anyone's standards. Tesla invested so heavily in mastering low-cost production that it will continue to have an advantage over Ford, GM, and the rest of the gang.
Tesla's EV dominance increasingly puts legacy manufacturers such as Ford, General Motors, and Stellantis in a precarious position. This will become much more evident in 2024. How so? Some BIG name, long-awaited EVs will arrive from legacy brands. Here are just a few…
If the above-mentioned electric models fail to attract large numbers of buyers, it will become crystal clear that legacy automakers have a BIG EV problem on their hands.
Traditional automakers are bracing for a turbulent period ahead, grappling with the dual headwinds of rising manufacturing costs and their struggling EV divisions. By the end of 2024, we'll have learned a lot about the long-term prospects for legacy EVs. It's possible that Tesla, once the laughing stock of Detroit executives, will indeed have the last laugh.
Wildcard Scenarios…
The automotive industry in 2024 faces a confluence of challenges, some of which are yet unknown. Aside from the variables discussed here, there are other wildcard scenarios that have the potential to disrupt market dynamics.
The UAW Strike
The UAW strike is a looming concern, exerting upward pressure on labor costs and consequently affecting the production and pricing of vehicles. As Ray noted, labor costs are a small fraction of manufacturing costs. However, that won't keep automakers from using employee raises as an excuse for MSRP hikes.
The Detroit 'Big Three', General Motors, Ford, and Stellantis, are already at a disadvantage in the growing EV market. Rising labor costs and shaky supply chains threaten to wipe away what progress they have made.
The Global Economy
An even more important unknown is the health of the global economy in 2024. Most experts agree that there's only a slight possibility of an economic recession, but it's a non-zero chance.
Here's how economic recession impacts car prices.
This economic uncertainty is further exacerbated by conflicts overseas, and a looming election year here at home. Globally, there are dozens of situations that could, in theory, boil over into the automotive market. For starters, there's the volatile situation in the Middle East, the simmering tensions in Ukraine, and the precarious state of affairs surrounding Taiwan. Each of these geopolitical hotspots has the potential to inject uncertainty into the global markets, creating ripple effects that could inevitably impact the automotive industry.
Policy Changes Ahead
Moreover, with 2024 being an election year in the United States, the industry is bracing for potential policy shifts and market reactions that often accompany electoral cycles, adding yet another layer of unpredictability to an already uncertain landscape. These combined factors make the outlook for the auto industry in 2024 particularly challenging to forecast.
Free Car Buying Help Is Here!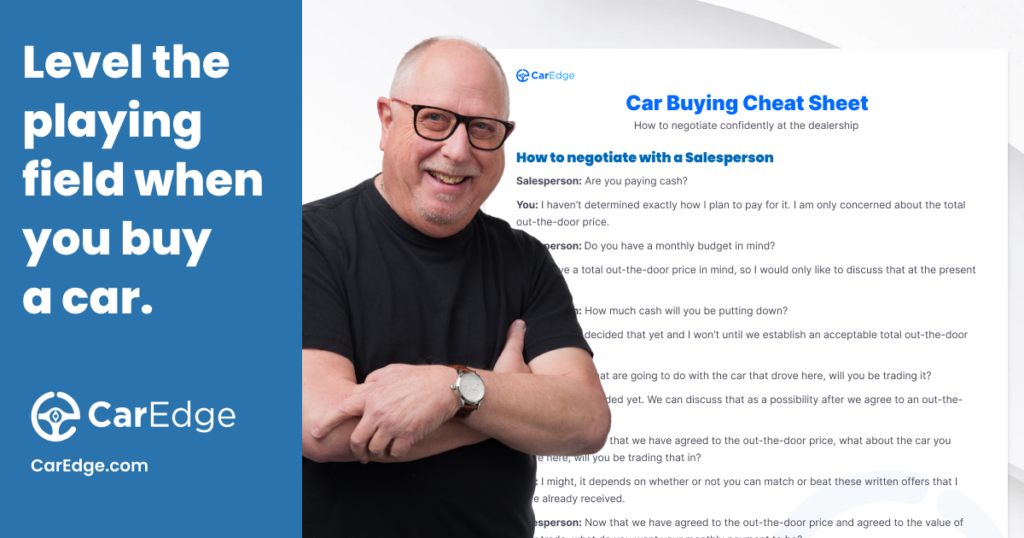 Ready to outsmart the dealerships? Download your 100% free car buying cheat sheets today. From negotiating a deal to leasing a car the smart way, it's all available for instant download. Get your cheat sheets today!