As 2023 model year lineups were announced last year, a sizable portion of the automotive industry faced widespread criticism for eliminating their most affordable vehicles from the lineup. At a time when new car prices were running away from the middle class, the most affordable versions of popular cars were sacked.
Now, less than a year later, car manufacturers are reversing course. Are we about to see the resurrection of affordable cars? Or are we getting our hopes up too soon? Let's take a look at where we've been, where things stand today, and where we're headed as new car sales continue through yet another volatile year.
Goodbye Affordable Base Models?
You could say Tesla started it all when they axed the much-hyped $35,000 version of the Model 3 years ago. However, legacy automakers are a different animal entirely, so we'll fast forward to 2022. Late last year, Honda led the charge with changes to their product lineup, and were soon followed by Kia and Jeep. Within months, multiple base models were discontinued in the United States, sending entry-level prices through the roof overnight for some of the most popular cars in America.
This was no small move. Together, these manufacturers account for 30% of new car sales in the U.S. The effects were swift and significant, leading to an outcry among car buyers, and as one Kia representative put it, 'unprecedented demand' for what had previously been seen as unwanted, unpopular base trims.
Automakers cited lower sales numbers and the supply chain woes of 2021-2022 when explaining the abrupt decision. However, in doing so, they overlooked the crucial role these base models play in catering to the needs of lower-income and budget-conscious drivers. Without affordable base models, a large chunk of the market would be priced out, and would simply take their business to used car lots.
Fast forward to 2023, and some of these same automakers are now making a U-turn, resurrecting their affordable vehicles. The most shocking reversal comes from none other than…. Honda.
Honda's About-face
Honda ruffled feathers when it eliminated the most affordable Honda Civic, the LX base model, in late 2022. This decision followed an earlier price hike between $1,000 – $2,000 for the 2023 model year. Consequently, budget-conscious commuters, the heart of Honda's fanbase, were left reeling just as interest rates climbed higher. Further compounding the issue, the CR-V, America's #2 best-selling SUV, also lost its base trim.
As the base trims were dropped, the entry-level price for the Civic increased from $22,350 to just north of $25,000 for the EX. For the CR-V, the base price jumped by almost $5,000 overnight to $31,610.
The rationale behind these decisions might have been an attempt to boost profits amidst supply chain issues that had plagued Honda since 2021. However, by mid-2022, the automaker's US sales had plummeted 50% year-over-year.
Now, Honda seems to be having a change of heart. In response to decreasing new car prices and slowed sales, the company has announced the return of the more affordable CR-V. The CR-V LX, without a sunroof, power-adjustable driver's seat, and with just a single climate control zone, now lists for $28,410 plus a $1,295 destination fee.
Kia's Flip-Flop
Around the same time as Honda's controversial move, Kia also announced the cancellation of the most affordable version of its popular electric car, the Kia EV6. This caused the base price of the EV6 to soar by $7,300, or 18%, to nearly $49,000. Furthermore, the beloved gas-powered Kia K5 also lost its LX base trim, pushing the entry price to $26,195.
Kia, once known for affordability, seemed to be pushing further into premium territory.
However, 2023 has seen Kia backtrack somewhat, albeit with certain conditions. The automaker confirmed it will offer the EV6 Light in select western US states. CarsDirect reported that a California dealer received an EV6 Light priced at $43,925, which is nearly $5,000 cheaper than the next EV6 model. Now, the EV6 Light has even returned to Kia's online configurator.
We call this a win for consumers, especially considering that Kia's EVs lost the federal EV tax credit this year due to the Made in (North) America requirement.
As far as the Kia K5, the entry-level LX trim has yet to return. The K5, in essence a re-launched Optima, now starts at $26,515 with destination fees. For reference, the 2019 Kia Optima started at $23,915, or 11 percent less than today's K5.
Jeep Is In Serious Trouble
There's a 399 day supply of Jeep Renegades nationwide, according to the car buying tools available through CarEdge Data. This didn't happen overnight. Jeep's inventory has been building for months. In fact, every Jeep model has over 100 day's supply, far above the industry's healthy standard of 60 days.
You would have thought that Jeep's parent company Stellantis would have seen the writing on the wall, and perhaps even would have considered lowering prices or introducing incentives.
What we got was the complete opposite. The boxy, poor-selling and unreliable Jeep Renegade lost its Sport base trim for the 2023 model year. What happened next? Jeep's inventory just kept on climbing, and now leads the industry for number of cars on the lot.
Here's a full breakdown of Jeep inventory today, and where the best deals could be negotiated.
Changing Tides For Automakers
In the past five years, new car prices have risen by a staggering 37%. However, there seems to be a light at the end of the tunnel. Our own analysis reveals that automakers who have hiked prices the most are paying the price in the form of WAY too much inventory. See for yourself in the graph below showing how much inventory is on the lot for top-selling models that received price hikes this year.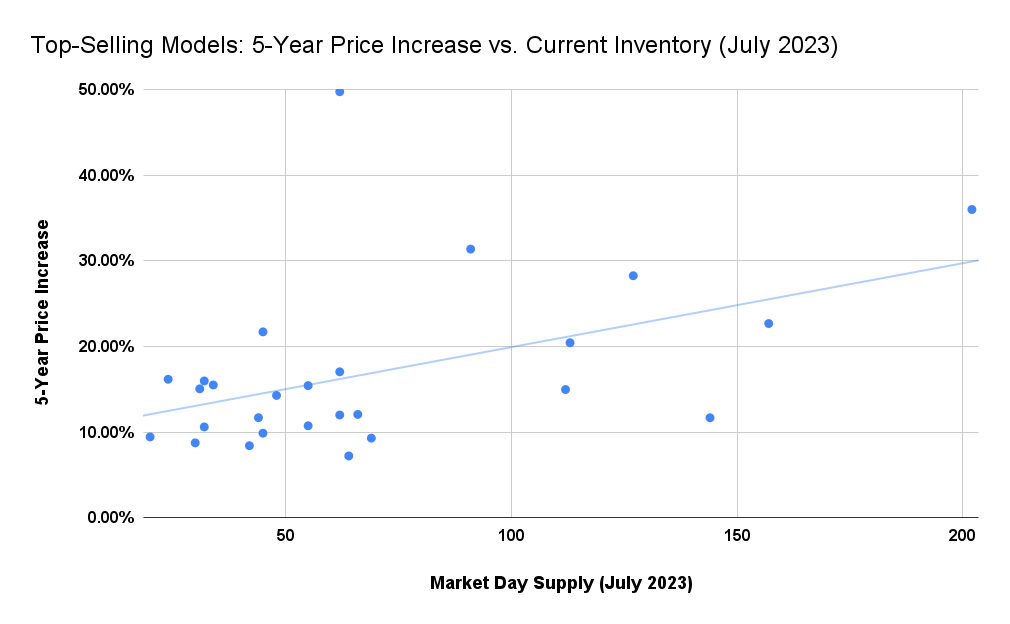 Buyers are pushing back against runaway new car prices. Dealers are loaded with inventory that won't sell. See which automakers are suffering the consequences right now, and how YOU can use this as negotiation leverage.
Will New Car Prices Fall in 2023?
When it comes to the car market, we're no stranger to the ups and downs. Get ready for yet another market adjustment, according to at least one group of experts.
A new report by industry analysts at AlixPartners forecasts a steady decline in new car transaction prices over the next few years.
By 2025, the analysts expect the average transaction price to decline to around $42,000, down from where it stands today near $46,000.
What do they expect to drive this downward trend in prices? The dynamics don't "mean the price of the same vehicle comes down," Mark Wakefield, global co-leader of the automotive & industrial practice at AlixPartners, said at a press conference. "The predominant driver of that is mix shift and trim shift within a product to reduce the higher, more profitable vehicles and get more volume out."
In other words, it looks like automakers are coming to their senses (at least somewhat) and are planning to make higher numbers of lower-trim vehicles at more accessible price points.
You CAN Negotiate, No Matter the MSRP
What if there was a way to guarantee you never overpay for a car again? We're here to make that a reality for you. Don't let the journey to your dream car be a bumpy one. Our CarEdge Coaches are ready to guide you every step of the way, ensuring you find the perfect vehicle at an unbeatable price.
Or, if you're a do-it-yourself enthusiast, use CarEdge Data to get the industry insights you need to negotiate like a pro. Already found the car you want? See ALL of our market price data for every new or used car listing with CarEdge Reports (included with Data and Coach plans).
Let CarEdge steer you towards your perfect ride. We're here to help!
Check out how much money our community has saved in the past week alone with these member success stories!